Former Manchester City player and England legend Colin Bell paid a special visit to cancer patient Stuart Fyfe just hours before he was due to go in to surgery.
Stuart, 55 from Blackley in Manchester, was first diagnosed with bowel cancer over three years ago.
The cancer went on to spread to his liver, and unfortunately, after numerous chemotherapy sessions and two liver operations, the cancer has not gone into remission.
It was pure coincidence that on one of Stuart's first visits to The Christie he was treated by Dr Jon Bell, a consultant in interventional radiology, whose father is Colin Bell, the former Manchester City football player.
It was Dr Bell who arranged the visit after learning that Stuart was a massive Manchester City fan and a huge fan of his dad.
My treatment at The Christie has been fantastic throughout all of my different procedures - it really has been second to none. And the visit from Colin Bell goes above and beyond anything I could have expected!
– Stuart Fyfe
Colin came in to see Stuart while he was preparing for selective internal radiation therapy (SIRT) which is an operation that leaves radiation beads within the liver; once placed they emit radiation and burn the tumours in the liver.
Stuart has since had his operation and is recovering well.
I've made visits like this in the past, both in my playing days and since I've retired.

When I heard from Jon that Stuart was such a huge Manchester City fan, I wanted to come in, have a chat and wish him all the best for his operation.

Stuart and I also share the connection that I was diagnosed and treated for bowel cancer."
– Colin Bell
At The Christie we believe patient care is not just physical but psychological as well. I was in the fortunate position where I could help Stuart meet one of his idols, and I was happy to ask my Dad if he would come in for a visit."
– Jon Bell
A young QPR fan hit by a wayward Yaya Toure shot has been given two signed shirts and a phone call from the man himself.
Read the full story ›
Advertisement
Manchester City manager Manuel Pellegrini does not believe his side are nervous after their latest European setback. City lost 2-1 at home to CSKA Moscow on Wednesday to dent their hopes of qualifying for the knockout phase.
City manager Manuel Pellegrini offered no excuses after his nine-man team slumped to a dismal 2-1 Champions League loss to CSKA Moscow.
Read the full story ›
Manchester City must win tonight against CSKA Moscow to have any chance of progressing to the knockout stages of the Champions League.
Manager Manuel Pellegrini is in a confident mood and thinks City can go all the way.
Up to one hundred hooligans were involved in violent clashes between rival supporters after Sunday's Manchester derby.
Read the full story ›
Advertisement
Manchester City's manager Manuel Pellegrini says the matter should be dealt with correctly and he doesn't believe it will directly affect the player's performance.
At this stage we have received complaints about two separate tweets of a racist nature aimed at Yaya Toure and now we are informing the police.

Yaya Toure has been on Twitter for a matter of hours and he has already received abuse of an appalling nature.

We are disturbed by the fact that someone can be treated this way.

It makes footballers start to question why they should use these platforms.

We will offer Yaya Toure our full support.
– A Kick it Out spokesperson told the Press Association
On Monday evening Toure favourited a tweet from one City fan - @111Lesley111 - who offered her support to the former Barcelona player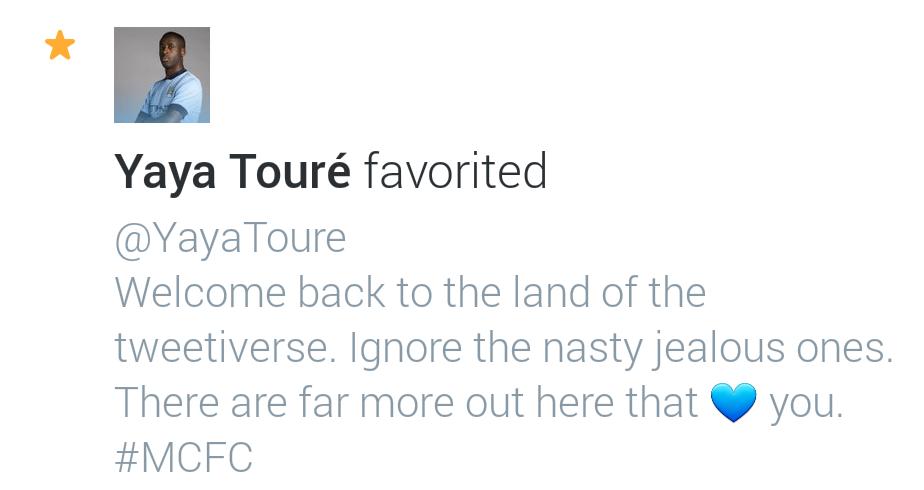 This is not the first time Toure has been the target of racist abuse.
Last season he was subjected to racist chanting during City's Champions League game at CSKA Moscow.
"I'm not just disappointed, I'm furious," Toure said after City's 2-1 win in Russia.
"It was unbelievable and very sad."
CSKA denied Toure had been abused, but UEFA disagreed and ordered the Russian club to close part of their ground for their next Champions League match.
The police have been called to investigate claims Yaya Toure was racially abused within hours of reactivating his Twitter account. The Manchester City midfielder, rejoined following City's derby day victory over United.
He wrote: "Great to be back on twitter after a good win yesterday. Now my focus is on the next game... Happy Monday everyone!!" Within hours of posting the message, the 31-year-old received abusive and racist messages from other Twitter accounts.
It prompted fury on the social networking website which was spotted by Toure, who favourited three tweets which supported him and called for action.
Posters complained to both GMP and the Metropolitan Police on Twitter. A spokesman for GMP said it was aware of the message and would be looking into the matter further.
Toure quit Twitter during earlier this year, saying he wanted to concentrate on the World Cup.
Manchester City will hope to have kick-started their season after emerging victorious from a frenetic derby against 10-man United.
Read the full story ›
Load more updates