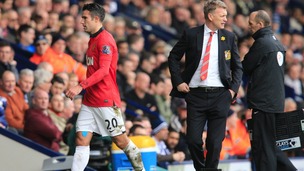 Today's paper talk suggests a couple of big moves for Manchester United in the summer.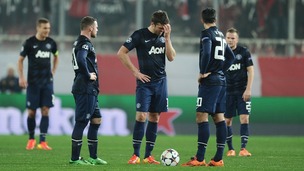 Olympiacos 2-0 Manchester Utd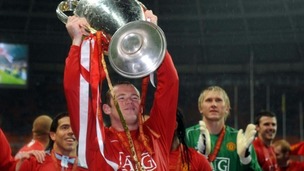 Wayne Rooney does not want to end his career with just one Champions League winner's medal to his name.
Live updates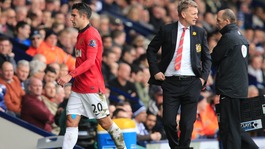 Today's paper talk suggests a couple of big moves for Manchester United in the summer.
Read the full story
Advertisement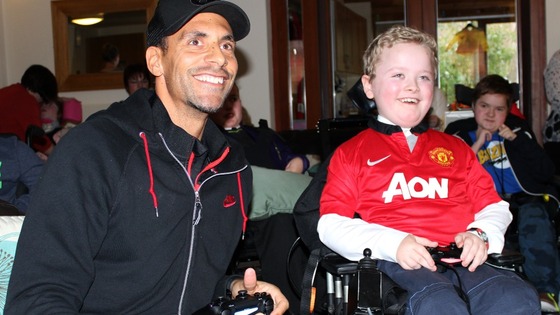 Manchester United captain Nemanja Vidic and defender Rio Ferdinand delighted kids at Francis House Children's Hospice.
The players met with families of those with life-limiting conditions and heard how they'll benefit from extra nights of respite care when a seven bedroom extension opens in April.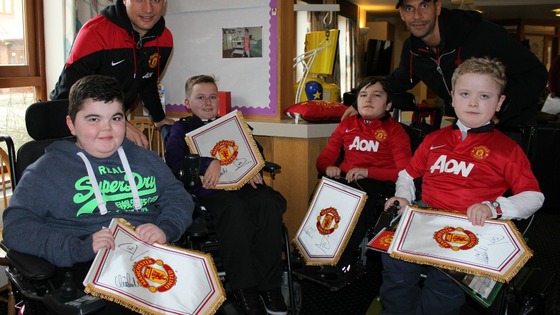 The event was organised by the Manchester United Foundation. The players delivered three gaming consoles donated by the first team squad.
The charity is seeking daredevils to raise sponsorship and abseil from the roof of Old Trafford on Sat March 22nd.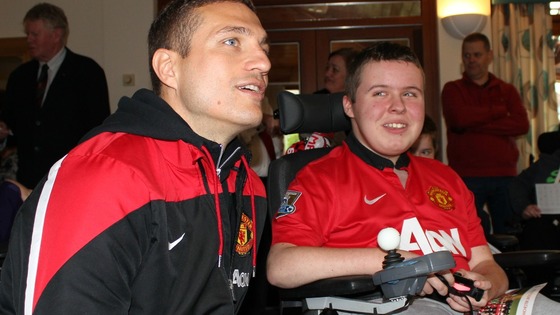 Moyes writes to fans promising better times ahead
Manchester United boss David Moyes has written to season ticket holders promising a better season ahead.
The Scot took the hot seat at Old Trafford following Sir Alex Ferguson's exit but it's been a rocky road. United are out of the Premier League title race and have recently bombed out of League Cup and FA Cup.
Now Moyes has penned an open letter to fans promising to turn things around.
The letter reads:
While I knew that this job would be a challenge when I took it on, the difficult season we have experienced was not something that I envisaged, which I am sure is the case as well for you supporters – and my players, staff and I am desperate to compensate for that.

You are accustomed to seeing a successful Manchester United and the backing you have given the players and I throughout the season has been incredible. Away from home the traveling fans have remained the best in the country, while at Old Trafford your unwavering faith has been noticeable and hugely welcomed.
Supporting your team when they are winning is easy, but much harder when things are not going as well, and the loyalty you have shown us has been magnificent.

"Everywhere we turn people outside the club have a lot to say about Manchester United, but we have all stuck together through some tough times this season and I firmly believe that, in the long run, we will all come out at the other end, stronger for the experiences. Everything we need have been through will make us a better, stronger team and club in the future.
"Over the years you have seen great winning sides here and, in time, I have absolutely no doubt that we will see great winning sides here again. A big step towards that will be transforming Old Trafford back into the fortress it has long been renowned as, and we will do everything in our power to get the positive performances and results to do that, so that we can give you Season Ticket holders and all of our supporters something to shout about."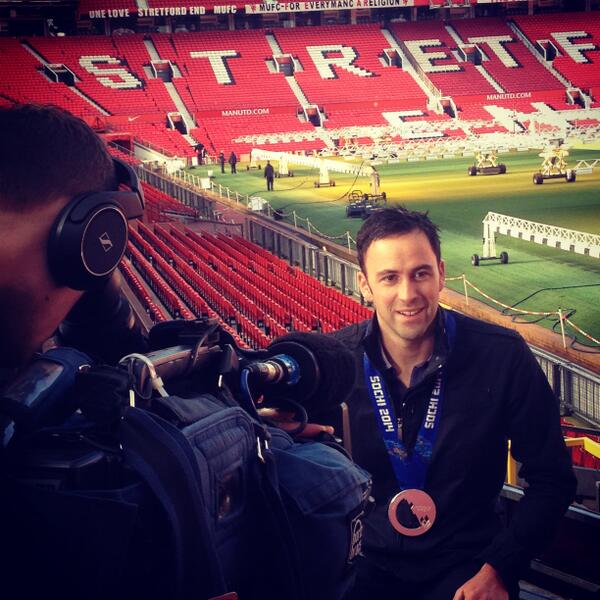 Old Trafford has played host to Team GB curling captain and Manchester United fan David Murdoch today.
Murdoch helped Team GB to a silver medal at Sochi 2014.
Champions League returns
Cameras greeted David Moyes and his Manchester United squad as they returned home after losing 2-0 to Olympiacos in the first leg of their last 16 Champions League tie.
Advertisement
Manchester United's 2-0 Champion's League defeat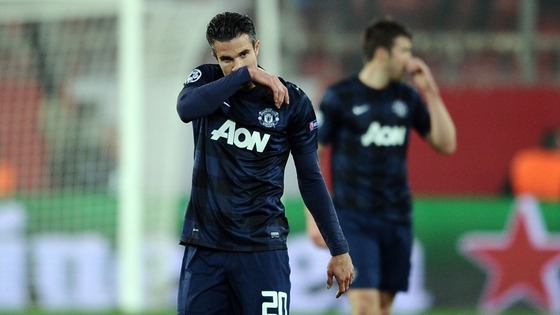 Robin van Persie accused his Manchester United team-mates of getting in his way as he cut a frustrated figure following the club's damaging Champions League defeat to Olympiacos.
Goals from Alejandro Dominguez and Arsenal loanee Joel Campbell left United with a huge mountain to climb to make it into the quarter-finals of the Champions League.
Van Persie wasted a good chance to score a vital away goal at the end of the match as the Dutchman put in an uncharacteristically poor display.
The former Arsenal striker, speaking to Dutch broadcaster NOS after the match, said that his cause was not helped by the positioning of some of his team-mates.
"It was quite difficult because my team-mates are often in the area where I want to play," the United striker said.
"That's why I have to change my tactics. Unfortunately, they are often in my area.
"It was much too slow today and we only had one shot on target in the whole match against Olympiacos, which is far too little.
"Everyone is very disappointed."
United have to win by three clear goals to be sure of their passage to the last eight of the competition they were claiming they could win in the run-up to Tuesday's first leg in Athens.
With United out of both domestic cup competitions and 11 points adrift of the top four in the Barclays Premier League, the Champions League is the only trophy David Moyes' team can win this year, and Van Persie is refusing to throw in the towel just yet.
"It is still possible, because with all due respect to Olympiacos, we should be able to win 3-0 at home," the striker added.
"It is not that they were fantastic (in the first leg), we just mostly failed."
Former United captain Roy Keane hit out at the team following the defeat.
He told ITV 1 the Red Devils lacked confidence and quality, but Moyes disagrees and the Scot insists United can still progress following the second leg, which takes place in three weeks' time.
"I think there is undoubtedly talent at Manchester United but tonight we didn't show it," the United manager said.
"Me and the team we didn't show it together.
"It is something we will have to do. We will put it right. We are determined to put it right and will have opportunities to do that in the coming weeks.
"There is a second game to come and Old Trafford has seen some great night s in the past and I am looking forward to hopefully seeing another one."
Champions League returns
Robin van Persie has shed light on the frustrations he feels at Man United after they fell to a disappointing 2-0 defeat against Olympiacos.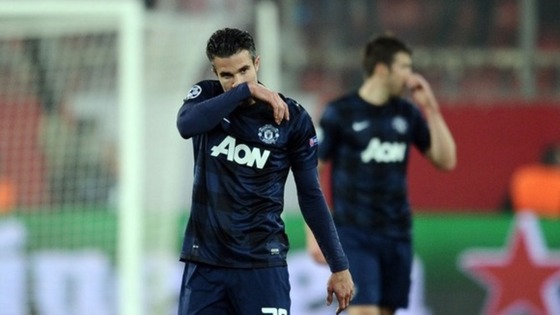 Speaking to Dutch TV station NOS after the Champions League tie, he said:
"My team-mates are sometimes occupying the spaces I want to play in. And when I see that it makes it difficult for me. So that forces me to adjust my runs, based on the position of my fellow players. And unfortunately, they're often playing in my zones. I think that's a shame.
"Then I have to change my tactics to suit my teammates, and play outside my zone. That's a pity," he added.
The Red Devils put in their worst Champions League performance of the season in Greece, failing to test goalkeeper Jimenez Roberto during a 90 minutes they will surely want to forget.
Van Persie, though, was also quick to offer manager David Moyes some support:
"He's working hard at it, and so are we. Sometimes we play well, but not all the time. We don't have luck on our side. It's easy to point the finger at someone, but I'm not like that. We have to do better ourselves."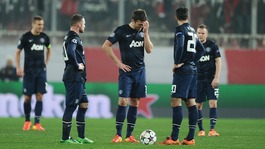 Champions League returns
Load more updates
Back to top