Sorry, this content isn't available on your device.
It looks as if some of Manchester United's first team are planning a career change. Wayne Rooney, Ashley Young, Chris Smalling, Daley Blind and Juan Mata have been pictured saving the world on the club's Twitter account ahead of the release of the new Independence Day film.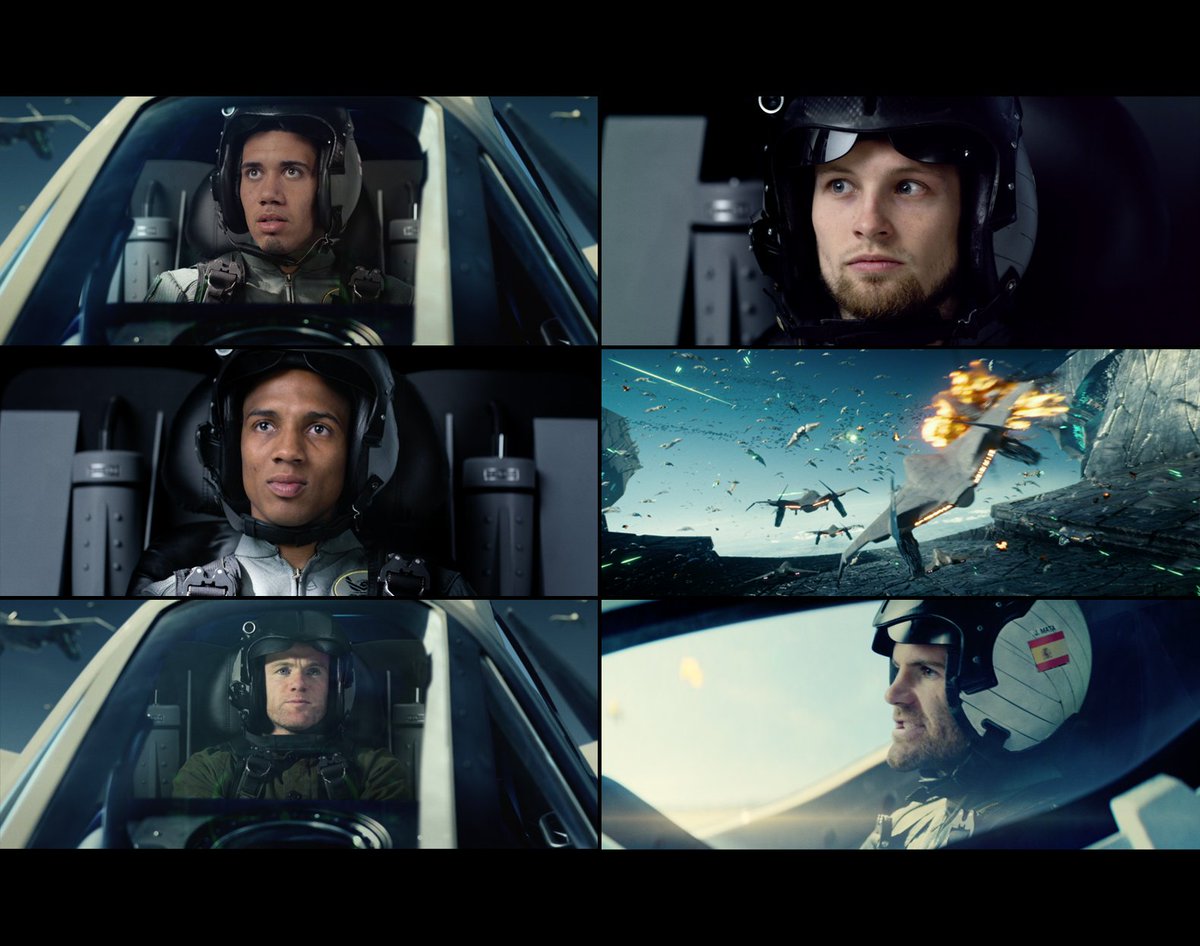 It's part of the club's sponsorship deal with 20th Century Fox, which sees them promote blockbuster films. Earlier this year Wayne Rooney took on a starring role in an X-Men trailer.
However not all United fans are completely convinced.
Advertisement
David de Gea has denied any link to a 'non consensual sex party' involving prostitutes and players from Spain's U-21 side.
Read the full story ›
New Manchester United manager Jose Mourinho has wasted no time in making his first visit to the club's Aon training complex.
Mourinho was given a tour of the centre by executive vice-chairman Ed Woodward and met United legend Sir Bobby Charlton.
Afterwards his wife Matilde tweeted an image of Jose holding a United carrier bag - perhaps after a visit to the club shop!
Shares in Manchester United stepped up at the opening bell as investors welcomed the arrival of new manager Jose Mourinho.
Read the full story ›
Jose Mourinho's wife gave the world a look inside the Special One's office which shows a portrait of himself hanging on the wall and a Manchester United shirt draped over a chair.
The 53-year-old Portuguese boss showed how happy he is about his new post by sharing an Instagram picture for the first time ever. The post shows a posh red pen sitting neatly on a Manchester United service agreement.
The posts come after it was confirmed this morning the he was indeed taking over as the new manager of Manchester United.
Sorry, this content isn't available on your device.
Sorry, this content isn't available on your device.
Advertisement
José Mourinho's first interview after it has been confirmed he has taken over as manager of Manchester United.
Read the full story ›
MANCHESTER UNITED STATEMENT
José Mourinho will take over as manager of Manchester United from the 2016/17 season, signing a three-year contract with an option to stay at the club until at least 2020.
José, 53, has managed at the top level of European football for over a decade and in that time has won league titles and cups in four countries (Portugal, England, Italy and Spain), as well as winning the UEFA Champions League twice – in 2004 with FC Porto and in 2010 with Inter Milan.
Announcing the appointment, Ed Woodward said: "José is quite simply the best manager in the game today. He has won trophies and inspired players in countries across Europe and, of course, he knows the Premier League very well, having won three titles here.
"I'd like to take this opportunity to welcome him to Manchester United. His track record of success is ideal to take the club forward."
José Mourinho said: "To become Manchester United manager is a special honour in the game. It is a club known and admired throughout the world. There is a mystique and a romance about it which no other club can match.
"I have always felt an affinity with Old Trafford; it has hosted some important memories for me in my career and I have always enjoyed a rapport with the United fans. I'm looking forward to being their manager and enjoying their magnificent support in the coming years."
Former Manchester United and England star, Phil Neville, says Everton midfielder Ross Barkley will shine at Euro 2016.
Read the full story ›
Load more updates