Manchester United defender Luke Shaw has been ruled out for a month with a hamstring injury.
The nineteen-year old left-back joined from Southampton in June for £27 million.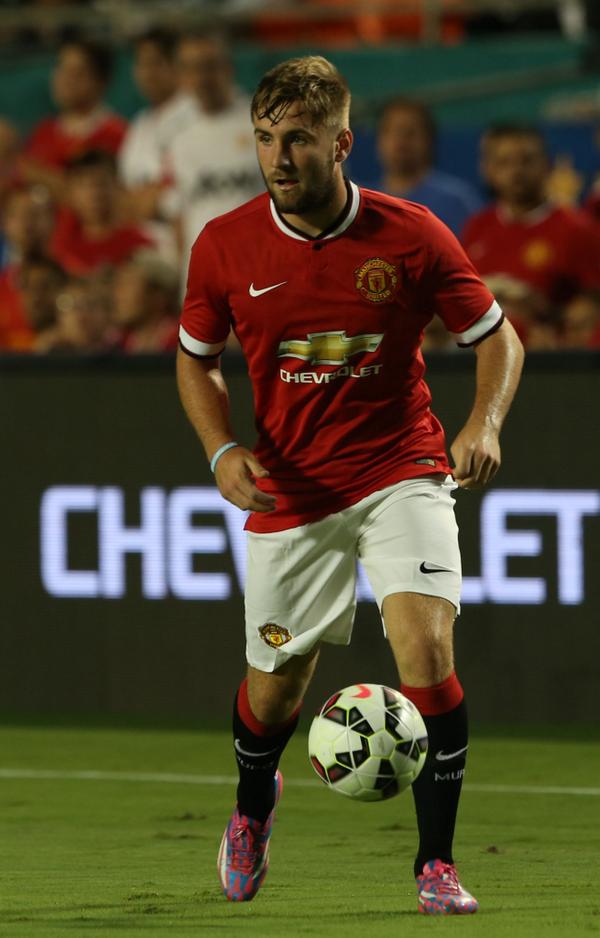 Brendan Rodgers has warned new Manchester United boss Louis van Gaal that the competitiveness of the Premier League will be like nothing he has encountered so far in his illustrious career.
The Liverpool manager believes that, despite Van Gaal's experience of winning titles in Holland, Spain and Germany with clubs such as Ajax, Barcelona and Bayern Munich, he will be surprised when the Premier League kicks off again on August 16.
Van Gaal, who arrived in Manchester fresh from leading Holland to the semi-finals of the World Cup, has enjoyed a strong start to life at Old Trafford with his side unbeaten so far in his first pre-season campaign.
United impressed as they beat Real Madrid and Liverpool on their way to winning the International Champions Cup on Tuesday in Miami, but Rodgers has warned the 62-year-old that it will be anything but plain sailing when the domestic season gets under way.
"I think what he'll find is the competition in this league will be different to any other league that he's worked in," the Northern Irishman told several national newspapers.
"In a lot of the other leagues, there are one or two teams and those are the teams that are expected to win.
"This is a league where the top team plays the bottom team and on any given day you can lose. You don't get that a lot in the other leagues. I think the competition will probably take him by (surprise), and that's from foreign managers I have spoken to over the years."
Despite the fierce rivalry between the two clubs, Rodgers also spoke of his admiration for Van Gaal and what he has achieved.
"I've obviously an admirer of his work and his career," he added.
"He's a very experienced manager and a very good manager who has worked at some big clubs.
"When you come through as a coach, you look at the guys who have a vision and a philosophy, and he was obviously one of those guys."
Advertisement
Manchester United claimed some early bragging rights over Liverpool as Louis van Gaal ended his first pre-season tour as manager with yet another morale-boosting win.
Steven Gerrard's penalty put Liverpool ahead, but Wayne Rooney and Juan Mata scored within two minutes of each other before Jesse Lingard rounded off the 3-1 win at the death.
The victory, which came in front of 51,104 rain-soaked fans at the uncovered Sun Life Stadium in Miami, meant United lifted the International Champions Cup - the pre-season tournament that contained eight of Europe's best teams.
The trophy, and the Chevrolet Cup, which Van Gaal won after United beat the Los Angeles Galaxy a fortnight ago, will not take pride of place in the Dutchman's packed cabinet.
But the former Barcelona and Bayern Munich manager will at least be happy to go back to Manchester with five wins under his belt and an enhanced knowledge of his squad.
United rode their luck at times in Miami - they could not handle Raheem Sterling for most of the night - but overall on this tour, Van Gaal's men have performed very well.
Rooney, who bagged four goals in the US, and Mata have been two of the best performers, along with Ander Herrera, Jonny Evans and Darren Fletcher.
The players have reacted well to Van Gaal's training techniques and the 3-4-1-2 system he has used successfully against the Galaxy, Roma, Inter Milan, Real Madrid and now Liverpool.
More importantly, the atmosphere around the camp is in complete contrast to the edgy feeling that lingered around the team under David Moyes. Despite 24 hours of torrential rain in Florida, organisers attempted to raise the spirits of the fans with a flurry of pre-match fireworks.
Former Manchester United footballer Ravel Morrison is set to be released from prison after a judge granted a bail application.
Morrison, 21, was remanded in custody last month after he was charged with two counts of common assault.
Midfielder Morrison, who moved to West Ham United from Manchester United in 2012, was arrested on Sunday July 27 after police were called to an address in Peel Green, Salford, in the early hours.
It followed reports that a 19-year-old woman had been assaulted outside a nightclub in Manchester city centre.
A 39-year-old woman also claimed she had been attacked.
Morrison is due to appear at Manchester magistrates court again on Thursday.
Louis van Gaal will sit down with his players after their tour and tell them whether they have a future at Manchester United.
Van Gaal and his 25-man squad fly back to Manchester in the early hours of Tuesday morning after their final game of the US tour against Liverpool.
"In football, you have to judge. Always you have to give a chance to a player to make a transfer when you see that his perspective is not so high to play.

"You have to say it in advance. When you say it on August 31st it's too late. I shall say to the players what I think after the tour."
– Louis van Gaal
Manchester United have racked up wins over the Los Angeles Galaxy, Roma, Inter Milan and Real Madrid, but the manager is still unhappy with certain aspects of his squad.
Javier Hernandez, Shinji Kagawa and Wilfried Zaha face uncertain futures after limited playing time in America while Marouane Fellaini and Anderson, who have not made the trip, could also be shown the door.
Van Gaal has sent coach Marcel Bout back to England to work with the likes of Robin van Persie, Adnan Januzaj, and Fellaini, who have been given time off following their exploits at the World Cup.
Manchester United beat European Champions Real Madrid 3-1 to maintain their excellent pre-season form.
Read the full story ›
Advertisement
Louis van Gaal admits he may not sign any more new players because of Manchester United's impressive pre-season form.
Read the full story ›
Manchester United's owners have announced plans to sell another five per cent - or eight million shares - in the club - which would see them earn around $150million (£89million).
And the Glazer family have warned potential investors that the club may fail to attract or retain top players and coaches if it fails to qualify for the Champions League again this coming season.
All the proceeds from the share sale will go to the Glazers' investment vehicle Red Football LLC and not to Manchester United - something that will fuel anger from fans' groups who have often claimed the Glazers are taking money out of the club.
It its prospectus, United has warned of the implications of missing out on the Champions League again and revealed that income from its new 10-year kit deal with Adidas will drop 30 per cent from £75million to £52.5million per year if it fails to qualify in two consecutive seasons.
United sacked David Moyes as manager after failing to make it into the elite European club competition last season, and the cost of his successor Louis van Gaal failing to do so again has been made clear to investors.
The prospectus says: "Because of the prestige associated with participating in the European competitions, particularly the Champions League, failure to qualify for any European competition, particularly for consecutive seasons, would negatively affect our ability to attract and retain talented players and coaching staff, as well as supporters, sponsors and other commercial partners.
"Failure to participate in the Champions League for two or more consecutive seasons would also reduce annual payments under the recently announced agreement with adidas by 30 per cent of the applicable payment for the year in which the second or other consecutive season of non-participation falls."
United's combined broadcasting and matchday revenue from Europe was £38.9million, £42.3million and £59.7million for 2013, 2012 and 2011, respectively.
Manchester United's shares, which rose sharply after the announcement of the adidas deal earlier in July, closed at $19.31 in New York on Wednesday.
Javier Hernandez is unsure whether he will remain at Manchester United next year, but Atletico Madrid are willing to offer the Mexican an escape route from Old Trafford should he decide to leave.
Hernandez flew out to the United States to join the club's pre-season tour, but he has so far only made two brief substitute appearances.
Even though new manager Louis van Gaal likes to play with two strikers, Hernandez still faces stiff competition from Robin van Persie, Wayne Rooney, Danny Welbeck and Wilfried Zaha for a first-team place.
In a rushed interview following United's penalty shoot-out win over Inter Milan on Tuesday night, Hernandez was asked if he saw his future at Old Trafford.
"The future, only god knows," he said.
When pressed on his limited match time under Van Gaal, the striker responded: "There is competition here and I will continue to work hard as I always do."
Hernandez was an instant hit at United following his surprise move from home-town club Guadalajara in 2011.
But the signing of Van Persie and the emergence of Welbeck has caused the Mexican to start just 15 Premier League games in the last two seasons.
Van Gaal was asked after the friendly win in Washington whether he would consider selling Hernandez.
He replied: "That I cannot answer because he is a player of Manchester United at this moment."
The latter part of the answer seemed to suggest Hernandez could be on his way out of United.
There are plenty of interested parties, chief among them Atletico.
The Spanish champions have already brought in forwards Mario Mandzukic and Antoine Griezmann this summer to compensate for the departures of Diego Costa, David Villa and Adrian Lopez, but Diego Simeone revealed he is still looking for an extra forward.
The Atletico coach thinks Hernandez would be an asset for his side.
"He's a vertical player. He's great in one-on-one situations and he's someone who could be useful to any team," the Atletico coach told a press conference in Mexico, ahead of his team's pre-season friendly with Club America.
"We are speaking to the sporting directors about the type of player we want and then it's up to them to bring the player in. With Javier Hernandez and lots of other great players, anything is possible. We can't close any door until the transfer window shuts."
Inter are also reported to be interested in Hernandez's signature.
Their defender Nemanja Vidic, who played alongside Hernandez at Old Trafford for three years, appears open to the idea of 'Chicharito' coming to Inter.
"He is a great player," Vidic said after Tuesday's game, which went to penalties after a goalless stalemate over 90 minutes.
"He is a Manchester United player but he can play in any team. He is a great professional. That is all I can say."
Former Manchester United manager David Moyes is in the clear after he was investigated over an alleged bar-room bust-up.
The Scot was spoken to by police after claims made by builder Josh Gillibrand, 23, that he had been attacked at a wine bar in Clitheroe, Lancashire.
Officers were called to the Emporium bar in the town following a report of the altercation on the evening of May 21.
It is understood Moyes, 51, had been socialising with his friend, Blackburn Rovers managing director Derek Shaw, a local businessman in the Ribble Valley.
Witnesses reported Moyes, who had been sacked by Manchester United the previous month, was abused by a group of drunken young men shortly before he entered the bar.
Mr Gillibrand, from nearby Dutton, denied that he or his friend were involved in the abuse but told The Sun he "felt like I was going to die", as trouble allegedly flared.
Police said at the time there were, "a number of differing accounts" of what happened.
Lancashire Police has confirmed no further action will be taken against any party.
A spokesman said: "After careful consideration of all the circumstances in this case it has been decided that no further action will be taken against anyone.
"A thorough investigation has been carried out and everyone identified as having been involved in this incident or having witnessed it have provided accounts to the police.
"All these accounts were given voluntarily, it has not been necessary to arrest any person. These accounts have been considered and it has been decided that this is the most appropriate course of action."
Moyes was dismissed by Manchester United last April following a mediocre season after he replaced the retiring Sir Alex Ferguson.
Load more updates