The bomb squad have been called to a property in Moss Side, Manchester, which is currently being searched by police.
Greater Manchester Police said that an evacuation is underway and a search is being carried out at a property on Boscombe Street.
It comes after police used a controlled explosion in a raid in Cheetham Hill overnight in which two men were arrested.
It is believed to be the latest development in the investigation after a bomb at Manchester Arena on Monday night, which killed 22 people.
Fresh arrests have been made in the Manchester bombing probe after police carried out a raid in the Cheetham Hill area of the city
Read the full story ›
Advertisement
Showers on Saturday afternoon & evening could bring torrential rain, hail & lightning. Risk of localised flooding with longer journey times
Read the full story ›
The daughter of an Oldham woman who died in the Manchester terror attack has vowed to make her mum proud.
Read the full story ›
Families and children marched from Cheetham Hill to lay flowers and say prayers for those killed in attack
Read the full story ›
Eyewitnesses have described how armed police stormed a bus on Oxford Road in Manchester earlier this evening. Daryl Lawson, store manager of Spar, said up to six people rushed into his shop as armed police stormed the bus they were on. He then saw a police van pull up at the back of the bus, and believes a male passenger was taken away in it.
"Basically some other people from the bus came running in the shop absolutely terrified, they said a number of armed police were on the bus. "So I just got them in the back of the shop. I stood and guarded the front."
– Daryl Lawson
It comes as Greater Manchester Police announced a 44-year-old man has been arrested in Rusholme on suspicion of terrorism offences in connection with the Manchester bombing It brings the total number of men in custody in connection with the attack to nine.
Advertisement
Greater Manchester police have made another arrest in the Manchester arena bombing investigation. A 44 year old man detained in Rusholme is now the ninth man in custody. In all, eleven people have been arrested. Two were released without charge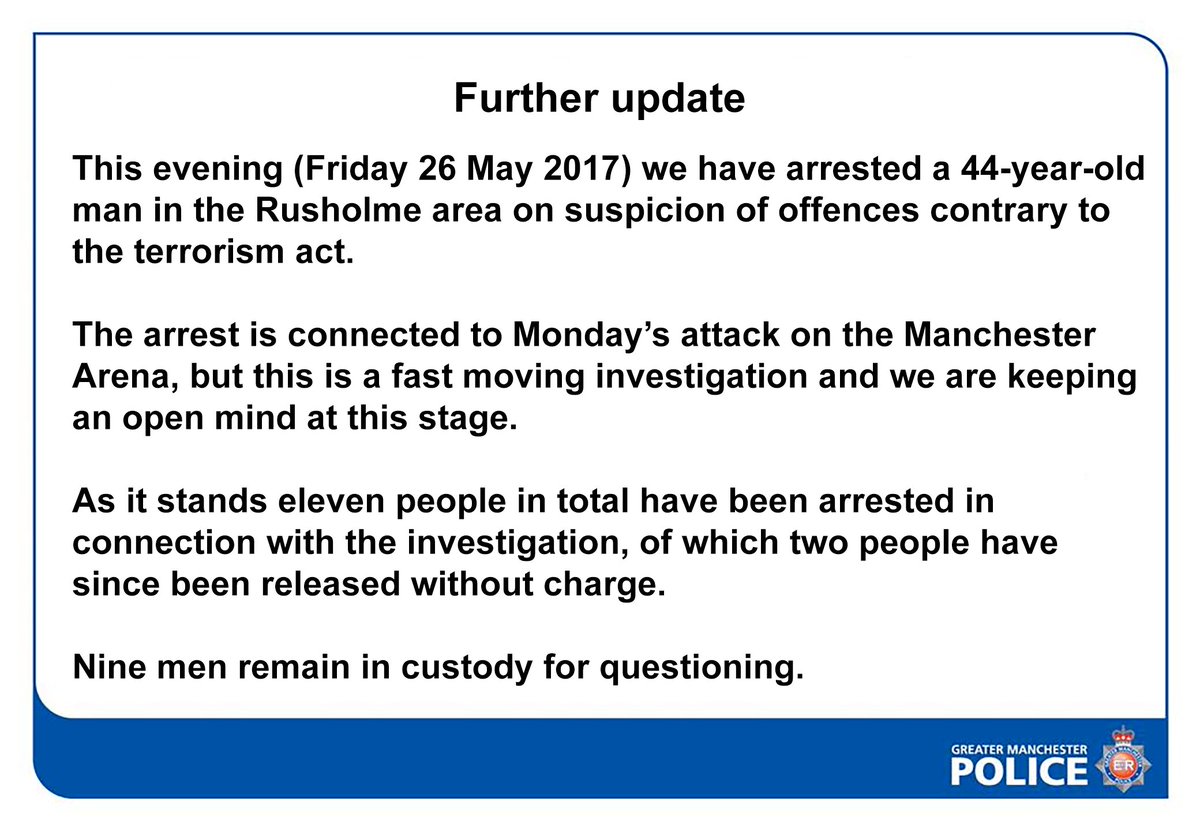 Pop star Ariana Grande has said she will return to the 'incredibly brave' city of Manchester to play a benefit concert for the victims of the Arena attack.
The 23-year-old singer, from Florida, tweeted a moving message to her 46 million followers saying she would be back to 'spend time with my fans'.
22 people were killed by a suicide bomber just after Ariana finished her show at the Manchester Arena on Monday night - and the singer has previously said the experience has left her 'broken'.
Here's the full text of Ariana's statement.
My heart, prayers and deepest condolences are the with the victims of the Manchester attack and their loved ones.

There is nothing I or anyone can do to take away the pain you are feeling or to make this better.

However, I extend my hand and heart in everything I possibly can give to you and yours, should you want or need my help in any way.

The only thing we can do now is choose how we let this affect us and how we live our lives from here on out.

I have been thinking of my fans, and of you all, non stop over the past week. The way you have handled all of this has been more inspiring and made me more proud than you'll ever know.

The compassion, kindness, love, strength and oneness that you've shown one another this past week is the exact opposite of the heinous intentions it must take to pull off something as evil as what happened Monday.

YOU are the opposite.

I am sorry for the pain and fear that you must be feeling and for the trauma that you, too, must be experiencing.

We will never be able to understand why events like this take place because it is not in our nature, which is why we shouldn't recoil.

We will not quit or operate in fear.

We won't let this divide us.

We won't let hate win.

I don't want to go the rest of the year without being able so see and hold and uplift my fans, the same way they continue to uplift me.

Our response to this violence must be to come closer together, to help each other, to love more, to sing louder and to live more kindly and generously than we did before.

I'll be returning to the incredibly brave city of Manchester to spend time with my fans and to have a benefit concert in honour of and to raise money for the victims and their families.

I want to thank my fellow musicians and friends for reaching out to be a part of our expression of love for Manchester. I will have details to share with you as soon as everything is confirmed.

From the day we started putting the Dangerous Woman Tour together, I said that this showm, more than anything else, was intended to be a safe space for my fans. A place for them to escape to, to celebrate, to heal, to feel safe and to be themselves. To meet their friends they've made online. To express themselves.

This will not change that.

When you look into the audience at my shows you see a beautiful, diverse, pure, happy crowd.

Thousands of people, incredibly different, all there for the same reason, music.

Music is something that everyone on Earth can share.

Music is meant to heal us, to bring us together, to make us happy.

So that is what it will continue to do for us.

We will continue in honour of the ones we lost, their loved ones, my fans and all affected by this tragedy.

They will be on my mind and in my heart every day and I will think of them with everything I do for the rest of my life.

Ari
– Ariana Grande
Pupils who witnessed the Manchester bomb attack have paid special tribute to victims with a stunning cover of Ariana Grande's My Everything.
Read the full story ›
As the week has gone on stories have emerged of the twenty two victims of the Manchester Arena.
One grieving daughter has spoken to Amy Welch of how she will face life without her mother, who was one of them.
Load more updates