With Valentine's Day just around the corner, 250 American women have created a list of the top 300 hottest players in the Premier League
Read the full story ›
Liverpool striker Mario Balotelli could have to pay up to 10,000 euros in speeding fines in the Italian region of Bergamo.
Balotelli racked up 18 offences between 2012 and 2013, including driving at up to 200km per hour in a 130km zone, but has thus far not paid them.
The striker told the court of Bergamo that he had not settled the fines, as he was living in Manchester at the time, so did not receive them.
Advertisement
Liverpool striker Mario Balotelli is back in training and could return to the squad for Sunday's trip to Manchester United.
The Italy forward has been sidelined since November 8th because of a groin problem sustained on international duty.
Supporters of Liverpool FC gave their views on the latest incident by Mario Balotelli who has said sorry for posting an alleged racist tweet - he said it was just humour.
I apologize if I've offended anyone. The post was meant to be anti-racist with humour. I now understand that (...) http://t.co/UlNeNlEz9M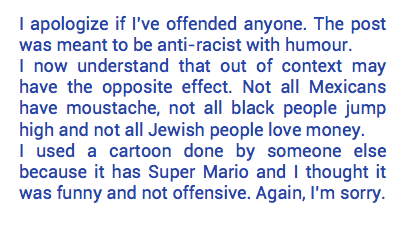 Liverpool manager Brendan Rodgers has challenged Mario Balotelli to prove he has a long term future at the club.
The striker's been reprimanded after swapping shirts with a Real Madrid player at half time in last night's Champions League match at Anfield.
His actions didn't go down well with the manager or supporters as Mike Hall reports
Advertisement
We takes a look at some more of Balotelli's on and off-field incidents during his time in English football.
Read the full story ›
Liverpool striker Mario Balotelli will be reprimanded by manager Brendan Rodgers after swapping shirts with Real Madrid's Pepe with his side 3-0 down at half-time.
Liverpool manager Brendan Rodgers has admitted summer signing Mario Balotelli will never match Luis Suarez's Anfield impact.
Rodgers backed the Italy striker to shrug off "unfair" criticism and end his six-game Premier League drought however, despite Balotelli missing another glorious chance in Sunday's 3-2 win at QPR.
The Liverpool boss said Balotelli's early Reds career has been blighted by comparisons with Uruguay forward Suarez, who completed a summer transfer to Barcelona.
Liverpool sneaked to victory in west London courtesy of own goals from Caulker and Richard Dunne, plus a deflected effort from Philippe Coutinho.
Eduardo Vargas twice equalised at the death for the impressive hosts, only for Sterling to force Caulker's own goal and keep QPR at the bottom of the Premier League.
The most important thing for me is his work, the guy's doing his best; he's working really hard.

The criticism of him has been unfair, yes.

And that's because he's probably seen as the direct replacement for Luis, and as I said before, Luis was irreplaceable and a real world-class talent.
– Brendan Rodgers, Liverpool Manager
Liverpool striker Mario Balotelli says skipper Steven Gerrard is on a par with Juventus midfielder Andrea Pirlo.
Balotelli has played alongside Pirlo in the Italian national team and believes his the former England captain is comparable to the Juventus man.
Gerrard is an amazing player. I had really not seen much of him before this season, apart from for England, but wow. I think of him as being at the same level as Pirlo,"

"Vision, technique, but he is powerful as well. Stevie can do anything. It's going to be very difficult for the team to find another player like him in the future."
– Mario Balotelli, Liverpool FC, speaking to Sport Magazine.
Load more updates