Live updates
Mayoral elections
Advertisement
Mayoral elections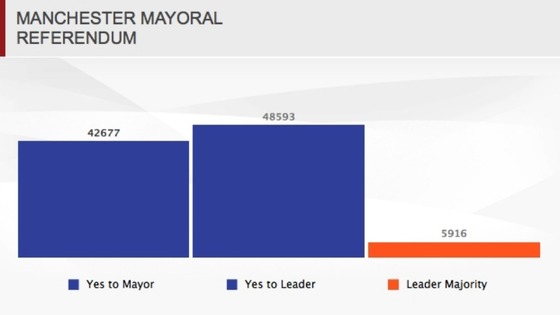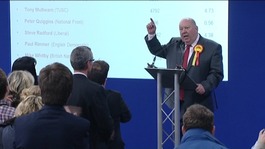 Voters have chosen the current council leader Joe Anderson as Liverpool's first mayor. He won the election with 54% of the vote.
Read the full story
Mayoral elections
"The people of Liverpool have spoken decisively in favour of the Labour Party.

"They have rejected the Conservatives and Liberal Democrats within this city and have given me their trust and the Labour Party their trust.

"I promise to you that we will deliver on our pledges and on our promises."
– Joe Anderson, Liverpool's new mayor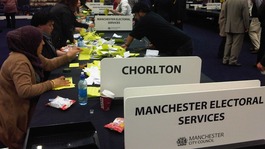 Voters in Manchester voted against having an elected mayor in a referendum.
Read the full story
Advertisement
Mayoral elections
Joe Anderson (Lab) 58,448 (59.33%)
Liam Fogarty (Ind) 8,292 (8.42%)
Richard Kemp (LD) 6,238 (6.33%)
John Coyne (Green) 5,175 (5.25%)
Tony Mulhearn (TUSC) 4,792 (4.86%)
Steve Radford (Lib) 4,442 (4.51%)
Tony Caldeira (C) 4,425 (4.49%)
Adam Heatherington (UKIP) 2,352 (2.39%)
Paul Rimmer (Eng Dem) 1,400 (1.42%)
Jeff Berman (Liverpool Ind) 1,362 (1.38%)
Mike Whitby (BNP) 1,015 (1.03%)
Peter Tierney (NF) 566 (0.57%)
Electorate 319,758; Turnout 98,507 (30.81%)
Mayoral elections
Very gracious RT "@liam4liverpool: Am so pleased & proud w/ our creditable 2nd place. Massive thanks to everyone who supported
Mayoral elections
Mayoral elections
Liverpool's new elected mayor Joe Anderson was elected with 57% of the vote.
Liam Fogarty, an independent candidate who had campaigned for the city to have a mayor, came second, beating the Liberal Democrats' candidate Richard Kemp into third place.
Mayor Anderson polled 58,448 votes, Mr Fogarty secured 8,292 (8.19%) with Cllr Kemp on 6,238 (6.16%).
Load more updates
Back to top