The Police and Crime Commissioner for Merseyside says that she will need to cut jobs if she is forced to apply a further £48 million of cuts
Read the full story ›
The family of police officer David Phillips are visiting the scene of the collision in Wallasey where he was fatally injured.
The 34-year-old father of two died after being struck by a stolen vehicle on Monday.
Merseyside Police say the constable's family will be laying floral tributes at the scene this morning.
They will be joined by the Chief Constable Sir Jon Murphy, and the Merseyside Police and Crime Commissioner, Jane Kennedy.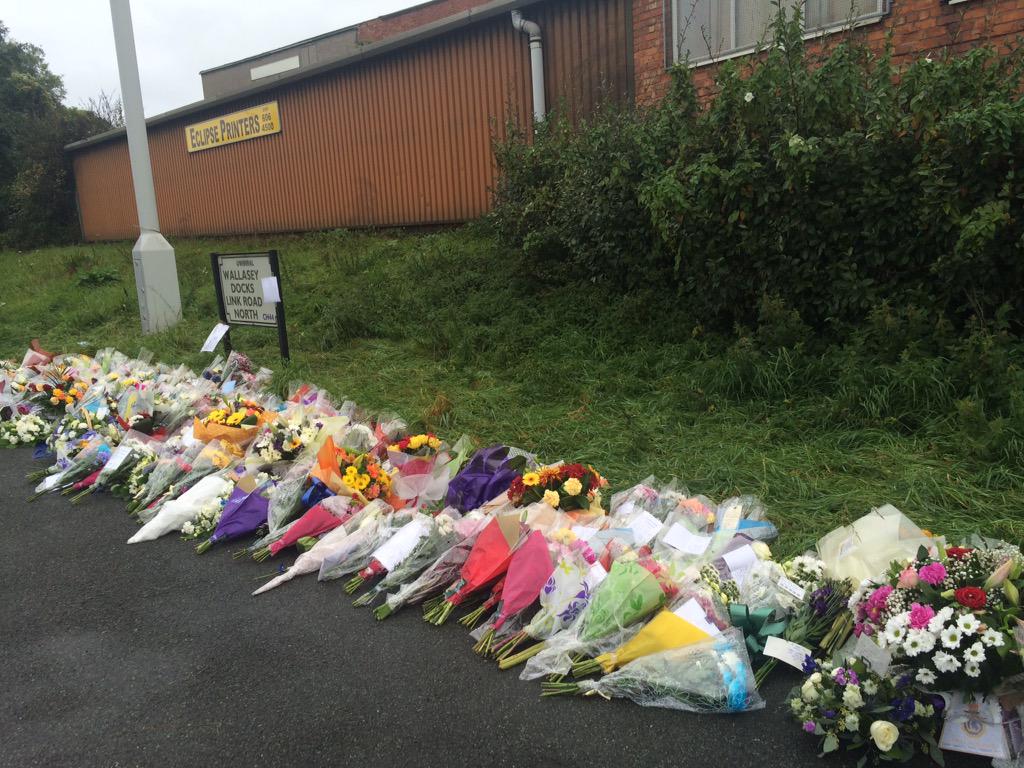 Advertisement
Detectives investigating the murder of mum-of-three Maxine Showers in Liverpool are continuing to question a 31-year-old man from the Kensington area of the city about her death.
Two other men, a 31-year-old and a 40-year-old man, both from Kensington, who were also arrested on suspicion of murder have been released on conditional police bail pending further enquiries.
Tributes are being paid to mother-of three whose body was found in an alleyway in Liverpool.
Police launched a murder inquiry after Maxine Showers, who police say may have been a sex worker, was found with head injuries in an alleyway near Hinton Street in Fairfield.
Two men were arrested on suspicion of her murder. A 31-year-old has since been released on bail.
A woman found dead in an alleyway in Liverpool is Maxine Showers who had three children. Police say she could have been a sex worker
Read the full story ›
A woman whose body was found in an alleyway in Liverpool died from a head injury, leading police to launch a murder investigation.
Two men aged 31 and 40 have been arrested on suspicion of murder.
A post-mortem examination found the woman died as a result of blunt force trauma to the head.
The body was found in Hinton Street, Fairfield, by a resident at about 8am on Monday. The woman has not yet been formally identified.
Advertisement
A woman was stamped on the head by a man as she lay on the ground following an attack in the street.
The incident happened at around 3am on Friday, 7 August on Westfield Street.
"This was a particularly nasty assault on a woman who was lying defenceless after being knocked to the floor.

Thankfully the victim wasn't badly hurt but we are keen to speak to the man in the photograph as we believe he may be able to help with our enquiries."
– Detective Constable Tracy Awbery, Merseyside Police
Anyone with information is asked to call Merseyside Police on 0151 777 6816 or Crimestoppers on 0800 555 111.
Police have issued CCTV images of a man they want to speak to about the sexual assault of a woman in Liverpool City Centre.
The victim was in a clothes shop at St John's Precinct on Saturday, August 8, when she was approached and sexually assaulted.
"The victim was very distressed by what happened and reported the incident to us.

"As part of our on-going inquiries, we have issued CCTV images of a man who we think may have important which could help with our investigation.

"I would appeal to the man, or anyone who recognises him, to get in touch with us as soon as possible."
– Detective Inspector Phil Mahon, Merseyside Police
Anyone with information can call detectives in Liverpool on 0151 777 4808 or Crimestoppers on 0800 555 111.
Three men will go on trial today accused of murdering a policeman on a Christmas night out.
Read the full story ›
Merseyside Police say they are committed to learning the lessons from the serious case review into the death of 4-year-old Jai Joshi.
In a statement Merseyside Police said:
"Merseyside Police is committed to ensuring that lessons from this review inform our work to safeguard the children and young people of Liverpool.

The Serious Case Review concluded that the intentions of Child N's mother, which led to the death of her son 'were not predictable' and that 'professionals involved could not have prevented Child N's death'.

The force has also carried out its own internal review in relation to the death of Child N and contact with the family prior to his death. Both reviews highlighted that the force "did not consistently take the correct steps in responding to a number of domestic abuse allegations".

They also found that the completing of risk assessment forms and inputting of the information on to the force systems was not effective. On a number of occasions forms were not completed at all and others were completed several days later.

Merseyside Police also has many and varied policies and procedures in place for dealing with incidents of child and domestic abuse and on occasions there was none compliance with these policies. The force has developed a comprehensive action plan to address the issues identified.

As a result of the reviews the force has ensured that greater emphasis is now being placed on the quality assurance of risk assessments and front line supervisors are required to quality assure the VPRF1s to ensure they are accurate and reflect the risks posed. Officers are also now required to carry out risk assessments at the scene to ensure information on force systems is up-to-date.

It is vital to ensure that we continue to work with our partners to improve the service and care we provide to children and vulnerable young people and protect the communities we serve."
– Chief Superintendent John Ward, Area Commander for Liverpool
Load more updates