Treasury predicts an 18 per cent house fall in house prices in the NW as a result of Brexit
Read the full story ›
Advertisement
As the nation prepares to commemorate the 100th anniversary of the Battle of the Somme in Manchester this Friday, we have a series of special reports on Granada Reports. Tonight we're featuring the story of two soliders from the North West who survived - for very different reasons.
You can find our more about the Somme commemorations by clicking here
Barbara Keeley MP for Worsley and Eccles South is the latest to resign from Jeremy Corbyn's Shadow Cabinet.
Read the full story ›
Five men from Merseyside have been arrested in dawn raids as part an investigation into a series of high-value attacks on cash machines.
Read the full story ›
Wythenshawe & Sale East MP Mike Kane has become the latest MP to resign from Labour's shadow cabinet.
He announced on Twitter that he's stepping down from his role as Shadow International Development Minister.
30 years a member @uklabour - proud to have served but have tonight resigned as Shadow International Development Minister
A wave of shadow cabinet ministers have resigned in protest to Jeremy Corbyn's leadership.
Advertisement
Four days on from that momentous vote to leave the European Union, and MPs from our region are right at the centre of an unfolding political drama.
Over the last 48 hours, EIGHT North West MPs have left Labour leader Jeremy Corbyn's shadow cabinet - seven of them today. They say the party's got no chance of winning the next General Election with him in charge.
Meanwhile, the Tories are also badly divided. There are now questions over whether the Tatton MP George Osborne can now survive as Chancellor?
Ms Eagle stepped down as shadow first secretary of state and shadow business secretary, saying "we need a leader who can unite rather than divide the Labour Party".
The member for Manchester Central resigned as shadow education secretary on Sunday:
The MP for Wallasey Angela Eagle has resigned as shadow business secretary saying that the Labour Party needs a "leader who can unite rather than divide".
With deep regret, and after nine months of trying to make it work, I have today resigned from the Shadow Cabinet https://t.co/tX7SPDyTIZ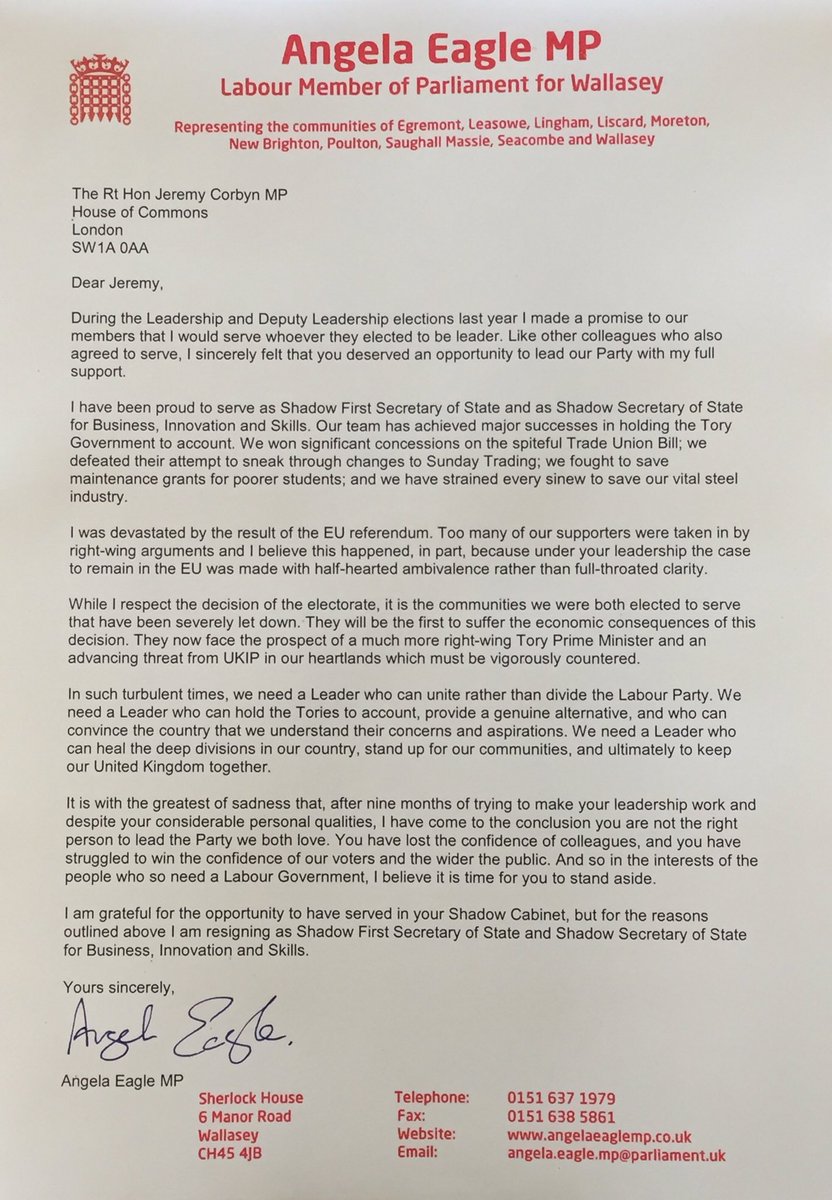 Load more updates