A passer-by caught the moment the arm of a digger smashed through the window of a bus in Middleton.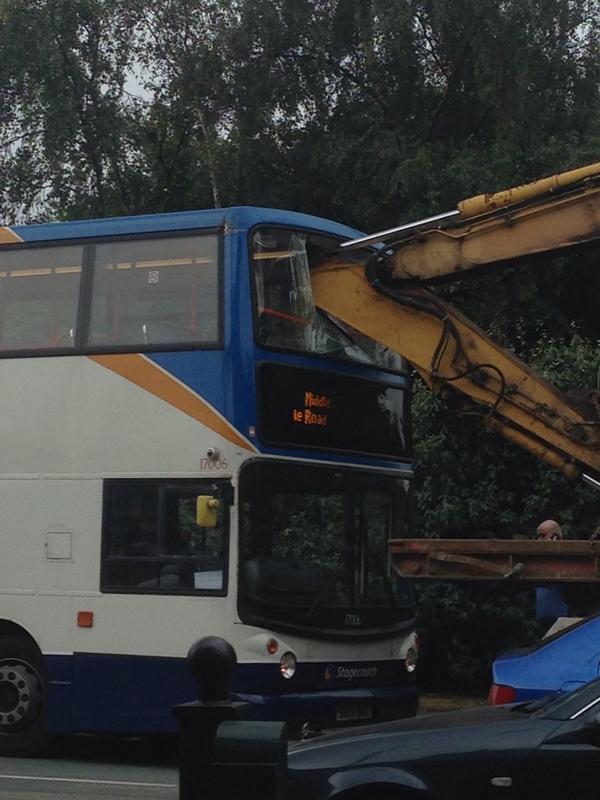 The image was captured by Andy Ogden at the junction of Greengate and Grimshaw Lane in Middleton on Tuesday lunchtime.
Stagecoach Greater Manchester tweeted soon after: "112 Delays of up to 15 minutes due to a RTC near to Middleton Junction."
It's not yet known if anyone was on the top deck at the time of the collision
The UK Independence Party has announced that their candidate to contest the forthcoming parliamentary by-election in Heywood and Middleton is John Bickley.
The election was called following the death of MP Jim Dobbin at the weekend.
Mr Bickley, 61, said, "I'm honoured to have been asked to represent the party.
"It is a Labour stronghold where by pure co-incidence I actually lived for a while as a small boy.
"I am looking forward to getting out and about and talking to voters and explaining why UKIP is the only party that really represents their interests now."
This will be second by-election Mr Bickley has contested this year as he was UKIP's candidate in the Wythenshawe and Sale East by-election, where he came second.
He began his working career with a Manchester based company as a laboratory technician. After five years John joined EMI Records representing them in the North West before moving to London in the early '80's and working for a number of music and video film companies at a senior level.
Mr Bickley returned to the North West in 1992 to take up a senior position with a Liverpool based computer and video games company. He now runs his own software company and has diverse experience of international markets in music, film, video games and technology software.
He is a father-of-two and his wife works as a part-time carer at a special needs school.
The party said Mr Bickley joined UKIP three years ago and has been an active member of the party's Cheshire West branch. His interests apart from politics include walking.
Advertisement
A motorist has died in a crash on the M62.
The incident happened at about 3.25am today and emergency services were called to the westbound carriageway at junction 19 at Heywood and Middleton.
A Ford Mondeo had collided with an HGV. The driver of the Mondeo suffered multiple injuries and was pronounced dead at the scene.
No-one else was injured in the collision.
The westbound carriageway was fully closed while emergency services dealt with the scene but has now been re-opened.
Anyone who witnessed the collision is asked to call the Serious Collision Investigation Unit on 0161 856 4741.
Work has begun to engrave the name of Lee Rigby and 16 other forces personel killed on duty in 2013 on Britain's largest military memorial.
The Fusilier, from Middleton, was killed by Michael Adebolajo, 29, and Michael Adebowale, 23, in a street in Woolwich, south-east London last year.
His name will be immortalised alongside 16,000 other military personnel at the Armed Forces Memorial in the National Memorial Arboretum in Staffordshire.
Stonemason Nick Hindle began producing the tribute yesterday morning and is expected to take several weeks to chisel the name of the murdered soldier, and 16 others killed last year, into the Portland stone walls.
Police are hunting a man who is wanted for making threats to kill and committing criminal damage.
Officers are searching for Matthew Wright who's 29 in relation to causing criminal damage and making threats to kill or cause serious harm on April 16, 2014.
Wright was last seen in Middleton, but he also has links to the Fleetwood and Blackpool areas of Lancashire.Police are now appealing for Wright, or anyone who knows of his whereabouts, to contact them as soon as possible.
Anyone with information should call police on 101 or the independent charity Crimestoppers, anonymously, on 0800 555 111.
Advertisement
Dora Gartside, the daughter of VC winner L.Cpl Joel Halliwell said she was "overwhelmed" by today's ceremony.
Among the crowds paying tribute to Lance Corporal Joel Halliwell were Lyn and Ian Rigby, the parents of Fusilier Lee Rigby, who was murdered in Woolwich last year.
Middleton's only Victoria Cross recipient will be recognised today, with the unveiling of a street sign in his honour. Corporation Street will be renamed after Lance Corporal Joel Halliwell, who rescued 10 injured soldiers from no-man's land during the First World War.
A teenage girl had a meat cleaver held to her throat during a robbery at a convenience store in Middleton.
The 17-year-old shop assistant was threatened when three men robbed Martins at about 1.30pm on 11 May 2014.
The first man is described as being 18-20-years-old, about 5ft 8in tall, of an average build and wearing a dark coloured zip-up tracksuit top with matching tracksuit bottoms.
The second was white, 5ft 10in tall, also wearing a dark coloured tracksuit and either a balaclava or scarf to mask his face.
The third attacker was white, 5ft 8in tall and had a more muscular build.
He was wearing a similar outfit to his two accomplices.
Load more updates