Investigation into the death of Joshua Titcombe at an NHS trust found "many missed opportunities" and basic failings in his care.
Read the full story ›
A woman and her dog were today rescued by Morecambe RNLI's volunteer lifeboat and hovercraft.
Read the full story ›
Advertisement
The bronze statue of Eric Morecambe will be reinstated on the seafront in Morecambe after it was vandalised. The leg that had been cut through has now been repaired. The statue will be lowered into place by a crane.
Lancashire Firefighters have rescued a 13-year-old boy from the quicksands of Morecambe Bay.
Crews were in the area yesterday for a training exercise which was abandoned for the real emergency.
Amy Welch reports.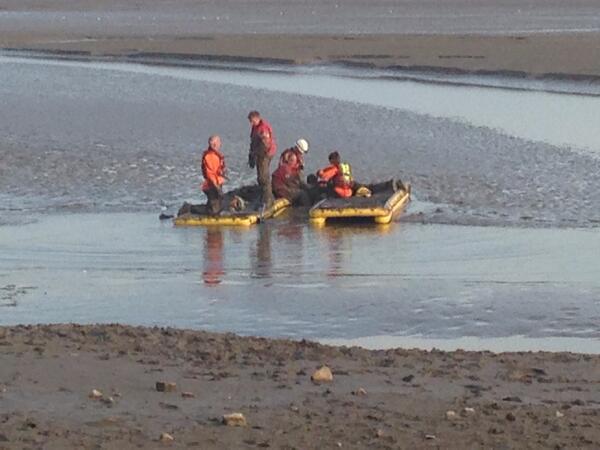 A training exercise in Morecambe turned into the real thing last night when a 13 year old boy got stuck in quick sands. He was pulled to safety and was unhurt.
Advertisement
A training exercise for fire crews turned into the real thing at Morecambe Bay. Officers from Lancashire Fire and Rescue were on the sands at Silverdale when a teenage boy got stuck in quicksand. Crews managed to pull him to safety. Our reporter Amy Welch filmed the rescue on her mobile phone.
David Morris MP has tabled a Parliamentary motion demanding to know how many years those convicted of the cockle pickering disaster served in prison.
That this House notes that Lin Liang Ren, Lin Mu Yong and Zhao Xiao Qing were all convicted for their involvement in the Morecambe Bay cockle pickers' disaster; further notes that the 10th anniversary of the disaster is in February 2014; considers that the people of Morecambe deserve to know how many years each served in prison in the UK; and further considers that the people of Morecambe deserve to know when they were deported and whether they are currently incarcerated in their native China._
– Parliamentary motion by David Morris, MP for Morecambe and Lunesdale
Ten years on from the Morecambe cockling tragedy Elaine Willcox asks, how safe is our shoreline?
The scope and powers of The Gangmasters Licensing Authority need to be expanded, the union Unite said today.
Read the full story ›
Load more updates