Gary Morecambe came into the Granada Reports studio and spoke to Lucy and Tony about how fans reacted to the damage to the statue.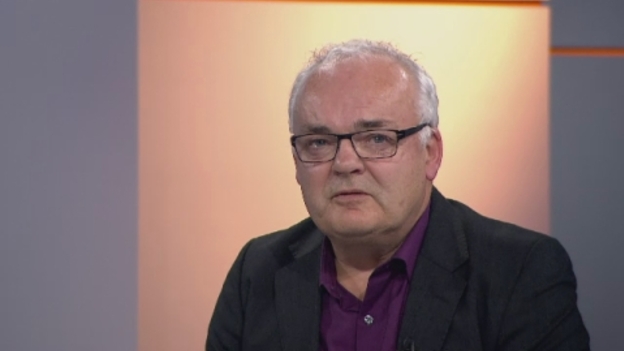 Eric Morecambe's son, Gary, has been to the town today to meet the sculptor of his father's statue and assess the damage caused by a recent vandal attack.
Mr Morecambe and artist Graham Ibbeson are confident the famous statue will soon be returned to its rightful place.
Advertisement
A man has had part of his ear bitten off, after being attacked in Morecambe.
Police say the 25-year-old man had a "large portion" of his ear bitten off, and received a cut to his right eye.
The attack happened sometime between 10pm Friday 17th October and 1am the following morning.
Police in Lancashire are asking for information after a five-year-old girl was hit by a car.
The incident happened at around 5.45pm on Monday 6 October, on Euston Road in Morecambe.
Police think a Citroen Xsara car was travelling in the direction of Morecambe Town Centre when it was involved in a collision with the girl.
The five-year-old was taken to hospital with a suspected broken leg.
Sergeant Finn Quainton of the Road Policing Team said: "We are appealing for anyone who may have witnessed the collision to get in touch so that we can establish how this incident occurred."
Anyone with information should contact police on 101 quoting log number 1042 of 6th October.
Alternatively, contact Crimestoppers anonymously on 0800 555 111 or online at Crimestoppers-uk.org.
Crews remain at the scene of a large fire in Morecambe. It started at around 6 last night during the firefighters strike at the mega zone complex on Marine Road West. No one was injured.
The Chairman carrying out the Morecambe Bay Hospitals investigation has asked for more time to complete his report into failings at the NHS trust.
When the Secretary of State for Health announced the terms of reference in September 2013, its Chairman, Dr Bill Kirkup, was asked to produce his Report this July.
The Investigation has now identified over 20 organisations holding material that is relevant to the investigation.
The Secretary of State says due to the significant volume of material the Investigation has received, a short extension to the timeline has been granted.
Dr Kirkup is expected to submit his Report in the Autumn.
Advertisement
Fire crews, the RNLI and Bay Search and Rescue Team have rescued a cow from the sands at Morecambe Bay.
The cow was spotted stranded on Friday morning. Fire crews from Lancaster attended and a multi-agency response was co-ordinated to rescue the animal.
Fire crews, the RNLI and Bay Search and Rescue Team have rescued a cow from the sands at Morecambe Bay.
A5105 Marine Drive closed due to flooding between Rushley Drive and B5275 Princes Crescent.
Police are appealing for information after some trouble the Morecambe vs Fleetwood derby match yesterday.
Disorder broke out when 15 people challenged stewards, which resulted in a number of stewards being assaulted.
Four people have been arrested so far but officers are looking to identify others that were involved.
Chief Inspector Ian Sewart said:
Load more updates