The North West needs to build more than 8 thousands affordable homes to keep up with demand according to new figures. The National Housing Federation claims building them would boost the region's economy by £300m as well as create thousands of jobs. Last year 2,060 were built in our region.
The NHF say Greater Manchester would benefit from an annual cash injection of £156 million if enough affordable homes were built to meet local demand. Building more affordable homes here would support 3,352 jobs by creating new employment opportunities and also keeping people in work - these could be in newly boosted local businesses or housing associations themselves.
Greater Manchester

Homes needed: 4,047

Estimated contribution to the economy: £155,674,989

Estimated full time jobs created: 3,352

Lancashire

1,598

£61,469,887

1,324

Cheshire and Warrington

1,189

£45,736,981

985

Liverpool City Region

828

£31,850,480

686

Cumbria

437

£16,809,975

362
Almost one in five shops in our region are empty according to new figures. That compares with with just one in ten in the south according to the Local Data Company. The North West has been the worst since 2008 but was this year edged out by the North East.
The top 10 worst town centres for vacant retail contain four from the North West:
Droylsden 26.8% vacancies
West End, Morecambe 26.8%
Bootle 26.4%
Stockport 25.9%
At a regional level the polarisation between the North and the South is as wide as ever with London's vacancy rate being less than half that of the northern regions. Of the top 10 highest vacancy towns in the country all are in the North, West Midlands or Wales. Whilst we have seen an improvement from the peak in 2012 when these towns had one in three shops empty, these towns all have vacancy rates above 25% which is still one in four shops lying empty and no sign of improvement.
– Matthew Hopkinson, director at the Local Data Company
Advertisement
A number of schools have closed across the North West due to the poor weather. Get the details here.
Read the full story ›
This is currently J21/22 M62 EB. Long delays, highways working to clear the stuck vehicles to allow ploughs through. http://t.co/OwVF3xJjIb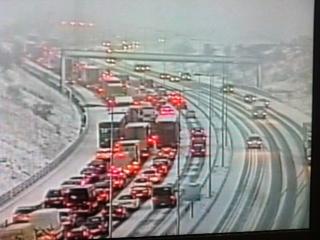 A new study by a charity that helps people in poverty has revealed that more than three quarters (78%) of low-income families in the North West are struggling to heat their homes.
Turn2us claim 61% are cutting back on food to pay for their energy bills. The knock-on effects of this are severe, with over half (52%) of families saying it's negatively impacted their children's ability to learn in school.
The study of 2000 people nationally claims some families are taking drastic measures like eating less or taking out payday loans to cover the costs.
Ed Miliband to draw election battle lines as Labour launches General Election campaign in Salford
Read the full story ›
Advertisement
Judges have ruled that a seven year old girl left brain damaged after her mother's heavy drinking during pregnancy is not entitled to compensation.
The Court of Appeal rejected a case brought by a council in the North West which pays for the girl's care.
She has a range of health and learning difficulties and requires specialist support.
Critics say this case would have set a dangerous precident of criminalising women's behaviour.
This report from our correspondent Elaine Willcox:
A young child is not entitled to criminal injuries compensation after her mother drank excessively while pregnant, the Court of Appeal has ruled.
Three appeal judges unanimously ruled: "The central reason is that we have held that a mother who is pregnant and who drinks to excess despite knowledge of the potential harmful consquence to the child of doing so is not guilty of a criminal offence under our law if her child is subquently born damaged as a result."
The ruling was a blow to a local authority from the North West which had fought the compensation battle on behalf of CP, now aged seven, who suffers with learning, development, memory and behaviour problems.
If the appeal had succeeded it could have paved the way for pregnant women's behaviour to be criminalised, according to the British Pregnancy Advisory Service (Bpas) and Birthrights.
A young child is not entitled to criminal injuries compensation after her mother drank excessively while pregnant, the Court of Appeal has ruled
The Court of Appeal gives its judgment today on whether a woman committed "a crime" against her child for drinking whilst pregnant.
Read the full story ›
Load more updates