A number of schools have closed across the North West due to the poor weather. Get the details here.
Read the full story ›
This is currently J21/22 M62 EB. Long delays, highways working to clear the stuck vehicles to allow ploughs through. http://t.co/OwVF3xJjIb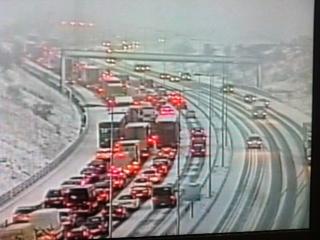 Advertisement
A new study by a charity that helps people in poverty has revealed that more than three quarters (78%) of low-income families in the North West are struggling to heat their homes.
Turn2us claim 61% are cutting back on food to pay for their energy bills. The knock-on effects of this are severe, with over half (52%) of families saying it's negatively impacted their children's ability to learn in school.
The study of 2000 people nationally claims some families are taking drastic measures like eating less or taking out payday loans to cover the costs.
Ed Miliband to draw election battle lines as Labour launches General Election campaign in Salford
Read the full story ›
Judges have ruled that a seven year old girl left brain damaged after her mother's heavy drinking during pregnancy is not entitled to compensation.
The Court of Appeal rejected a case brought by a council in the North West which pays for the girl's care.
She has a range of health and learning difficulties and requires specialist support.
Critics say this case would have set a dangerous precident of criminalising women's behaviour.
This report from our correspondent Elaine Willcox:
A young child is not entitled to criminal injuries compensation after her mother drank excessively while pregnant, the Court of Appeal has ruled.
Three appeal judges unanimously ruled: "The central reason is that we have held that a mother who is pregnant and who drinks to excess despite knowledge of the potential harmful consquence to the child of doing so is not guilty of a criminal offence under our law if her child is subquently born damaged as a result."
The ruling was a blow to a local authority from the North West which had fought the compensation battle on behalf of CP, now aged seven, who suffers with learning, development, memory and behaviour problems.
If the appeal had succeeded it could have paved the way for pregnant women's behaviour to be criminalised, according to the British Pregnancy Advisory Service (Bpas) and Birthrights.
Advertisement
A young child is not entitled to criminal injuries compensation after her mother drank excessively while pregnant, the Court of Appeal has ruled
The Court of Appeal gives its judgment today on whether a woman committed "a crime" against her child for drinking whilst pregnant.
Read the full story ›
A ruling is expected on a landmark case which could pave the way for women who drink whilst pregnant to be prosecuted.
A council in the North West which can't be named for legal reasons is seeking compensation for a girl born with serious health issues from her mothers drinking. The girl who is now 7 was born with Foetal Alcohol Syndrome (FAS), which can cause growth and facial abnormalities and intellectual impairment. The authority argue a crime was committed against her before she was born. If the Court of Appeal agree is could pave the way for prosecutions against pregnant women who drink.
Critics argue this could deter mothers from seeking help for fear of arrest and will put health professionals in an impossible position.
More than 80 new road schemes have been announced by the Government as it outlined how it would spend an already-promised £15 billion on English motorway and trunk routes over the next five years.
In the North West:
Improving links to the Port of Liverpool, as part of a plan of 12 projects designed to improve access to major international gateways;
Completing the smart (lane increasing) motorway along the entire length of the M62 from Manchester to Leeds,
Improvements to transpennine capacity from Manchester to Sheffield, the first increase in transpennine capacity since 1971.
"For too long, our road network has been a source of frustration, not growth. There are whole regions of our country that are unable to reach their full potential.

"To build a stronger, fitter economy in Britain, where every region can thrive, we need to change that - giving our regions' most strategic roads the serious investment and attention they deserve.

"Past governments have done it for the South East. I want to do it for the rest of the country."
– Nick Clegg
Load more updates