Rail workers in the north are to launch a fresh wave of strikes in long-running disputes over staffing and driver-only trains.
Members of the Rail, Maritime and Transport (RMT) union at Arriva Rail North will walk out on Friday September 1 and Monday September 4.
Strikes will be held at Merseyrail on September 1, 3 and 4.
The union accused the companies and the Government of pressing ahead with controversial plans to extend driver-only operation.
RMT general secretary Mick Cash had a meeting with Arriva Rail North on Friday but accused the company of "intransigence", adding:
"The responsibility for the inevitable disruption lies wholly with the company.

"We are angry and frustrated that Arriva continue to fail to face up to the facts and also continue to ignore a perfectly reasonable union proposal to invite the DfT (Department for Transport) to join us in round-table talks aimed at finding a solution.

"The public, who support RMT's campaign for a guarantee of a guard on their trains, will be appalled that Arriva Rail North have failed yet again to offer any kind of progress whatsoever in the talks and have instead opted to try and bulldoze through their plans regardless.

"It is disgraceful that Merseyrail continue to refuse all reasonable attempts by the union to settle this dispute.

"Merseyrail have repeatedly kicked all conciliatory approaches by RMT negotiators back in our faces and made it crystal clear that all that they are interested in is the union signing a surrender document which gives them a free hand to rip apart the safety culture on the railway."
– RMT general secretary Mick Cash
Alan Chaplin, Northern's managing director, said:
"Following our meeting with RMT's general secretary, there is no doubt that the trade union calling two days of strikes timed to coincide with people across the North returning to school, college and work after the holidays, will damage the region's economy, significantly disrupt our customers' lives, and impact local businesses.

"Northern is prepared to guarantee jobs and current pay for all our conductors for the next eight years, until the end of our franchise. Our offers to discuss every detail on the future responsibilities and training for on-board colleagues have been rejected by RMT.

"Northern is modernising with new and updated trains, faster and more frequent services, and better stations from now until 2020. We want to make changes to the on-board colleague role to make it fit for the future, better supporting customers on trains and at stations."
– Alan Chaplin, Northern's managing director
Leaders of the biggest rail workers' union have held a "productive" meeting with Liverpool's Metro Mayor in a bid to resolve a dispute over driver-only trains.
The meeting between Steve Rotheram came a day after the latest 24-hour strike by members of the Rail, Maritime and Transport union (RMT).
RMT general secretary Mick Cash said: "We have had a productive meeting today and there was a full and frank exchange of views and information.
"Both sides agreed to continue the dialogue and we will reconvene within the next six weeks."
Advertisement
There are warnings of a fresh wave on strikes on railways in our region over the issue of driver-only trains.
Chief officers from RMT branches at Merseyrail and Arriva Trains North are meeting later London to agree their next move in the long-running dispute with the rail operators over the plans to remove guards from trains.
The rail operators say driver-only trains are the safest and most efficient way forward.
But unions say it'll impact on passenger safety. Previous industrial action was suspended because of the terror attack on Westminster.
Rail services between Stockport and Manchester Piccadilly have been suspended due to emergency services dealing with an incident.
The incident is reported to be at Levenshulme train station which has been closed off.
Advertisement
Northern Rail have announced that Manchester Victoria station is to reopen Tuesday 30th May.
Both rail and tram services will return to normal operation following the terror attack last week.
The station is connected to the arena where the blast happened killing 22 people.
Northern Rail thanked customers for their understanding in the past week.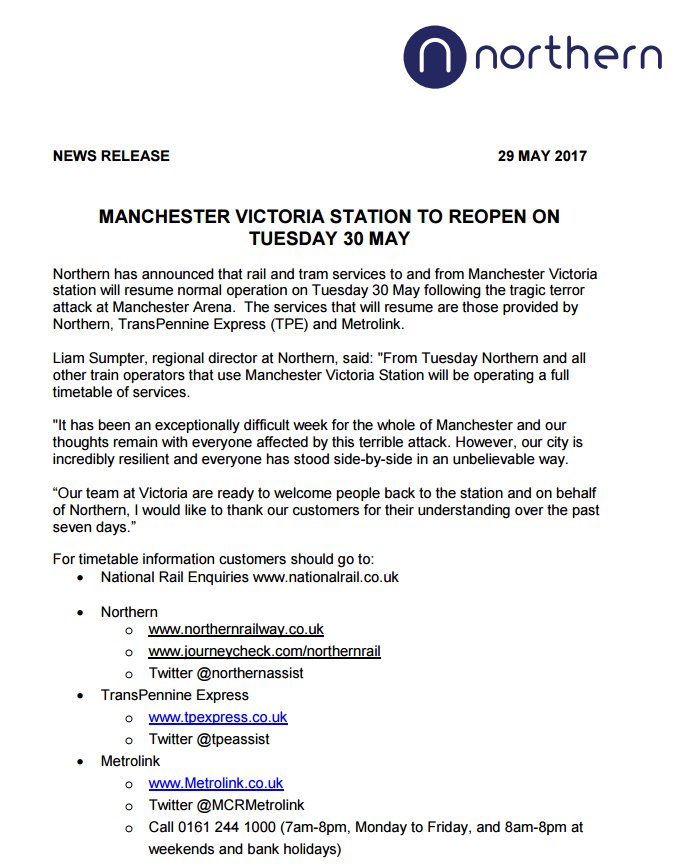 Commuters are being warned of significant disruption tomorrow as Northern Rail workers walk out on strike for the third time. Unions claim they have strong public support in the dispute over plans to introduce driver only trains by 2020.
Load more updates