Advertisement
There are warnings of a fresh wave on strikes on railways in our region over the issue of driver-only trains.
Chief officers from RMT branches at Merseyrail and Arriva Trains North are meeting later London to agree their next move in the long-running dispute with the rail operators over the plans to remove guards from trains.
The rail operators say driver-only trains are the safest and most efficient way forward.
But unions say it'll impact on passenger safety. Previous industrial action was suspended because of the terror attack on Westminster.
Rail services between Stockport and Manchester Piccadilly have been suspended due to emergency services dealing with an incident.
The incident is reported to be at Levenshulme train station which has been closed off.
Northern Rail have announced that Manchester Victoria station is to reopen Tuesday 30th May.
Both rail and tram services will return to normal operation following the terror attack last week.
The station is connected to the arena where the blast happened killing 22 people.
Northern Rail thanked customers for their understanding in the past week.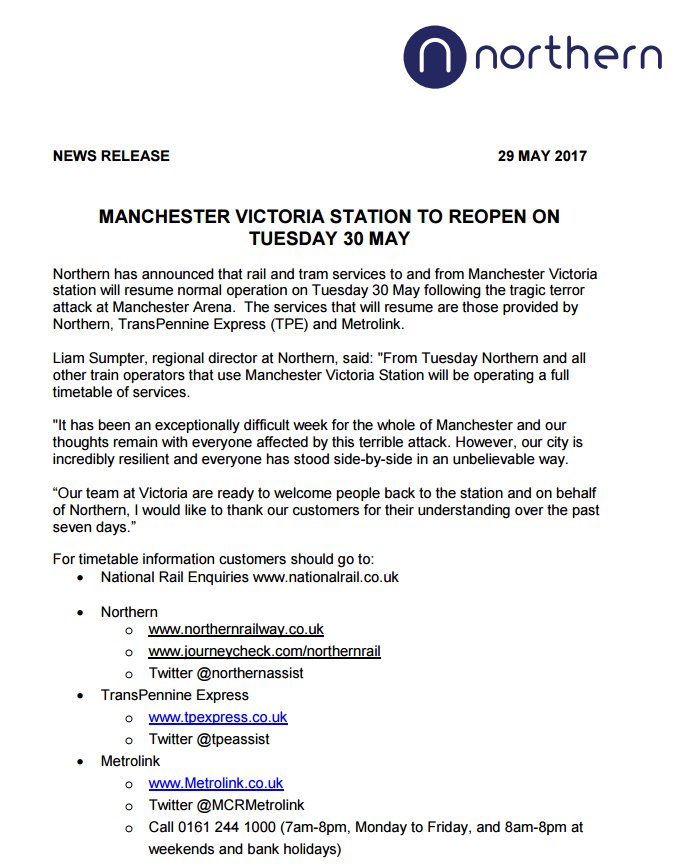 Advertisement
Commuters are being warned of significant disruption tomorrow as Northern Rail workers walk out on strike for the third time. Unions claim they have strong public support in the dispute over plans to introduce driver only trains by 2020.
Disruption is worsening as more drivers than expected refuse to cross picket lines.
Merseyrail had hoped to run almost half its services, but "many" drivers took the decision not to work today.
The company said it was running around 20% of services, far fewer than previously advertised.
Trains were still running on most routes, every half an hour, but they were not stopping at every station.
Merseyrail bosses have told passengers using their strike-hit services this morning to expect overcrowding.
The operator is one of two in the North West where staff have walked out in a dispute over the roles and responsibilities of guards on their networks. Tens of thousands of journeys will be disrupted as staff at Northern Rail also walk out.
Merseyrail's Andy Heath says their customers should check online for updates before setting off:
Load more updates