One Direction have joined a select group of stars to have had their music played more than a billion times on streaming service Spotify.
Read the full story ›
One Direction star Harry Styles went back to his home town of Holmes Chapel in Cheshire and happily and posed with fans.
Needless to say the twitter world went crazy with the pictures with the topic trending on the social networking site.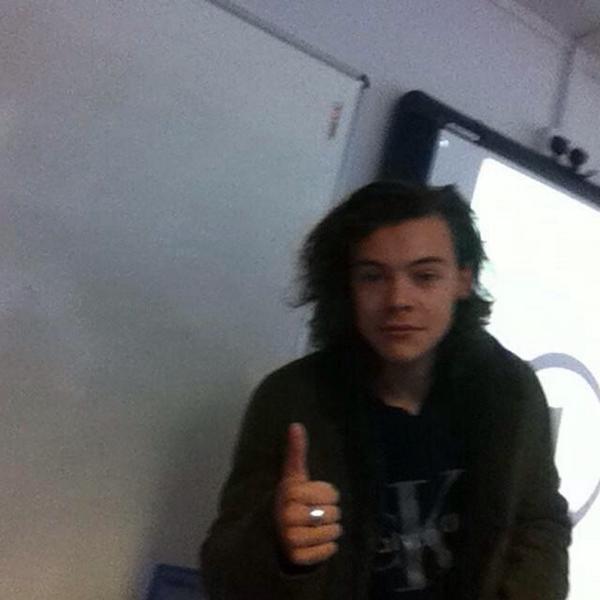 Advertisement
One Direction star Louis Tomlinson was a secret guest at the Manchester University graduation of his girlfriend Eleanor Calder.
Louis, 22, jetted in to Manchester from Barcelona to be present at Eleanor's big day.
The graduation ceremony at Whitworth Hall in Manchester sparked a meltdown on Twitter as thousands of fans wished Eleanor all the best - and told of their hopes that Louis would be there to watch.
A source told the M.E.N: "He was a bit late for the start of the ceremony and he did not want to create a big fuss. He crept in and kept a really low profile.
"There were around 400 people there at the ceremony and hardly anyone clocked that it was him."
One Direction star Zayn Malik was spotted at the Lowry hotel in Salford yesterday ahead of the band's gigs at the Etihad Stadium. The star has been in the media recently following the release of a video appearing to show him smoking a 'joint' whilst on tour in Peru.
Read more here.
Thank you to everyone who's voting... We love you until it almost hurts in special places
One Direction have added to their Brits win for Global Success by taking home the Best British Video trophy too.
Read the full story ›
Advertisement
One Direction have been awarded the Best Video award for their song Best Song Ever.
1D became the first act to win the new award category, which was created to reflect "the growing popularity of social media" and was voted for by the public on Twitter.
Arctic Monkeys have beaten One Direction to the British Group award at tonight's Brits.
Lead singer Alex Turner joked, "Well that's that £15 we bet on One Direction to win down the drain isn't it?"
Singer Harry Styles has won a court order stopping the paparazzi from harassing him.
The One Direction star, from Holmes Chapel in Cheshire, applied to the High Court as a last resort after trying to persuade a number of photographers to stop their behaviour voluntarily, said counsel David Sherborne.
He told Mrs Justice Nicola Davies, who first granted the order against the unidentified individuals: "This is not a privacy injunction. Mr Styles is not trying to prevent fans approaching him in the street and taking photos. He remains happy to do that, as he always has."
"Rather, it is the method or tactics which have been used by a certain type of photographer."
The injunction against "Paparazzi AAA and others" prevents them from pursuing the singer by car or motorcycle, placing him under surveillance, loitering or waiting within 50 metres of his place of residence to monitor his movements or take photos of him in such circumstances.
Load more updates