A 6 year old girl has been taken to hospital after a house fire in Rochdale. Fire crews were called out to Holborn Street at 2:35am following reports of a fire in the bathroom. The girl was treated in hospital after breathing in smoke. An investigation into the cause of the fire is underway.
The Government is urgently looking into reports that a British national has been killed in Gaza, David Cameron has said.
The Prime Minister said the apparent death of the man, said to be from Rochdale, in an Israeli strike underlined the need for "an immediate unconditional humanitarian ceasefire observed properly by both sides".
Mr Cameron said:
"I'm extremely concerned about these reports and we are doing everything we can to get to the bottom (of them) and find out exactly what has happened.

"I don't want to say anything before we've been able to do that but this only reinforces the need for an immediate unconditional humanitarian ceasefire observed properly by both sides."
– David Cameron, Prime Minister
Advertisement
Linda Fisher, Acting Chief Executive, Rochdale Borough Council:
"The historic activities at Knowl View and any subsequent accusations of wrong doing must be fully examined and Rochdale Borough Council very much welcomes the investigation by GMP police.
"We will continue to co-operate fully with the force's inquiries making all information available.
"This is a positive step on the road to resolution and we are pleased the Force has acted swiftly to launch a criminal investigation.
"The people of Rochdale, the Council and most importantly the victims, need to have confidence in the process and faith that the truth will be discovered and any necessary actions taken.
"Our own independent review, being carried out by Neil Garnham QC, will recommence when this is deemed appropriate and in agreement with GMP."
Greater Manchester Police is to launch a new investigation into whether reports of abuse by Cyril Smith and others were covered-up by the authorities in Rochdale.
The independent inquiry will be separate from the investigation underway into alleged abuse at Knowl View school. The investigation announced today will focus on how reports of child abuse by were handled by local authorities, namely Rochdale Council and local Police forces.
Assistant Chief Constable Ian Wiggett from GMP, said: "Following the publication of MP Simon Danczuk's book 'Smile for the Camera', GMP conducted an assessment of the allegations contained within that book. As a result of the assessment, GMP decided that a criminal investigation was required.
"This also followed consultation with Rochdale Council and the QC conducting the independent inquiry on their behalf. The council asked Neil Garnham QC to suspend his independent review and he has agreed to do so.
"The GMP investigation will now seek to identify whether any offences have been committed in the way that previous reports of abuse were handled or allegedly covered up.
"The main concerns relate to the response to child abuse over several decades connected to Knowl View School in Rochdale.
"We have consulted with the Home Office in relation to the national inquiry that has been announced into how organisations responded to child abuse, but as these matters relate to criminal allegations in the GMP area, the responsibility to investigate them falls to the Chief Constable.
"We are aware that some of the allegations relate to the past involvement of police officers, and therefore we have referred those matters to the IPCC. In addition, we have established an independent oversight panel to demonstrate the independence and rigour of the investigation that we will be conducting.
"If there are further allegations that relate to the conduct of police officers, these will similarly be referred to the IPCC, as we are required to do."
Figures show the North West has the highest rate of suicide in the country. The prevention charity Papyrus say there's a need to break down the stigma associated with talking about suicide. We want to know whether young people are being failed by an education system and a society that in the main, refuses to talk about this taboo subject.
You can join in our facebook debate and find out where you can find help and support.
A Warrington charity is urging young people to speak out after statistics show the North West has the highest rate of suicide in the country
Read the full story ›
Advertisement
Suicide is the biggest cause of death among young people, claiming four young lives every day.
And here in the North West we have the highest suicide rate in the country.
This year alone we've seen a spate of young people apparently killing themselves - one of them was only 12.
Tonight - in the first of two special reports, our correspondent Mel Barham has been looking into why this problem is so prevalent and just how it's affecting the North West.
An investigative journalist claims he was threatened by the former MP Cyril Smith, and then raided by police, to stop him revealing the names of politicians who were trying to legalise sex with children.
Don Hale was editor of the Bury Messenger in the 1980s.
He says he was told he'd go to prison if he printed a story based on a dossier of Westminster documents.
He's given his first broadcast interview on the revelations to Ashley Derricott:
It is the leading cause of death in young people - with four young lives lost to suicide every single day.
Here in the North West we have the highest suicide rate in the country - and given the way such deaths are recorded at inquests, it's thought that figure could be even higher.
This year alone in the North West, there has been a worrying spate of young people and teenagers apparently taking their own lives.
The reason why the figures are so high here, isn't clear.
But for young people especially, there can be a whole host of triggers and being inexperienced in life, they are often ill-equipped to deal with such complex emotional issues.
Ben Fitchett, from Rochdale, was 14 when he took his own life.
His parents say he was a popular, fun-loving boy with a friend for every day of the year.
They say there was no sign anything was wrong; no warning of what he was about to do.
"There was absolutely no sign of anything being wrong, Ben was planning the future, there was nothing that made you think there was no tomorrow out of his life."
– Sarah Fitchett, Ben's mother.
The national suicide prevention charity Papyrus - based in Warrrington - is calling the figures of young suicides a national scandal.
Despite being the biggest killer of that age group, most people are unaware of just how bad the problem is.
Funding for charities like Papyrus is scarce and many young people in need of help are simply unaware of where to go.
The Samaritans say many young people caught up in a spiral of despair, often lack the emotional maturity to realise the permanency of suicide.
That permanency is only too real for the families and loved ones left behind.
Ben's parents say they've been left heartbroken by their son's death.
"It's an emptiness, its painful."
– Sarah Fitchett, Ben's mother.
"I don't suppose they really think of the consequences and the effect it has on other people.

"You can understand at that lowest point that they're only thinking of themselves but the shock effect that hits everybody else afterwards is so traumatic.

"I think if he saw how much he was loved, I don't think he would have done it."
– Peter Fitchett, Ben's father.
The Fitchetts hope their story will prevent other young people going down the route of suicide.
They say it is never the answer, there is always help and always a solution.
By raising awareness of suicide, they hope to prevent another family going through the same pain that they are.
And for them, that means breaking down the stigma that is talking about suicide.
For more information, or to obtain help and support, visit the websites listed below:
Papyrus is the national UK charity dedicated to the prevention of young suicide.
Call us on 0800 068 41 41, text 07786209697 or e-mail pat@papyrus-uk.org if you, or a young person you know is having thoughts of suicide.
The Samaritans provide confidential emotional support for people who are experiencing feelings of distress, despair or suicidal thoughts.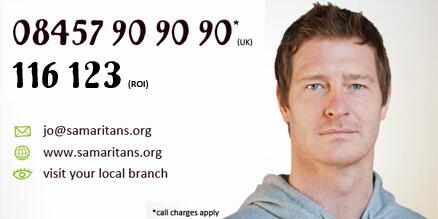 The North West has the highest rate of suicide in the country, with more YOUNG people taking their own lives.
Ben Fitchett from Rochdale was 14 year when he killed himself.
The charity Papyrus is warning more needs to be done to protect youngsters. Ben's parents said there weren't any warning signs.
Load more updates