Live updates
Illegal puppy breeders banned
Illegal puppy breeders banned
A father and son who ran an illegal puppy farm in Bury have been banned from keeping dogs for 10 years and given suspended prison sentences after admitting 11 animal welfare offences.
The RSPCA discovered Jeffrey and Richard Speakman were illegally breeding and selling hundreds of puppies.
Advertisement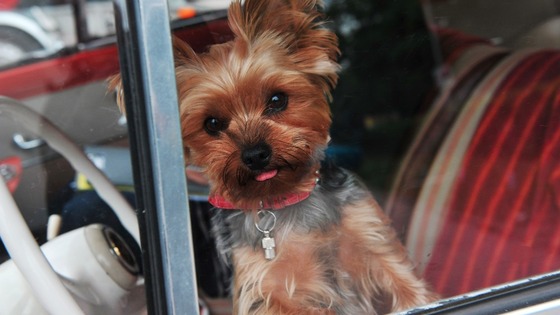 The RSPCA is warning people never to leave dogs in cars during warm weather.
A two year old Rottweiler-cross died in a hot car outside her owner's home in Bury at the weekend.
The animal charity warn the temperature inside a vehicle can soar to 47 degrees within an hour even if it is just 22 degrees outside.
You may remember the row last year over proposals to cull two hundred Canada Geese on Windermere.
It was postponed and now the two sides are working together on a plan to manage the problem.
The RSPCA who were opposed to killing the birds and Rangers from the national park have joined forces.
This week, hundreds of the geese were ringed in an attempt to track their movements.
Samantha Parker reports.
The number of people being convicted of abusing animals in Greater Manchester has soared in the last year.
The RSPCA says it's dealt with a shocking catologue of cruelty and neglect, but is stressing it is prosecuting more offenders.
In one case two dogs were starved and left on waste ground to die.
The charity is urging judges to take offences against animals far more seriously.
The RSPCA is seeking the owner of a dog which is "lucky to be alive" after it was repeatedly shot with an airgun in Lancashire.
The one-year-old brindle-coloured lurcher was left riddled with 17 pellets, suffering a fractured leg and punctured lung.
It was found on Tuesday evening near Old Pepper Lane in Standish after a dog walker heard a bark and followed a trail of blood in the snow.
"So far we've found no owner or witnesses. This poor dog was in a really bad way, and is lucky to be alive.

"I suspect he had been held or confined when being shot, as if a dog had been shot once or twice they would run away. However, this dog has been shot at least 17 times.

"The injuries were fresh when he was found, so they must have been inflicted some time at the start of the week."
– RSPCA inspector Claire Roberts

The lurcher was wearing an old blue collar with a blue and white speckled bandana wrapped around it.

It was rushed to an on-call vet and is now being cared for at a veterinary surgery in Standish.
Advertisement
Puppies found in buckets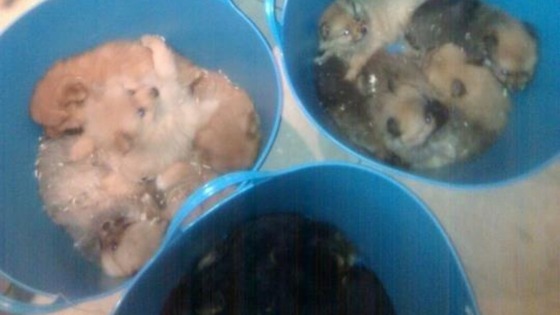 87 puppies have been seized during a major RSPCA investigation into puppy trafficking and the alleged sale of sick dogs via internet ads.
Four dead puppies – including two left in a bucket were also found when officers carried out raids across Stockport and Greater Manchester.
A man and woman were arrested and bailed pending further enquiries.
All of the puppies including French Bulldogs, West Highland Terriers and Pomeranians are now in the RSPCA's care pending the outcome of the investigation.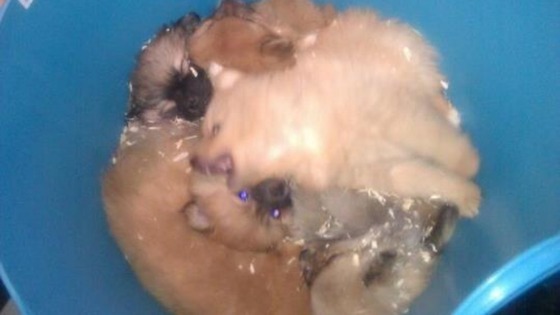 Sergeant Mike Cooper, said: "Two people have been arrested and are now on police bail pending further enquiries. We witnessed some shocking scenes yesterday and we will do everything we can to assist the RSPCA in any future prosecution or operation.
"People should only buy pets through the proper channels after considered thought and I would like to echo the RSPCA's sentiments that they should not be given as gifts this Christmas."
RSPCA warning to anglers
The RSPCA is warning anglers not to leave fishing litter behind, after injured swans were found in Cheshire and other parts of the UK. Two cygnets had to be taken to the charity's Stapeley Grange Wildlife Centre near Nantwich this month.
One had fishing line hanging from its mouth, and the other was tangled in it.
If people could see some of the sights which come into our wildlife centres, I think they would think twice about what they do with their fishing litter. Line wraps around swans causing deep wounds in their flesh, hooks pierce their beaks and weights are swallowed causing internal injuries and blockages. It can be heart-rending.
– Dr Andrew Kelly, Head of Wildlife, RSPCA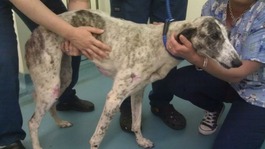 A female lurcher has survived falling out the back of a horsebox travelling at more than 70mph on the M56 near Altrincham.
Read the full story
Back to top