St Helens rugby league are celebrating their first trophy in six years.
After their nearest rivals Castleford lost to Catalan Dragons, they finished top of Super League to win the League Leaders Shield.
The honours keep coming, with winger Tommy Makinson today named in the Super League dream team.
Our Sports Correspondent David Chisnall has been speaking to a couple of Saints who feel blessed.
Australian forward Trent Waterhouse is to leave Warrington at the end of the season, the club have announced.
The 33-year-old second rower, who won two caps for the Kangaroos, has made 78 appearances for Warrington since joining them from Penrith Panthers three years ago and was in their Challenge Cup-winning team in 2012.
The Wolves are also parting company with winger Chris Riley, who has spent most of the season on loan at Wakefield, and fringe players Jordan Burke, Danny Bridge, James Saltonstall and Gavin Bennion.
Wakefield are keen to retain the services of the Warrington-born Riley, who has scored 120 tries in 180 appearances since making his debut in 2005. His only appearance this year was in the opening fixture against St Helens.
Waterhouse is expected to hang up his boots, along with hooker Michael Monaghan, who announced his decision to retire earlier this year. Warrington are also parting company with first team coaches Willie Poching and Richard Marshall, as well as conditioner Chris Baron, sports scientist Andy Holleyhead, soft tissue therapist Amanda Turner and joint Under-19s community coach Danny Fullerton.
Warrington's head of coaching and rugby Tony Smith, who has appointed former Wakefield and Hull boss Richard Agar as his new right-hand man for next season, said: "All of these players and coaches have been a pleasure to work with over their time at the club and have contributed to our continuing success.
"We've all built up a great relationship and anybody who has been part of the Warrington family will always be welcomed back. We wish them all well for the future and look forward to our paths crossing in the future."
Advertisement
Salford have signed teenage centre Brad England from Leeds.
The 19-year old son of Castleford's 1986 Challenge Cup winner Keith England joined Castleford's academy in 2011 and moved to Headingley 12 months ago to play for the Rhinos' Under-19s team.
"I've been playing rugby league since I was small and it's been my ambition to play in the Super League for a long time," England said.
"I'm going to have to work hard and it'll be a real challenge to try and make the selection for the first team next season."
St Helens' scrum half Luke Walsh has told ITV Granada Reports that he feared his career was over after suffering a broken leg during a Super League game at Widnes.
The Australian is now a month into his recovery and is aiming for a return to action in 2015.
The 27 year old has had to watch from the sidelines as Saints close in on finishing top of the Super League. He's tipped them to go on and win the Grand Final for the first time since 2006.
Linzi Prescott, the widow of charity fundraiser and rugby league player Steve, spoke to Granada Reports about completing his autobiography.
For information on the work of the Steve Prescott Foundation, head to www.steveprescottfoundation.co.uk.
The wife of charity fundraiser and former Rugby League legend Steve Prescott, has completed her late husband's autobiography.
Steve died in November 2013 from a rare form of cancer. During his illness Steve undertook many charity and endurance challenges, raising half-a-million pounds for charity.
Super League's Man Of Steel award was renamed for Steve Prescott.
You can find out more about the ongoing charity work of the Steve Prescott Foundation at www.steveprescottfoundation.co.uk.
Advertisement
England international Zak Hardaker, who was caught on camera making a homophobic comment to a referee, has given coaching sessions to the Manchester Canalsiders - the world's first Rugby League team for the Lesbian, Gay, Bisexual and Transgender communities.
A dark shadow was cast over the sport when Hardaker was heard calling a referee an offensive term during a live, televised Super League match against Warrington.
The player served a five match ban for his outburst.
But the decision to travel to Manchester to coach the Canalsiders was his own.
Been a great afternoon with the Canalsiders arlc, good training session and fun night.. And some cracking selfies ?
"It was a heat of the moment thing, I didn't mean any offence and I'm sorry if any was caused by it."
– Zak Hardaker on his offensive comment.
"For him to come here and say he's proud to come and work with this club, has been invaluable for us."
– Stan Sandland, Manchester Canalsiders.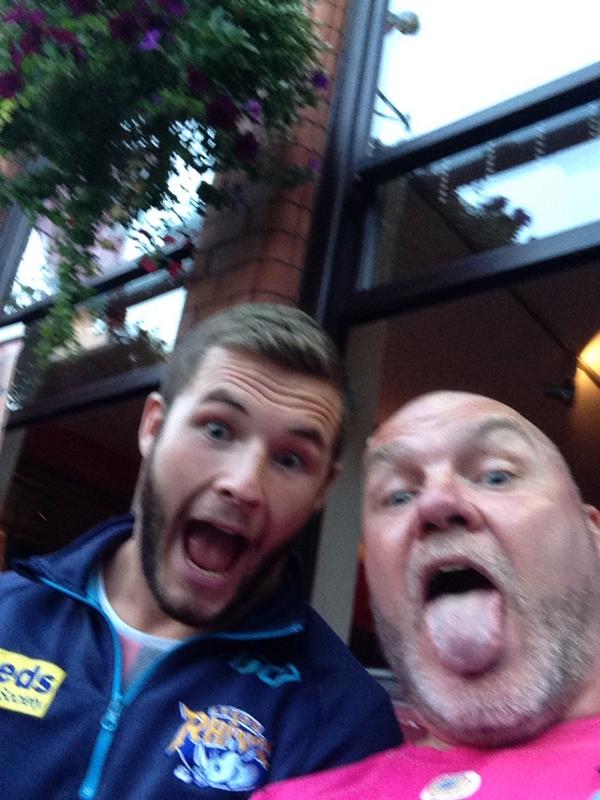 A rugby League star who was punished for using a homophobic comment to a referee during a televised game has held a coaching session with the world's first Lesbian, Gay, Bisexual and Transgender Rugby League club in Manchester. Leeds Rhinos player Zak Hardaker was given a five-match ban after being found guilty of homophobic abuse after his side's defeat to Warrington. The player said he'd learnt his lesson from the experience and took the training session to show he isn't homophobic.
Warrington Wolves' season has been a bit of a slow burner this year.
But after a poor start they've now recorded nine straight Super League wins.
In a bid to turn up the heat up even more on their rivals they've spent a day working as firefighters.
Our sports correspondent Chris Hall joined them.
Big news from rugby league.
Wigan have re - signed dual code international Joel Tomkins.
He left the Warriors for Rugby Union 3 years ago.
But now he's returned on a 4 and a half year contract.
Load more updates