RSPCA is appealing for people to come forward after a man was seen attacking a dog in Runcorn yesterday.
Read the full story ›
Halton Lea announced as one of ten areas across the country that NHS England will support as part of its 'Healthy New Towns'
Read the full story ›
Advertisement
Halton Council's Trading Standards warns people throughout Cheshire and surrounding areas to be vigilant for scam
Read the full story ›
The M56 has now fully reopened after a gas tanker burst into flames shutting the motorway for several hours.
No one was hurt in the blast but it led to traffic queues and delays with many being told to avoid the area.
Cheshire Police tweeted it was now fully operational again but traffic was initially slow moving.
m56 now open both directions. slow moving traffic on WB
The eastbound section of the M56 in Cheshire has reopened after a tanker fire closed the motorway in both directions. The westbound section remains closed.
#M56 Update: Slip road at J14 (Eastbound) has been opened, traffic moving slowly
The tanker fire on the M56 at Helsby is now under control and although the motorway is still closed near the incident traffic is beginning to flow again via diversions.
Cheshire Constabulary and Cheshire Fire and Rescue are warning it will take some time to deal with the backlog of vehicles in the area.
Drivers should still expect delays.
Advertisement
The central reservation is being removed from the M56 to get motorists off the motorway, police say.
UPDATE: #M56 btwn Jct 12-15 still closed. Work being done to remove central reservation to get motorists off the motorway.
Flames can be seen engulfing the wheels and underneath a propane tanker in a blaze on the hard shoulder of the M56 motorway in fire that has brought traffic in the area to a standstill.
Many people have been left stranded on the M56 after the tanker fire near Stanlow forced its closure.
Some people are making the most of the delays, sunbathing and even playing football on the empty carriageway.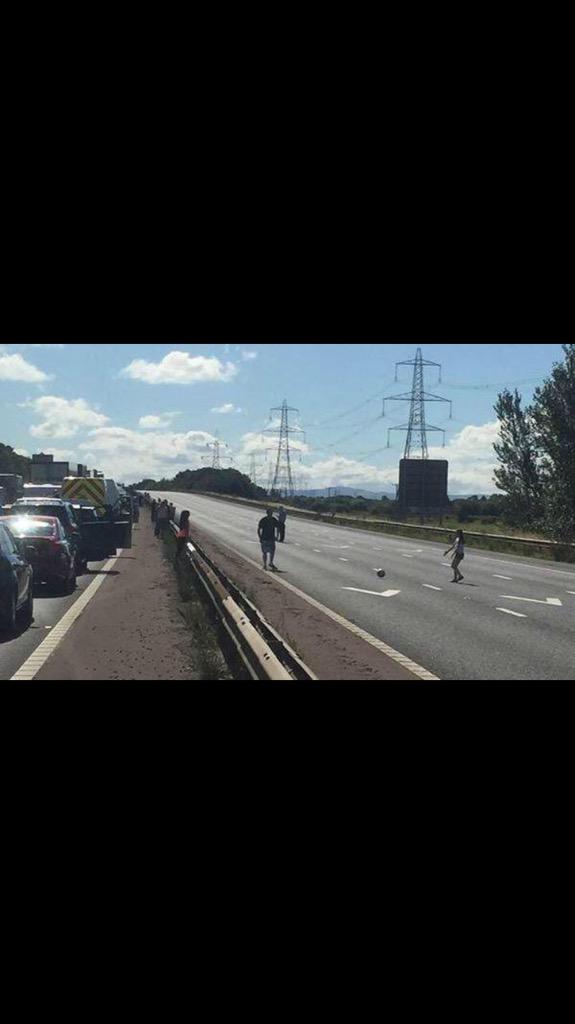 Cheshire Police say there are no injuries after a tanker carrying propane gas caught fire, shutting part of the M56 motorway and causing major disruption.
UPDATE: The M56 incident - there are no casualties as a result of the incident
Load more updates