Live updates
New Ryanair routes
Advertisement
New Ryanair routes
New Ryanair routes
Michael O'Leary, the CEO of budget airline Ryanair, says allowing people to fly from their local airports and serving the regions of the UK is one of the drivers of his business.
O'Leary was speaking as his company announced new routes out of both Liverpool John Lennon and Manchester Airports.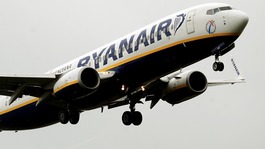 Low-cost airline Ryanair is to create 1,000 UK jobs next year by flying one million more passengers on a number of new routes.
Read the full story
New Ryanair routes
Budget airline Ryanair is expected to announce new routes from Liverpool and Manchester. It's thought new jobs will be created at the airports in both cities. An announcement will take place at 09:00.
Advertisement
Back to top