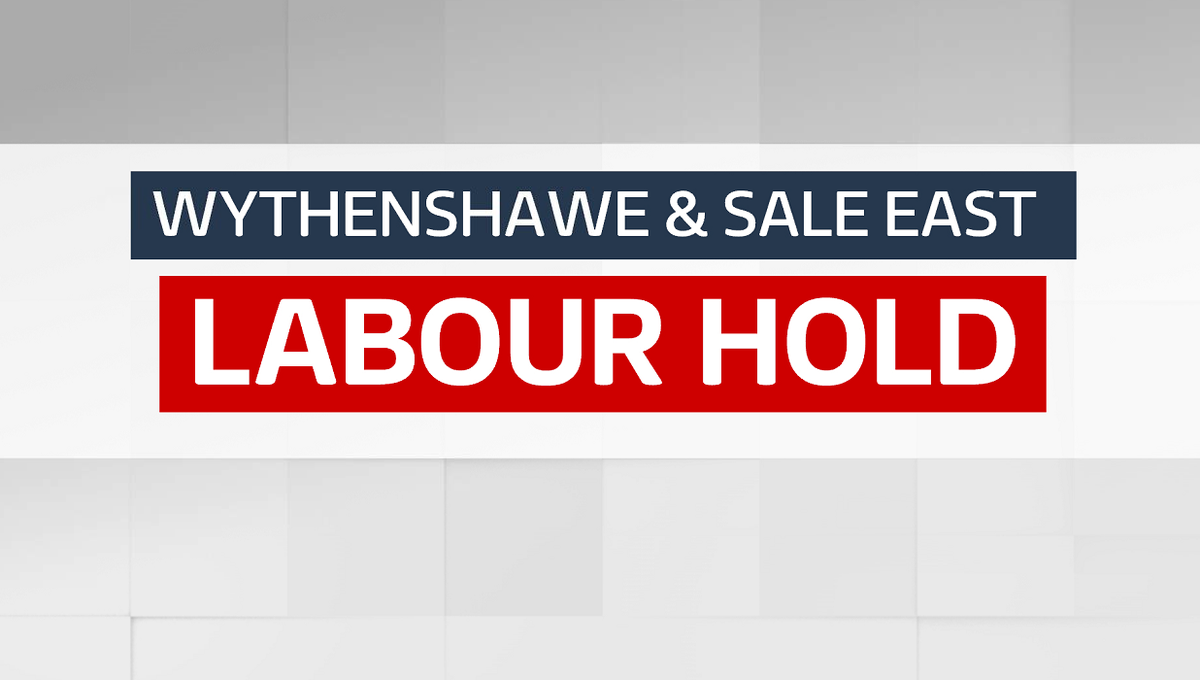 Mike Kane (Lab) 21,693 (50.14%, +6.00%)
Fiona Green (C) 11,124 (25.71%, +0.16%)
Lee Clayton (UKIP) 6,354 (14.69%, +11.24%)
Victor Chamberlain (LD) 1,927 (4.45%, -17.89%)
Jess Mayo (Green) 1,658 (3.83%)
Johnny Disco (Loony) 292 (0.67%)
Lynn Worthington (TUSC) 215 (0.50%, -0.16%)
Lab maj 10,569 (24.43%)
2.92% swing C to Lab
Electorate 75,980; Turnout 43,263 (56.94%, +5.95%)
Now, it's a hobby that comes in for a bit of teasing and stereotyping.
But before you dismiss the world of model railways, take a ride with the Manchester Model Railway Society.
It's celebrating a special birthday this year and it seemed only right to send an old buffer like Paul Crone to their headquarters in Sale:
Advertisement
The body of a man in his 60s has been pulled from the Bridgewater Canal in Sale.
The body, thought to be a man in his 60s, was found in a stretch of the canal close to School Road in the town centre.
Police have launched an investigation but say the death is not considered suspicious at this stage.
Sale Sharks have announced the signing of former England flanker Magnus Lund.
Lund will return to Sale for his second spell after a six-year stint with French club Biarritz.
Manchester-born Lund, 31, was a member of Sale's Premiership title-winning team in 2006, having joined them four years previously.
He gained 10 Test caps and helped England's sevens team win a silver medal at the 2006 Commonwealth Games in Melbourne.
"I am delighted Magnus has signed for us.

"I gave him his debut back in 2002 and have followed his career down the years.

"He is a great signing for us and will fit in perfectly with our plans."
– Sale rugby director Steve Diamond
Sale Sharks' outside-half Danny Cipriani has been named Aviva Premiership Rugby Player of the Month for March.
Sale Sharks have announced the signing of Scotland and British & Irish Lions Scrum Half Chris Cusiter on a two-year deal.
Cusiter joins the Sharks next season from his current club Glasgow Warriors.
Capped 66 times by Scotland (first being against Wales in 2004), he also toured with the 2005 British & Irish Lions, gaining one cap.
Director of Rugby Steve Diamond said, "Chris is a great signing for the club.''
''We have signed him to replace Dwayne Peel who is leaving us after six years at the club and we know that Chris will be the quality replacement we need.''
Advertisement
The UK Independence Party has announced John Bickley as their candidate for the vacant seat of Wythensahwe and Sale East after the death of Paul Goggins MP.
Mr Bickley has worked in the music industry and now runs a software company.
Mr Bickley, 60, was born locally and grew up on the Wythenshawe council estate.
An efit has been issued after an elderly man was held up at knifepoint in his own home in Sale.
At around 6.15pm on Monday 4 November 2013, three men rang the doorbell of a home on Dane Road and when it was answered, they pushed their way in.
The 81-year-old homeowner was threatened at knifepoint while another man held a spade that he had taken from the porch.
They stole money, a television and two model ships before taking the keys to the man's Smart car and driving off. The car was later found on Chesnut Avenue in Cheadle.
One is described as white, 5ft 9in tall, of slim build, had a thin face, was clean shaven, in his mid-20s, wore a black jacket with the hood up and black trousers.
The second was white, 6ft tall, of medium build, unshaven, in his 30s, had dark brown hair, wore a dark wool jumper and grey trousers.
The third man was white, of heavy build, in his mid-20s, 5ft 9in tall, wore a dark grey jacket with the hood up, a scarf that covered the lower half of his face and dark grey trousers.
Anyone with information should phone police on 0161 856 7863 or Crimestoppers, anonymously, on 0800 555 111.
A fire which caused £40,000 worth of damage at a cricket club is thought to have been started deliberately.
The blaze started at the back of the garage unit at Ashton on Mersey Cricket Club in Sale.
Police are appealing for information.
"The fire has caused considerable damage to equipment that was kept in the garage as well as the scoreboard. It is estimated to be up to £40,000 worth of damage."
– PC Paul Blackburn
The family of a young woman who died suddenly have paid tribute to her.
Jennifer Whiteley, from Sale, was taken to Wythenshawe Hospital in the early hours of Sunday morning but died a short time later.
An investigation into the circumstances surrounding her death has been launched.
In a statement her family said: "Jennifer was passionate about her field of study and wanted to help people wherever she could.
"You could put her with a group of people covering every age, creed and colour and she could engage with all of them.
"The overwhelming response from all the people who knew her, is that this young, caring and beautiful woman was a wonderful person loved by everyone and her loss will affect them all deeply."
Officers recovered a powder known as Benzo Fury, a substance that was banned in June this year and are awaiting toxicology results to establish how Jennifer died.
Load more updates