There are calls for us to support our local small businesses this festive season. The campaign Small Business, Big difference is in it's fourth year.
Labour's Sefton Central MP Bill Esterson says there's a huge opportunity for the North West to become more self sufficient and small businesses hold the key to success:
Two men have been sentenced for a total of 22 years after drugs and cash to the value of over £2 million were seized from a Sefton gang
Read the full story ›
Advertisement
Police are re-appealing for witnesses after a cyclist was found unconscious on a grass verge in Sefton
Read the full story ›
Motorists are being advised to avoid Motorists are being advised to avoid Switch Island in Sefton this evening following a serious road traffic collision involving a motorbike and a 4x4.
The male motorcyclist has been taken to hospital with serious multiple injuries following the collision on Ormskirk Road at 3.35pm.
Police have closed a number of roads leading onto Switch Island and motorists are advised to avoid the whole area where possible to avoid becoming stuck in lengthy delays.
The closures are expected to remain in place for several hours due to the seriousness of the motorcyclist's injuries and the police investigation work.
A man's critically ill after being stabbed in the neck on Merseyside.
Police found the victim in Litherland near the junction of Moss Lane and Kirkstone Road North.
The area has been sealed off for forensic investigations.
Five men and a woman have been arrested as part of a major investigation into into drug dealing and organised crime.
A number of raids took place this morning across Sefton and Knowsley as part of a 10 month investigation. A large quantity of Class A drugs were also found in one of the houses.
"Organised crime groups who deal in drugs profit from all the misery and damage that they inflict on other people within their community. They are ruthless in protecting their illegal business from rival factions and will think nothing of using violence and intimidation to defend their territory. Decent, law abiding people get caught up in this whether it is hearing about a firearms discharge bear where they live and suffering a burglary or robbery themselves committed by someone with a drug addiction or drugs debt.''
– Superintendent Claire Richards
Advertisement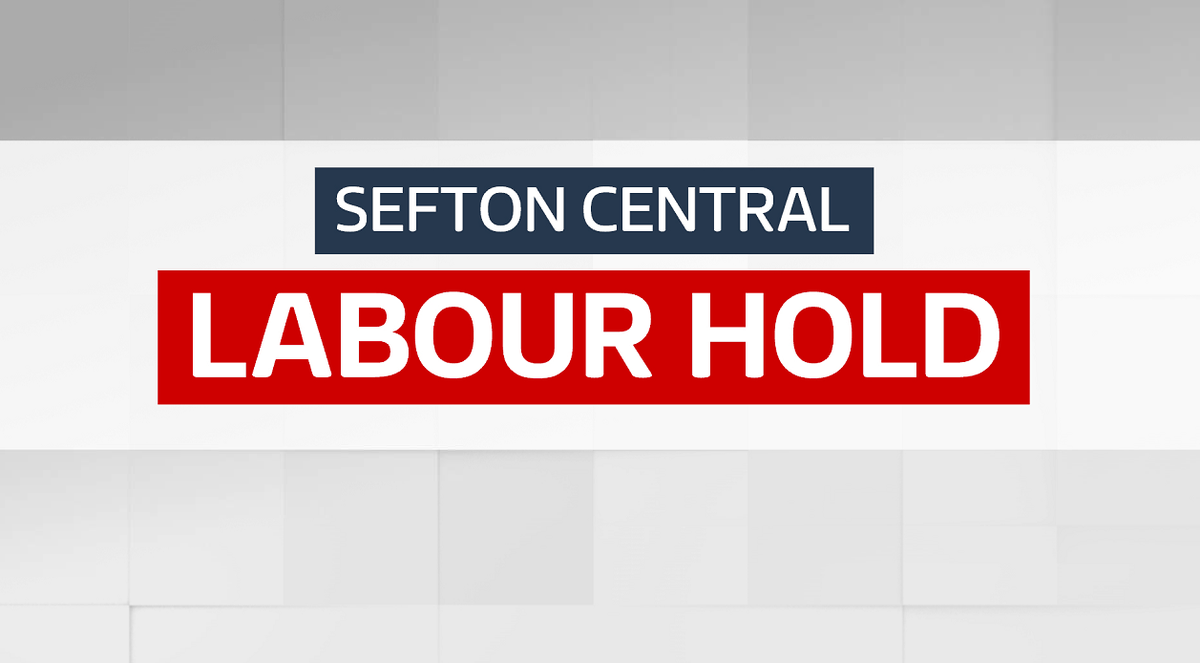 Bill Esterson (Lab) 26,359 (53.77%, +11.87%)
Valerie Allen (C) 14,513 (29.61%, -4.33%)
Tim Power (UKIP) 4,879 (9.95%, +5.71%)
Paula Keaveney (LD) 2,086 (4.26%, -15.67%)
Lindsay Melia (Green) 1,184 (2.42%)
Lab maj 11,846 (24.17%)
8.10% swing C to Lab
Electorate 67,746; Turnout 49,021 (72.36%, +0.58%)
Bill Esterson (Lab) 26,359 (53.77%, +11.87%)
Valerie Allen (C) 14,513 (29.61%, -4.33%)
Tim Power (UKIP) 4,879 (9.95%, +5.71%)
Paula Keaveney (LD) 2,086 (4.26%, -15.67%)
Lindsay Melia (Green) 1,184 (2.42%)
Lab maj 11,846 (24.17%)
8.10% swing C to Lab
Electorate 67,746; Turnout 49,021 (72.36%, +0.58%)
Police are investigating after a man was shot in the back in Merseyside.
Officers were called to Chelsea Road in Litherland at just after 8pm last night to reports a man had been shot outside a house.
A 20-year-old is being treated in hospital.
His injuries are not thought to be life threatening. Police are appealing for witnesses.
A 31-year-old man has been held by police after the discovery of a man's body at a house in Southport last night.
Merseyside Police were called to Linaker Street in Southport at about 7.45pm, after a woman called police to advise she had found the body of a 33-year-old man at the address.
Officers attended and the suspect, from Skelmersdale, who was present at the address, was arrested on suspicion of murder.
The police said the death is being treated as unexplained.
A Home Office post mortem examination to establish the cause of death will be carried out.
Detectives are appealing for anyone who may have information to contact Sefton CID on 0151 777 3460, or Crimestoppers on 0800 555 111.
A forty-five year old man from Warrington was driving on Jubilee Road in Crosby when his van was driven at by several men in a white BMW. The men got out of their vehicle and assaulted him with a large knife. His attackers then fled and the man sought help in a nearby pub.
We believe this was a targeted attack. We believe he was attacked by at least three men who used their car to damage his van before attacking him with a large knife or other sharp weapon. A large scale investigation is underway. This man suffered extremely serious but not life-threatening injuries. Attacks like this are rare in this area and local people will be understandably worried. I would like to reassure the community that we are treating this as a targeted attack and not a random incident.
– Detective Inspector Rob Hill, Sefton CID
The man is now recovering in hospital where he is described as being in a serious but stable conditions.
Load more updates