Manchester City have a new all-time record goalscorer in Sergio Aguero.
Goal number 178 came in last night's four-two win over Napoli, which booked City's place in the knock-out stages of the Champions League.
It lifted him above Eric Brook whose record had stood for 78 years.
He's made quite an impression since arriving in Manchester six years ago.
No-one will forget the goal he scored in injury time on the last day of the season to clinch the Premier League title in 2012.
Sadly, we're not allowed to show that. But we can show these.
Manchester City striker Sergio Aguero has been injured in a car accident in Holland, the club has confirmed.
Read the full story ›
Advertisement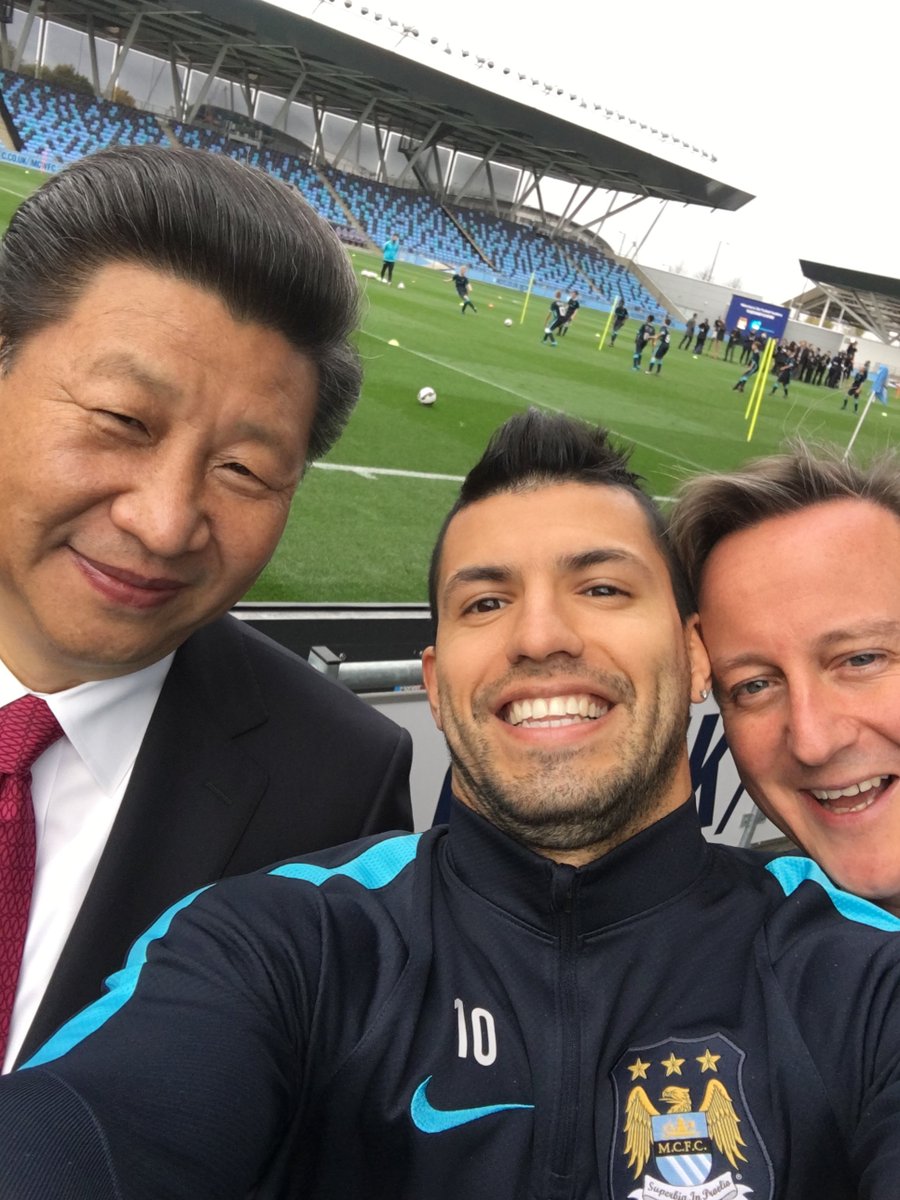 Manchester City striker Sergio Aguero took this selfie with President Xi of China and Prime Minister David Cameron during their visit to the Etihad Campus.
The Argentinian striker had earlier seen his title-winning goal replayed for the Chinese president, who applauded and smiled.
An 11 year old boy from Manchester has been sent home on his first day of high school over a 'severe' Sergio Aguero style haircut. Garry Hill also got into bother over his 'trainer' shoes.
The Manchester City fan was pulled up by a teacher at, Astley Sports College in Dukinfield, about the two shaved lines on his hair - just like the striker. After being told he'd have to go home the boy's dad Garry snr, 45, drove to school and spoke to the headteacher.
"I was told the haircut was unacceptable. I said I would take him home and shave out the lines. But then I was told his shoes were unacceptable. I told them I had bought them from Trespass from their back-to-school range."
Headteacher, Eamonn Murphy told the MEN: "These are the rules and parents know them."
The school's website makes it clear hair with 'steps' or 'tramlines' aren't acceptable and nor are black shoes with velcro straps instead of laces.
A schoolboy who had his haircut like football Sergio Aguero has been told he can't attend lessons with it on show.
Ten-year-old Tom Moseley was told his hairstyle, modelled on the Manchester City striker's look, was too extreme by staff St Gilbert's Primary School in Eccles. His family told the MEN they were told he could return to classes when his hair had grown, restyle it or wear a hat at all times.
Parents Lisa, 39, and Kirk, 43, have decided to keep Tom out of school, likening the school's hat suggestion to wearing a 'dunce's cap'.
"We set clear standards on hair and dress at this school which parents are made fully aware of and accept when pupils enrol.

"We always suggest that an unsuitable haircut can be trimmed into an acceptable style without going down the skinhead route or that the child can wear a hat of their choice in school.
– Headteacher Cheryl Fox
Lewis Kenny's hair is similar to that worn by Manchester City star Sergeo Aguero, but St Ambrose High School in Salford claims it broke their rules and put Lewis in isolation.
Lewis's parents say they've no plans to send him back to the barber.
Advertisement
The parents of a teenager, taken out of lessons for having a haircut similar to Manchester City striker Sergio Aguero , say they cannot understand the decision.
St Ambrose Barlow School in Swinton described Lewis Kenny's haircut as 'extreme', and said it broke school policy and placed him in isolation.
But the family say he has done nothing wrong.
A teenager was placed in isolation by his school because he has a haircut inspired by top footballers.
Read the full story ›
Manchester City's top scorer Sergio Aguero is fit for Sunday's Barclays Premier League title decider against West Ham.
Read the full story ›
Sergio Aguero gave one City fan the shock of a lifetime when he turned up at his home and offered him the chance to work for the Premier League club.
Lee Kenny, 24, from Stretford won the role to help shape the club's new global membership, Cityzens, which launches this summer.
Lee has supported City for more than 21 years and so could hardly contain his disbelief at this incredible turn of events.
He said: "Sergio Aguero was literally the last person on earth I'd expect to see on my front-doorstep or in Stretford for that matter!"
"Getting the job at City was a dream come true as it was, let alone your hero coming to personally give your staff pass. It was a surprise I will never forget. "
Load more updates