Live updates
Shale gas exploration
"The British Geological Survey's new resource estimate for the Bowland

Basin is fantastic news for Lancashire and the UK as a whole. It confirms

the huge natural gas volumes contained within the shale rock in our

exploration licence area. Successful development of this natural gas

resource will, we believe, significantly reduce the country's reliance on

imported coal and gas, create thousands of jobs, generate significant tax

revenues and exert downward pressure on domestic gas prices.
– Francis Egan, Cuadrilla Chief Executive
Advertisement
Shale gas exploration
"Shale gas is not the solution to the UK's energy challenges. Its potential has been hugely over-hyped and there's little evidence it will drive down fuel prices.

"Extracting shale gas will have a significant effect on local communities and our environment - the more that's extracted, the bigger those impacts will be.

"The North could be at the heart of Britain's green energy and economic transformation, but not by turning it into another 'gaslands'.

"
– Tony Bosworth, Friends of the Earth Energy Campaigner
Shale gas exploration
Shale gas could play an important part in our energy mix. The next step is for industry is to establish how much gas is technically and commercially recoverable.

With the package we've announced on planning, environmental regulations and community benefits, its clear that we want to encourage a shale industry that is safe and doesn't damage the environment.
– Michael Fallon, Energy Minister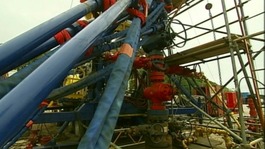 Controversial "fracking" for shale gas should only take place at least 600 metres down from aquifers used for water supplies.
Read the full story
Fracking distance limit study
A new study has recommended that "fracking" for shale gas should only take place at least 600 metres down from channels carrying water supplies.
It says the controversial process can cause fractures in the ground that could reach nearby water sources. It's been claimed the flammable methane gas can pollute drinking water.
Advertisement
Back to top