Live updates
Manchester Police Chief defends statement on crime
Karl Thurogood, Greater Manchester Police Federation says not enough hours in the day for officers to deal with their workload.
Firearms officer convicted
On behalf of Greater Manchester Police, and also personally, I want to apologise for the failings which led to the death of PC Ian Terry and express great sorrow for the pain and loss suffered by his family. We accept that there were failings in the way in which the training exercise was carried out and today we accept the sentence that has been passed.
– Chief Constable Sir Peter Fahy, Greater Manchester Police
Advertisement
Firearms officer convicted
Ian was an exceptional man – a brilliant father, husband, son and brother who we will always be proud of. He was the heart of the family and always had a smile on his face. His enthusiasm for life was infectious. He was also a dedicated police officer who loved his job, and his career was progressing well within the firearms division of GMP.

The last five years have been horrendous for us. We are a patient and reasonable family and all we have wanted from day one is for those involved in this tragedy to accept their portions of responsibility for what happened to Ian on 9th June 2008.
– Joanne Terry, widow of PC Ian Terry
Firearms officer convicted
Judge Holroyde has fined gmp 166666 pounds
Judge Holroyde fined an officer known only as Francis for £2000 and £500 costs over Ian Terry's death.
Firearms officer convicted
Adjourned for 30 minutes to consider sentence of chief constable and 'francis'following the shooting dead of ian terry
Judge in ian terry trial says 'no cost can restore life or turn back time. The size of fine is in no way a valuation of a life lost'
Firearms officer convicted
constable francis and chief constable peter fahy to be fined following a botched training exercise in which another officer died.
Court told any fine of gmp will come out of the policing budget - increasing the risk on the people of greater manchester
Advertisement
Firearms officer convicted
Court told the officer who planned the botched exercise that lead to PC Ian Terry's death is likely to leave the GMP 'very soon.'
Firearms officer convicted
Ian Terry's death was an avoidable tragedy that should never have happened.

I sought, and have been given, the assurance that it would now be impossible for something similar to happen again. Greater Manchester Police have radically changed their procedures for firearms training.

Indeed the changes that have been introduced as a result of Ian's death now mean that GMP's firearms training is considered amongst the best in the country.

This entire process has taken far too long. It is unacceptable that Ian's family have had to wait five years to get to this point – it is contemptuous of them.
– Tony Lloyd, Greater Manchester Police and Crime Commissioner
Firearms officer convicted
Chief Constable of Greater Manchester Police & one of his Constables are due to be sentenced this afternoon following the death of PC Terry.
Ian Terry was shot and killed by a colleague in a training exercise in June 2008. PC 'Francis' was in charge of the operation.
The Court's heard Francis failed to carry out a risk assessment when he changed location & swapped live rounds for blanks.
Firearms officer convicted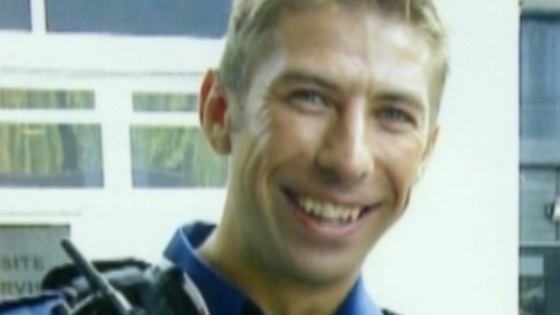 A police officer has been convicted of breaching health and safety laws, after a colleague was shot and killed during a training exercise in Manchester.
PC Ian Terry was hit once in the chest, while he was role playing the part of a criminal, in June 2008.
Two officers from Greater Manchester Police pleaded not guilty to the charges after PC Terry's death. Both were granted anonymity by the courts.
Today a jury found PC 'Francis' guilty. His colleague, Sgt 'Eric', was found not guilty.
Sentencing will take place this afternoon.
Load more updates
Back to top