A number of schools have closed across the North West due to the poor weather. Get the details here.
Read the full story ›
This is currently J21/22 M62 EB. Long delays, highways working to clear the stuck vehicles to allow ploughs through. http://t.co/OwVF3xJjIb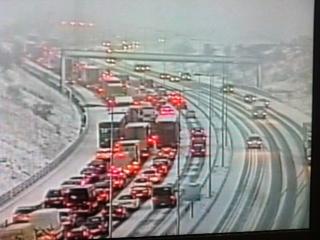 Advertisement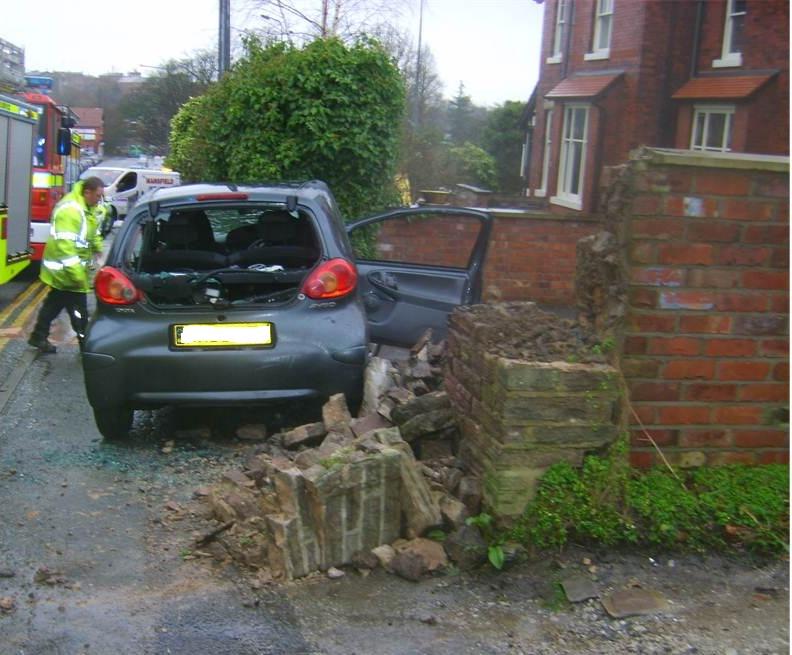 Bright sunshine and ice are a deadly combination for drivers.
Now Cheshire firefighters are urging motorists to take even more care in the wintry weather.
It follows two collisions in the Macclesfield area.
Here are a few checks that you can do, to make sure your car is ready for winter:
Keep the lights, windows and mirrors clean and free from ice and snow
Make sure wipers and lights are in good working order
Add anti-freeze to the radiator and winter additive to the windscreen washer bottles
Check that tyres have plenty of tread depth and are maintained at the correct pressure
Pack a snow/ice scraper, de-icer, snow shovel, hat, gloves, boots, a torch, bottle of water and a first aid kit. For longer journeys, you should take blankets, a snack and a flask of warm drink.
Wash the car frequently to get rid of the salt and dirt that builds up over the winter.
Always keep a full tank of fuel - you never know when you might get delayed.
Don't use water to defrost the windows.
Driving tips during bad weather:
Slowing down
Keeping a greater distance between yourself and the vehicle in front - increase the 2 second rule to 4 seconds or even more
Setting aside extra time to complete your journey
Keep your mobile fully charged.
On colder days be particularly careful on tree lined roads - the trees prevent the sun's warmth from reaching the road, which may still be icy when all around has thawed.
A weekend of freezing cold weather and snow is continuing to cause disruption in the North West.
Read the full story ›
Advertisement
Power has been restored to hundreds of homes in Cumbria after high winds and heavy snow caused widespread problems to supplies.
Engineers worked round the clock to reconnect 1700 customers mainly in West Cumbria with extra teams drafted in over the weekend.
The body of the man who died last night was found in Shay Lane, Brierfield, by a farmer shortly after lunchtime today.
Officers attended the scene and the air ambulance was called to take the body to the Royal
Blackburn Hospital as the area was too difficult to access for vehicles because of the snow.
Police said the man has been identified and his family have been informed.
A post mortem examination will take place to establish the cause of death.
An investigation is under way to establish exactly what has happened although we do not believe that there are any suspicious circumstances.

Early indications suggest that it appears to be a very tragic incident where a young man has been out with friends and has become caught up in the weather last night on his journey home.

The snow and ice has been severe in the area with many roads not passable.
I would urge people to take precautions and only go out if it is necessary and if you do go out then make sure friends and family know where you are and that you have suitable clothing on and your phone with you.

Understandably this is a very difficult time for the man's family and we have specially trained officers offering them support. Our thoughts are very much with them at this very sad time.
– Chief Inspector Derry Crorken of Lancashire Police
It is believed the 27-year-old man had been on his way home from a night out with friends last night when he got caught up in the weather, Lancashire Police said.
Early indications suggest that it appears to be a very tragic incident where a young man has been out with friends and has become caught up in the weather last night on his journey home.
– Chief Inspector Derry Crorken, Burnley Police
His was discovered by a farmer in deep snow at around 1:30pm today.
Heavy snowfall has once again caused widespread disruption to schools and transport in the North West.
Scores of schools were closed, mainly in Merseyside and Cheshire, while several major roads were blocked.
Load more updates