Southport swimmer Fran Halsall claims a more selfish approach has boosted her chances of qualifying for the Rio Olympics in 2016.
She went to the London Olympics targeting medals in five events but came home empty-handed. Since then, she has been unstoppable.
She has won gold medals at the Commonwealth Games, the British, European and World Championships and on Saturday swam a new British record in the 50m butterfly at the Manchester International.
It is the perfect preparation for her latest bid for Olympic glory, with the British trials just five months away.
She spoke to Mike Hall.
The Red Arrows have flown with the Vulcan bomber for the final time in a show of great British aviation icons.
Jets from the Royal Air Force Aerobatic Team performed a flypast with the Cold War aircraft at the Southport Air Show.
Thousands of people cheered and waved as the Red Arrows' nine distinctive British-built Hawk aircraft made a V-shape in front of the Vulcan.
"The Vulcan played both a significant role in the Cold War and in the history of British aviation and so it's only right we pay tribute to the aircraft, and all those people connected with it, during the bomber's final flying season.

"It was a great honour to lead a formation flypast with the Vulcan, particularly as the aircraft type was once based at RAF Scampton in Lincolnshire - now home to the Red Arrows."
– Sqn Ldr Montenegro, a former Tornado pilot
Advertisement
A man has been charged with the murder of a grandmother who was found dead in a flat in Southport.
Read the full story ›
Southport and Ormskirk Hospital NHS Trust has suspended four staff members, including the Chief Executive, after whistleblower complaints.
Read the full story ›
A respite centre in Southport is marking National Paralympic Day with a sports event for its residents.
The Revitalise centre offers respite holidays for disabled people and their carers.
Competitors took part in activities such as swimming and table tennis. The event coincides with the Anniversary Games held at Olympic Stadium.
Hundreds of protestors have gathered in Southport to protest over potential cuts to staffing at the YMCA Gymnastics Centre.
Read the full story ›
Advertisement
A woman has died after a crash involving a bus in Southport. Merseyside Police say a man, thought to be the driver, has been arrested.
Read the full story ›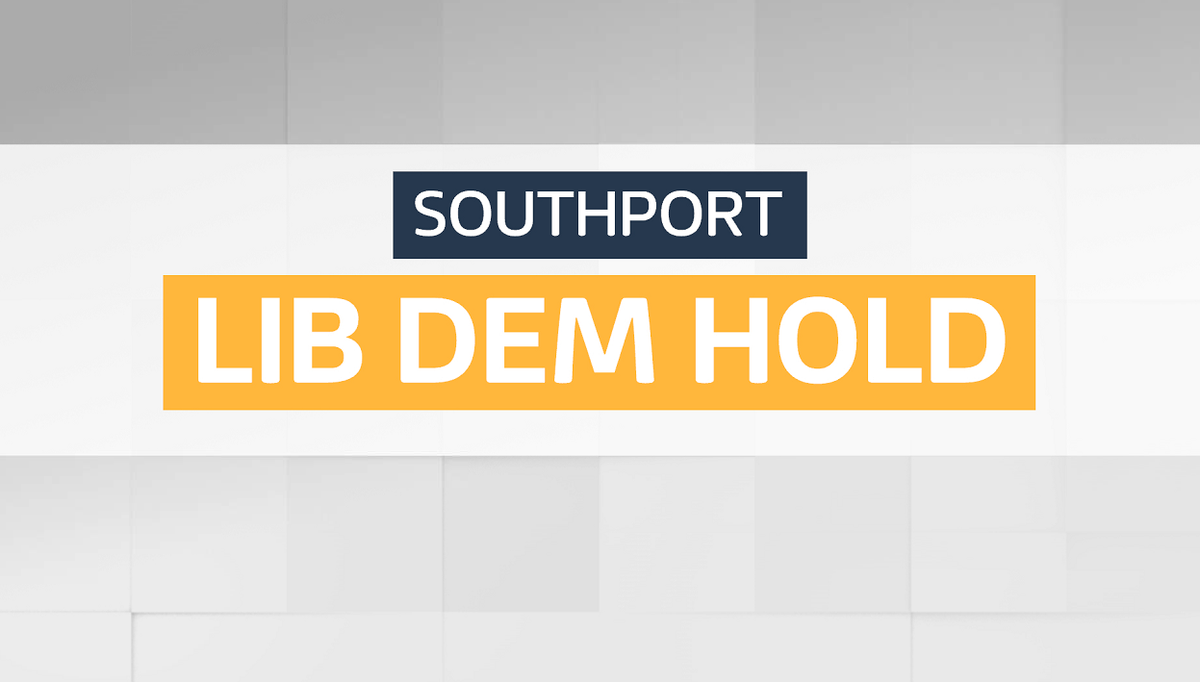 John Pugh (LD) 13,652 (30.96%, -18.65%)
Damien Moore (C) 12,330 (27.96%, -7.88%)
Liz Savage (Lab) 8,468 (19.20%, +9.79%)
Terry Durrance (UKIP) 7,429 (16.85%, +11.70%)
Laurence Rankin (Green) 1,230 (2.79%)
Jacqueline Barlow (Southport) 992 (2.25%)
LD maj 1,322 (3.00%)
5.38% swing LD to C
Electorate 67,328; Turnout 44,101 (65.50%, +0.39%)
A quick-thinking amusement arcade worker's actions probably saved the life of newborn baby April, after she was abandoned in Southport.
Matt O'Donoghue reports:
Amusement arcade worker Warren Chadwick says his adrenalin ''kicked in'' when he was alerted to the discovery of a baby girl in the toilets of his workplace on Southport.
The mother of baby April has now been found and is receiving medical treatment.
Load more updates