Hundreds of protestors have gathered in Southport to protest over potential cuts to staffing at the YMCA Gymnastics Centre.
Read the full story ›
A woman has died after a crash involving a bus in Southport. Merseyside Police say a man, thought to be the driver, has been arrested.
Read the full story ›
Advertisement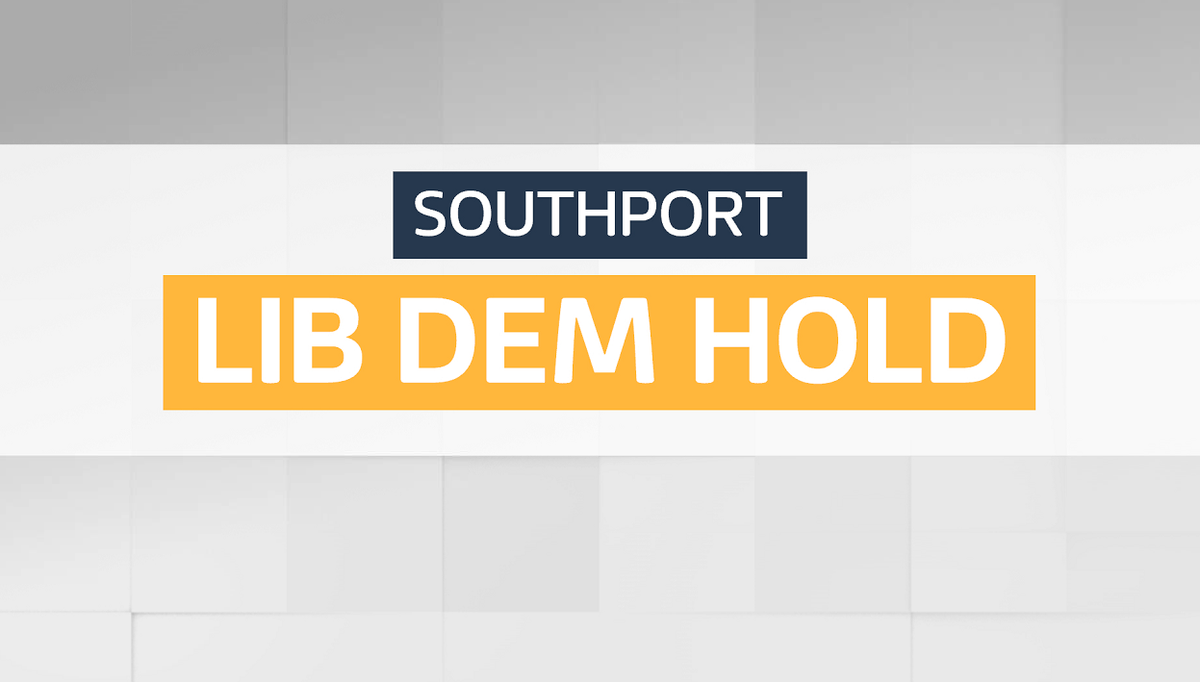 John Pugh (LD) 13,652 (30.96%, -18.65%)
Damien Moore (C) 12,330 (27.96%, -7.88%)
Liz Savage (Lab) 8,468 (19.20%, +9.79%)
Terry Durrance (UKIP) 7,429 (16.85%, +11.70%)
Laurence Rankin (Green) 1,230 (2.79%)
Jacqueline Barlow (Southport) 992 (2.25%)
LD maj 1,322 (3.00%)
5.38% swing LD to C
Electorate 67,328; Turnout 44,101 (65.50%, +0.39%)
A quick-thinking amusement arcade worker's actions probably saved the life of newborn baby April, after she was abandoned in Southport.
Matt O'Donoghue reports:
Amusement arcade worker Warren Chadwick says his adrenalin ''kicked in'' when he was alerted to the discovery of a baby girl in the toilets of his workplace on Southport.
The mother of baby April has now been found and is receiving medical treatment.
Merseyside Police say the mother of a newborn baby found in Southport has been found.
She was found within the Merseyside area and is currently receiving medical treatment.
Superintendent Claire Richards, said: "I would like to thank the local community, the online community and the media for their assistance in this matter."
Advertisement
Police have made an urgent appeal for information about the mother of a baby found abandoned at an amusement arcade in Southport.
The baby, who's been named April by hospital staff, is safe and well.
Merseyside Police have issued a CCTV image of a woman officers are keen to trace after a newborn baby was left abandoned in Southport last night (Thursday, 16 April).
Officers believe the woman pictured may have information that could help them with enquiries and would urge her or anyone who recognises her to contact us.
Superintendent Claire Richards, said: "Our primary concern at this time is for the welfare of the mother and I would urge the woman pictured to get in touch."
Anyone with information is asked to call Merseyside Police on 0151 777 3835 or 101.
Police trying to identify the mother of a newborn baby found abandoned inside public toilets just hours after being born have released a short video of the child they have named 'April'.
Merseyside Police are keen to trace the mother of the girl, who was named after the month of her discovery by staff at the Ormskirk Hospital where she is being treated.
Emergency services were called to Silcock's Amusement Arcade on Nevill Street in Southport at about 6.50pm on Thursday 16 April after staff found a baby abandoned inside the disabled toilets.
The video, released by police today, show the baby girl dressed in a floral-patterned pink baby grow provided by the staff.
A police spokesman said there was evidence to suggest the baby was "born where she was found".
Load more updates