There's a real buzz around this year's Southport Flower Show which runs from today until Sunday. Ray Roukin says the build up has been really exciting
Advertisement
Southport has a real treat lined up for amateur and professional gardeners from today until Sunday. The Southport Flower Show in Victoria Park is the largest independent flower show in the UK. It started way back in 1924 which also makes it the longest running. It is without doubt one of the most popular and there'll be more than a million different flowers on display.
Merseyside Police have confirmed that a man has been arrested after shots were fired at a property on Newton Street in Southport on Sunday.
A 24-year-old man has been arrested on suspicion of possession of a firearm. He's currently being questioned by officers.
Merseyside Police is investigating after shots were fired from a car in Southport. Officers were called to Newton Street at 8pm last night following reports a man had been shot at by people in a in a dark saloon.
Officers located the man, who was shaken but uninjured. Following a search, the outer wall of a house was found to have been damaged.
The incident is being treated as a targeted attack and officers are trying to locate the vehicle involved. Extra patrols are out in the area.
Advertisement
Driving instructor Sam Jackson, from Southport got an interesting call from the Hollywood star himself after pictures of his car became an internet hit. The photo's went viral on social media after he attracted attention with the well placed 'L' on his learner vehicle.
Chat show host Graham Norton arranged for the actor Samuel L Jackson to call his namesake on his show, but the call didn't make the final cut.
The driving instructor, 53 told the Daily Express, the Pulp Fiction star "used a lot of choice language which I can't repeat. It was surreal to speak to someone so famous."
The latest edition of the Southport Visiter is out TODAY! Pick up your copy for news from your area! http://t.co/yDrSHKW449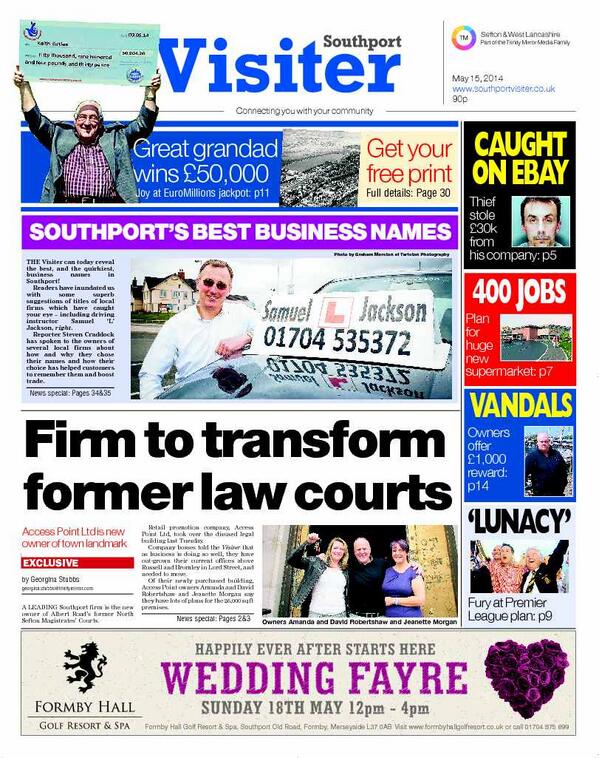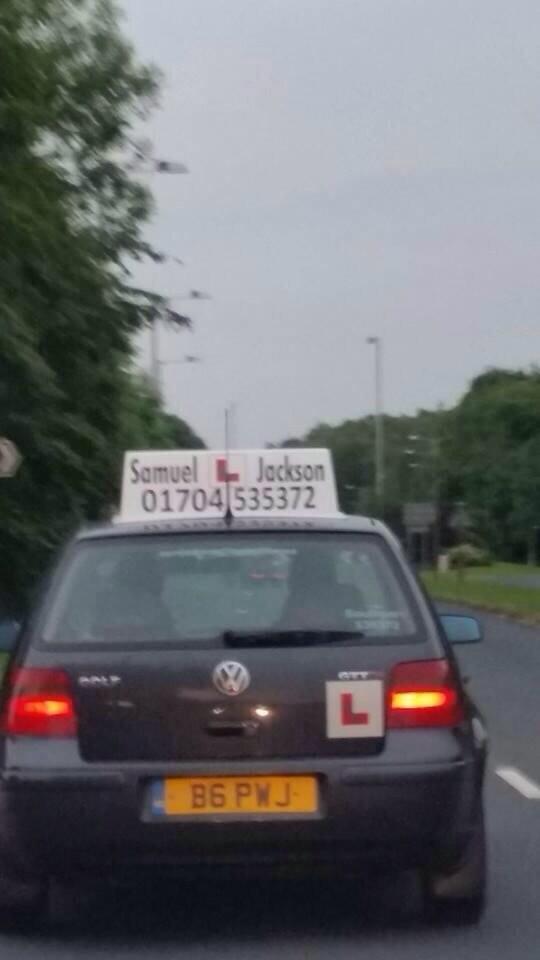 Pupils from across Sefton had to stand in the formation for 15 minutes and its now being verified with Guinness to see if it qualifies as a new world record. It was organised by Sefton council with Sefton CVS and the Royal British Legion.
Leader of Sefton council, Cllr Peter Dowd said: "To watch the World Record being set on Southport Beach was truly amazing. Once in formation the poppy looked spectacular and this marks the start of Sefton's commemorations to mark the onset of World War 1.
The Royal Birkdale, near Southport, will host The Open Golf Championships in 2017, the R&A announced today.
Five-time Open Champion Tom Watson, who won The Open at Royal Birkdale in 1983 and at Carnoustie in 1975, joined The R&A to make the announcement at the Greenbrier.
He said "Royal Birkdale is a fine links course and I have always thoroughly enjoyed playing there.
"I think the players and the fans will be excited to see the top players playing these courses once again."
The course will host The Open for the tenth time on July 20, 2017.
The R&A also announced today that Carnoustie will host the competition in 2018.
This year's Open Championship will be played at the Royal Liverpool, in Hoylake, Wirral, later this month.
Scottish MP Angus Robertson has called for a fatal accident inquiry to be held into the 2012 RAF Tornado crash which killed three people in his constituency.
Speaking after a Ministry of Defence report concluded the accident could have been avoided if the aircrafts had been installed with collision warning systems, he said it was 'extremely distressing' for the families involved and 'damning for the MoD.'
He added: "It is scandalous that the MoD committed to a Tornado collision warning system in 1998, bizarrely cancelled it 12 years later, then changed its mind - but it was all far too late to potentially avert the fatal crash in 2012.
"There is now an overwhelming public interest case for a fatal accident inquiry."
Load more updates