A department store in St Helens has been forced to close after a 120 years of trading.
Tyrers which is family run made the decision to shut up shop because it was struggling to compete with online shops and out-of-town retailers.
Advertisement
It was heartbreak again for St Helens' Martin Murray as his fourth world title attempt ended in defeat once more against Arthur Abraham in Germany.
The defending WBO super-middleweight champion won a split points decision 115-112, 112-115, 116-111 to retain his belt.
Murray had little success in the opening rounds in Hanover and was caught by a straight, powerful right hand in the third.
It was not until the sixth that Murray landed something meaningful, forcing his opponent back on to the ropes with a right hand, but Abraham responded with a counter to mark the Briton's face.
The champion twice caught Murray in the seventh but he landed the best punch of the fight in the next round, catching Abraham with a big right glove.
Murray was deducted a point, after a couple of warnings, in the 11th for using the shoulder, which all-but ended the 33-year-old's hopes.
A couple whose wedding was in danger of being postponed after a protester scaled the roof of St Helens Town Hall in Merseyside were married in the end, the local council has confirmed.
A spokesman for the council told ITV News: "It [the wedding] did go ahead, so it was a happy ending in that respect."
The protester reportedly climbed down from the roof after an appeal by the couple. He was arrested by police.
The rooftop protester at St Helens Town Hall has come back to ground level.
It's understood a couple who were due to marry there appealed to him to let them have their ceremony.
The man, who had been throwing roof tiles to the ground causing police to have to cordon off the building, shouted: "Shall we let them have their wedding?" before coming down.
It's thought he was protesting about a housing issue - he had unfurled a blanket as a banner which made allegations about being evicted from his home.
The man was arrested by Merseyside Police.
Advertisement
A man has scaled the roof of St Helens Town Hall and is throwing slates to the ground.
It is understood nobody has been hurt in the incident.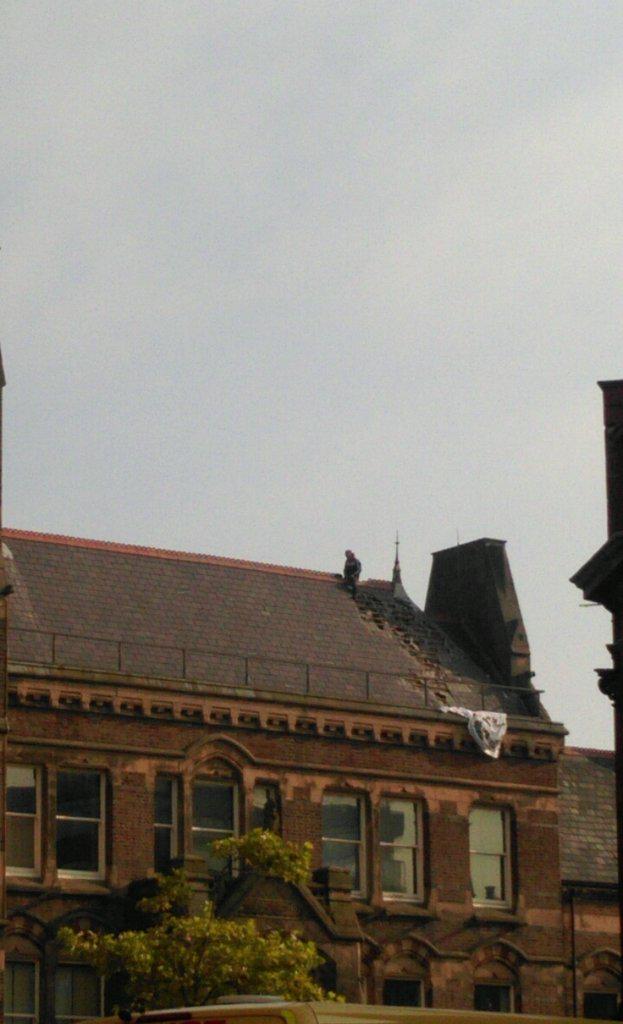 A woman was stamped on the head by a man as she lay on the ground following an attack in the street.
The incident happened at around 3am on Friday, 7 August on Westfield Street.
"This was a particularly nasty assault on a woman who was lying defenceless after being knocked to the floor.

Thankfully the victim wasn't badly hurt but we are keen to speak to the man in the photograph as we believe he may be able to help with our enquiries."
– Detective Constable Tracy Awbery, Merseyside Police
Anyone with information is asked to call Merseyside Police on 0151 777 6816 or Crimestoppers on 0800 555 111.
One of Merseyside's oldest pubs is being granted listed status as part of a project by Historic England to celebrate 'overlooked' buildings.
The Wheatsheaf on Mill Lane, St Helens, is among 21 inter-war pubs being listed by the Department for Culture, Media and Sport.
It was built in 1938, and the day it opened, according to local Frank Baumber, a great crowd of ale drinkers, lured by the promise of a free pint of ale, were met by campaigners who sang and preached, warning against entering the "House of the Devil".
"These inter-war pubs are more than a slice of living history, they play an intrinsic role in English culture and our local communities.

"I'm delighted that these pubs and their fascinating history have been protected for generations to enjoy for years to come."
– Heritage Minister Tracey Crouch
The building is being listed as part of plans to understand and protect some of England's best pubs built between 1918 and 1939.
During that time breweries across the country rebuilt thousands of pubs, spurred on by the need to appeal beyond their usual male clientele and leave behind the image of drunkenness associated with Victorian and Edwardian pubs.
St Helens coach Keiron Cunningham is urging the critics not to write off the reigning Super League champions after a third successive defeat saw them slip to fourth place in the table.
They were overtaken by Huddersfield following the Giants' 28-22 victory at Langtree Park, and with fixtures coming up against Wigan, Leeds and Warrington, Saints urgently need an upturn in fortunes if they are to retain their crown.
However, Cunningham had called for a response from his players following their surprise home defeat by Hull and he believes he got it.
"It's a result-based industry and we need to pick some points up but I thought the response was pretty good."

"If anything, the effort across the board was too good because they tried to force things instead of being patient and trying to build pressure.

"Huddersfield are a good side and it was a typical Saints-Huddersfield game which went down to the wire. They took their chances better than we did.

"It was a hell of a lot better than the Hull game. There were some really good efforts out there. We played a little bit anxious because we've lost a few games at an important time but I'm happy with the response.

"The season is a long way from being over. We've got to make the top four and we'll have a crack at it."
– Keiron Cunningham
Load more updates