We were joined in the studio by the former St Helens and Great Britain captain Paul Sculthorpe, who paid tribute to his friend Steve Prescott.
Advertisement
Steve Prescott speaks to Mike Hall in his final interview for Granada Reports in June 2013.
Horrible news about Steve Prescott an unbelievable inspiration and friend. Rip mate u will sadly missed!!
Inspirational, tough, selfless, humble, courageous, modest.. These words don't do justice to a man like Steve Prescott. R.I.P mate
Absolutely gutted to hear of Steve Prescott passing... A gentleman and an inspiration. #RIP
140 characters could never be enough to do this justice. Rest in peace Steve Prescott. Your effort and battle will never be forgotten. :(
The world lost a true icon yesterday. Words cant do him justice. Will miss you my friend x http://t.co/B1wk6l7rNd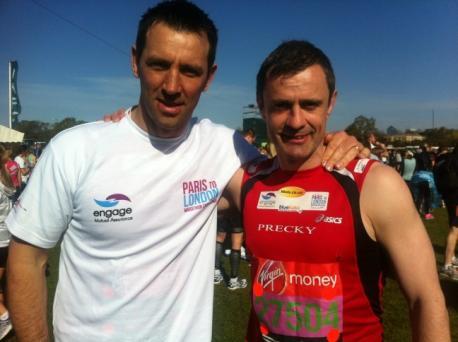 A few people have tweeted about changing the 'Man of Steel' award to the 'Steve Prescott Award'. Great idea! I would be behind that 100%!
R.I.P Steve Prescott. You left this earth a better place for the way you lived your life and battled for others #Heroicfeats
As the tears roll down my face I just want to say I LOVE YOU MY LITTLE FRIEND you gone to sleep now no more pain Ste Prescott will always be
Advertisement
Mike Hall takes a look back at the life and career of Saints legend Steve Prescott who died over the weekend aged 39.
The former St Helens star had been battling a rare form of stomach cancer. The Rugby Football League describe him as a hero and role model.
A book of condolence is being opened for St. Helens legend Steve Prescott, who passed away yesterday after a long battle with cancer. Fans will be able to sign the book at Saint's ground Langtree Park, where it'll remain open for a week.
Mike Hall takes a look back at the life and career of Saints legend Steve Prescott who died today aged 39.
The RFL says Steve Prescott MBE was a true hero. He died earlier today at the age of 39 after a long illness. He was capped by both England and Ireland at international level and had successful spells with St Helens and Hull FC.
"Our thoughts are with his family at this terribly sad time. The word 'hero' is overused in sport but Steve was just that: a role model for every young Rugby League player during his distinguished playing career and an absolute inspiration to all of us off the field. Throughout his long illness Steve was never anything other than dignified, noble and brave, not least during his fantastic charity work through the Steve Prescott Foundation which raised hundreds of thousands of pounds for good causes. He is going to be much missed."
– RFL Chief Executive Nigel Wood
Load more updates