A retired doctor was found dead on the floor of a luxury care home with signs of rigor mortis an inquest has heard
Read the full story ›
Advertisement
The reason - his dad Ian bizarrely put his son's football allegiance up for auction. He thought the biggest bid might come from Manchester City or United - but it was a keen Stockport fan who clinched it in the end. Daniel Hewitt has the full story.
Granada news can reveal that the man who bid for a baby's football allegiance is 32 year old Daniel Eade from Stockport. A new dad himself he says he wanted to support the charity Bliss that Ian Charters was raising money for.
Daniel bid £190 pounds for Eddie's football allegiance and he will now be encourage to be a Stockport County fan. Eddie's Dad came up with the idea to raise money for the charity Bliss which helps care for premature babies. Daniel's newborn son was also premature and that's why he decided to put in a bid.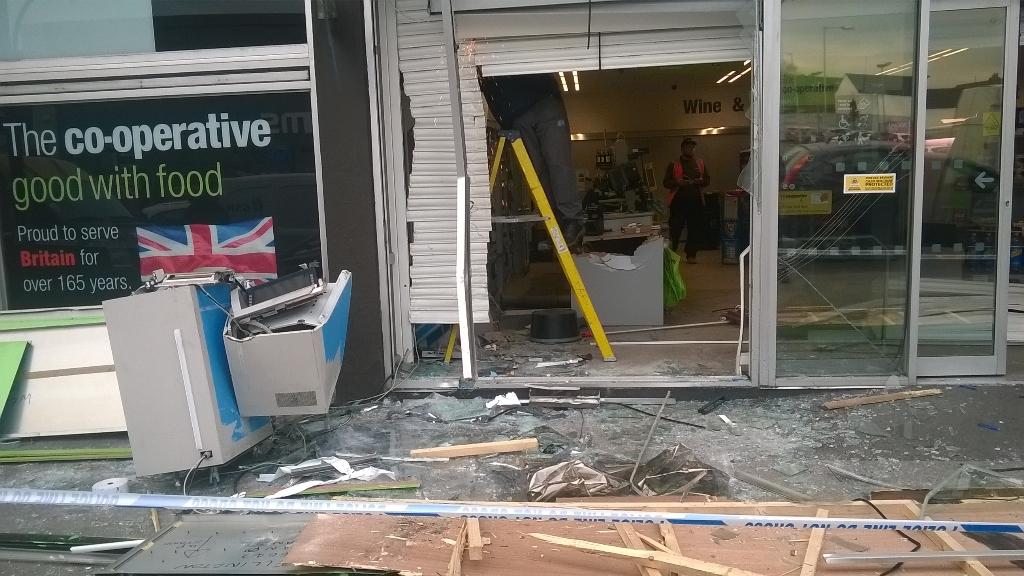 The thieves struck in the early hours of this morning using a 4x4 vehicle to smash open the doors of the Co-op store. Police were called and one man was arrested. It's not thought any money was stolen during the raid.
A new dad who auctioned his baby's football allegiance on eBay - thinking it would be City or United has sold it to a Stockport County fan
Read the full story ›
Advertisement
Families in Stockport say they will camp out overnight at a cemetery to stop the council removing tributes left on graves.
Maintenance work is due to begin at Mill Lane Cemetery tomorrow morning and some of those with loved ones buried there have be told to remove the items,
But the families affected say the rules on tributes are insensitive.
In a statement, Cllr Martin Candler, Stockport Council's Executive Member for Communities and Sustainability, said he understands that it's a sensitive issue.
"The Council will be carrying out routine maintenance work at Mill LaneCemetery which includes turfing graves that require it.

"This happens when plots are filled in an area and has been the standard practice used at cemeteries across the borough for a number of years.

"The Council has written to a small number of people informing them about the work and asking them to remove any items from the graves by Sunday, October 19, as we understand that this is a very sensitive issue.

"The letter also states that once the work has been completed tributes may be placed on the concrete foundations strip adjacent to the headstone, although the agreements people sign when they purchase plots are specific about not allowing tributes.
– Cllr Martin Candler, Stockport Council's Executive Member for Communities and Sustainability
The headteacher of a Stockport school at the centre of an Ebola row has criticised parents for their 'misguided hysteria'. Nine year old Kofi Mason-Sesay, from Sierra Leone, was due to join classes at St Simon's Catholic Primary School in Hazel Grove as part of an arrangement with an education charity. The placement was cancelled after mums and dads said they were worried their children could become infected with the disease, despite him being cleared by health officials.
Kofi's mum Miriam, who works with the Sierra Leone charity and travels around schools in the UK as part of regular fundraising drives, was told she will also not be allowed to visit the school.
The following letter was sent to parents yesterday:
I understand that there is a lot of misinformation about how Ebola is spread.

"A significant number of parents have been in touch with me to express their fears. As you know, I always listen to parents. Ebola cannot be spread as some parents have suggested.

"There are many parents who believe that the visit should have gone ahead and that we are contributing to misunderstandings by cancelling it.

"In this instance, it has been very hard to juggle justice to Miriam and the views of parents. Of course I would never endanger any child or colleague and I have to put my trust in the professionals.

"It is with great sadness that we decided to cancel the visit; the misguided hysteria emerging is extremely disappointing, distracting us from our core purpose of educating your children and is not an environment that I would wish a visitor to experience."
– Head teacher Elizabeth Inman
A mother is suing a council after her daughter fell off a slide and fractured her skull.
Ella Reger fell from the top of the two-metre high slide at Clarendon Road Park in Hazel Grove in 2012 when she was five-years-old.
Since then her mother Rebecca Farndell has launched a campaign for parks to be made safer and now Stockport council bosses removed play equipment from 16 parks and play areas because they didn't have safety flooring.
An independent report commissioned by her solicitors said Ella was not at fault and claims the council repeatedly ignored a warning to make improvements to both the park and the slide, which was at least 30-years-old.
A council spokesman said it is aware of the case but cannot comment due to ongoing legal proceedings.
Six colleagues all found out they were pregnant - and all gave birth to boys within weeks of each other.
The staff at Berrycourt Manor Care Home, in Stockport, have shared their celebrations after the arrival of their boys.
Faye Kara, a senior carer at the home in Romily, was delighted when her five colleagues all announced pregnancies, only to discover she was three months pregnant - and due before anyone else.
"It was just every week someone was coming in and saying: 'I've got something to tell you'.

"Everyone is convinced there's something in the water."
– Faye Kara, senior carer
Along with fellow senior carer Katie Fitzpatrick, and care assistants Kirsty Laing, Danielle Ogden, Chelbi Harrison and Lauren O'Neill, Faye is now enjoying her maternity leave after being the first to give birth - to son Reuben on July 7.
Just three days later, colleague Katie had her son Cobey James.
"She was messaging me while I was in labour to see how it was going because she knew she'd be doing it next. When I was leaving hospital I was putting the baby in the car when she arrived doubled over in agony.

"I said I felt really bad for her because I knew what she was about to go through."
– Faye Kara.
And just weeks later, on July 30, work-mate Lauren had Charlie James.
The remaining three first-time mums all gave birth in August.
Kirsty had Leo on August 6 and just four days later on August 10, Danielle gave birth to Harry Bryan.
Last but not least, Chelbi had Isaac Jack on August 22.
Load more updates