A five-year-old boy from Manchester who melted hearts after created a superhero mask to help him face up to a gruelling three months of cancer treatment.
Harley Renshaw from Stretford has been given the all clear after battling the disease in his kidney, neck, lung and bones.
Harley was diagnosed with neuroblastoma - a rare and aggressive childhood cancer but his Ninja Turtle mask made him feel stronger while having his treatment. Today he got to meet his inspirations the Teenage Mutant Ninja Turtles' at Blackpool Pleasure Beach.
His Stacey Parker said "I'm so emotional it's just fantastic, Harley has loved it." She continued: "His end of treatment scans are clear but every three months we've got to go for follow ups and it's going to be a worry until 5 years are over and he gets the all clear hopefully." Stacey added that treats like today "makes us feel normal, it's nice to get out as a family."
5 year old Harley has also been awarded one of Cancer Research UK's Little Star Awards which acknowledges the unique challenges faced by youngsters who encounter cancer.
Pictures of a man who robbed two banks and a bookmaker using just a sports bag and a hand-written note have been released by police.
Read the full story ›
Advertisement
Stunning photos from Manchester astronomers have shown just how much you can see in the night skies above the region.
Read the full story ›
Police have released photos of a man and woman suspected of stealing from vulnerable adults in Manchester and Bolton.
Police say Peter Ellis and Lorna Walker target elderly women and vulnerable people in public places, with one of them distracting the victim while the other grabs a handbag or shopping bag. Officers say they're known to operate at Stretford Mall.
Police are appealing for help in identifying a woman who was found dead on a road in Greater Manchester.
The body of the elderly woman was discovered underneath a car on Coniston Road in Stretford yesterday morning.
Police believe there are no suspicious circumstances and an investigation has been launched to find out who she is.
The woman is described as white, of slim build, between 65 and 80 years old, has brown greying hair, false teeth, was wearing khaki green trousers, a red fleece, grey jacket, three gold coloured rings and a gold coloured necklace.
She also had a Yale Mortice key, two trolley tokens, one with a four leaf clover, the other with the Irish flag and a horse shoe charm.
"We are working to establish how the woman came to be underneath the car and find out her identity. What we do know is that the car she was under was not involved in any type of collision and we do not believe any third party was involved in her death.

"We have checked the register of those missing and the lady does not match any of their descriptions. Obviously, we are desperate to not only find out who she is but also who her next kin are so we can let them know of the sad news. "I would ask anyone who may recognise the description of the woman or who may have seen her walking in or around the area of Coniston Road last night or early this morning, to call us."
– Detective Inspector Joe Clarke, Greater Manchester Police
Anyone with information should phone police on 101 or the independent charity Crimestoppers, anonymously, on 0800 555 111.
A little boy who uses his superheroes to help him cope with his cancer treatment has just won a special award.
Harley Renshaw was diagnosed nearly a year ago and came up with the idea of decorating the medical mask he has to wear when he's getting radiotherapy.
He wanted it to look like the cartoon superhero Ninja turtles.
Cancer Research UK has awarded the little boy from Manchester with their Little Star, for bravery.
For more information about the awards, click here:
Advertisement
A five-year-old boy from Manchester has created a superhero mask to help him face up to a gruelling three months of treatment as he battles a rare form of cancer.
Harley Renshaw is fighting cancer in his kidney, neck, lung and bones - but his Ninja Turtle mask makes him feel stronger while having his treatment.
Hospital staff were amazed when the youngster, from Stretford, asked if he could decorate the protective medical mask that holds him still while having the treatment.
Harley has now been awarded one of Cancer Research UK's Little Star Awards which acknowledges the unique challenges faced by youngsters who encounter cancer.
"We couldn't be prouder of our boy.

"He has had such a lot to deal with, but he just takes it all in his stride and gets on with it. He is a true inspiration and he is our superhero."
– Harley Renshaw's mum, Stacey.
Fire fighters rescued a man in Stretford after he fell and his foot became trapped in the floor of a loft space.
The man became stuck on the fourth floor of a property under renovation in Norwood Road, Stretford.
There were fears for the safety of the man as the building is undergoing building work.
Crews used a crane and other specialist equipment to free him and the road was closed for a short time.
A spokeswoman for Greater Manchester Fire and Rescue Service said: "As the property is under renovation, it wasn't a stable building so we had to attend to make sure he could make it safely down to ground level."
Our crews are currently dealing with an incident on Norwood Road, Stretford. There are a lot of emergency vehicles at the scene.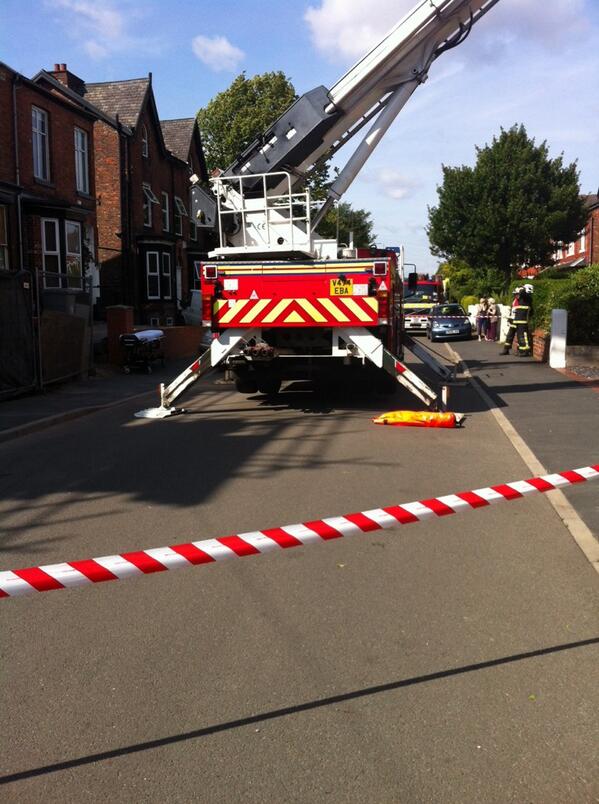 Norwood Road is now open after we have rescued a man who fell at height whilst working on a building renovation.
CCTV has been released of an assault which took place at a taxi firm's offices in Manchester.
The incident happened in the early hours of March 2 at a taxi firm in Edge Lane, Stretford, when the victim walked in to order a cab.
The offender, who was with another man, threatened and headbutted him before punching him.
He then used his knee to strike him in the ribs and chin before the victim managed to break free.
The man then left.
He is described as being white, about 5-ft 5-ins tall, in his late 20s to early 30s, of stocky build, with a bald or closely shaved head.
He was wearing a dark coat and grey tracksuit bottoms.
Anybody with information should call Greater Manchester Police on 0161 856 7655 or Crimestoppers on 0800 555 111.
Load more updates