A little boy who uses his superheroes to help him cope with his cancer treatment has just won a special award.
Harley Renshaw was diagnosed nearly a year ago and came up with the idea of decorating the medical mask he has to wear when he's getting radiotherapy.
He wanted it to look like the cartoon superhero Ninja turtles.
Cancer Research UK has awarded the little boy from Manchester with their Little Star, for bravery.
For more information about the awards, click here: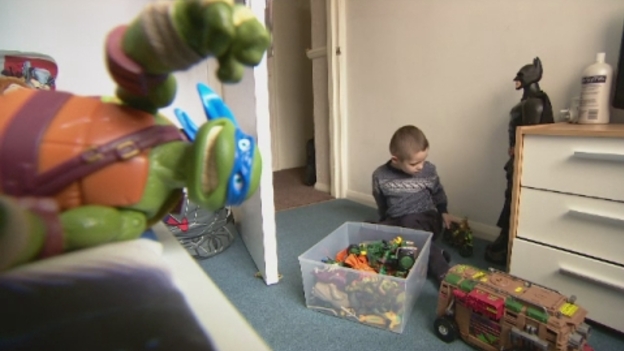 A five-year-old boy from Manchester has created a superhero mask to help him face up to a gruelling three months of treatment as he battles a rare form of cancer.
Harley Renshaw is fighting cancer in his kidney, neck, lung and bones - but his Ninja Turtle mask makes him feel stronger while having his treatment.
Hospital staff were amazed when the youngster, from Stretford, asked if he could decorate the protective medical mask that holds him still while having the treatment.
Harley has now been awarded one of Cancer Research UK's Little Star Awards which acknowledges the unique challenges faced by youngsters who encounter cancer.
Advertisement
Fire fighters rescued a man in Stretford after he fell and his foot became trapped in the floor of a loft space.
The man became stuck on the fourth floor of a property under renovation in Norwood Road, Stretford.
There were fears for the safety of the man as the building is undergoing building work.
Crews used a crane and other specialist equipment to free him and the road was closed for a short time.
A spokeswoman for Greater Manchester Fire and Rescue Service said: "As the property is under renovation, it wasn't a stable building so we had to attend to make sure he could make it safely down to ground level."
CCTV has been released of an assault which took place at a taxi firm's offices in Manchester.
The incident happened in the early hours of March 2 at a taxi firm in Edge Lane, Stretford, when the victim walked in to order a cab.
The offender, who was with another man, threatened and headbutted him before punching him.
He then used his knee to strike him in the ribs and chin before the victim managed to break free.
The man then left.
He is described as being white, about 5-ft 5-ins tall, in his late 20s to early 30s, of stocky build, with a bald or closely shaved head.
He was wearing a dark coat and grey tracksuit bottoms.
Anybody with information should call Greater Manchester Police on 0161 856 7655 or Crimestoppers on 0800 555 111.
A family from Stretford are campaigning for tighter legislation for companies which organise adventure holidays. Luke Molnar was electrocuted on a conservation trip in in Fiji 8 years ago.
Advertisement
A taxi driver who went to the aid of a mini-cab driver in Greater Manchester, had his teeth knocked out for his trouble.
The 57-year-old saw two robbers attacking another driver on Chatsworth Road, Stretford. He tried to help but the pair turned on him, smashing his mouth and stealing cash.
The man he tried to assist seized the opportunity to speed away and escape in what is thought to be a red or maroon Honda.
One of the robbers is described as black, 18-22 years old, slim, 5ft 8in, black hair, wearing jeans and a blue t-shirt.
The other was white, 18-22 years old, slim, 5ft 8in, blonde or ginger hair, wearing a grey tracksuit with stripes.
Detective Constable Martin Walsh says: "This victim went to the aid of a fellow cab driver and got a thorough beating for his pains."
"We now want to speak to the driver of the mini-cab. We completely understand that you felt threatened by these two men – we simply want to speak to you as you could help us piece together what happened and help us catch these men."
A 31-year-old man has been arrested on suspicion of affray and threats to kill after armed police engaged in a stand-off. It followed reports that a man armed with a crossbow had barricaded himself in a house in Stretford.
Armed officers have handcuffed a man and taken him away from the scene of a crossbow siege in a police van, according to Sky News' north of England correspondent Mike McCarthy.
Load more updates