Reports of M60 anticlockwise lane blocked on exit slip road, slow traffic due to accident at J18 M62 / M66 (Simister Island). Reports of a lane blocked on the exit slip road to Simister Island
Traffic heavier than normal, one lane closed and very slow traffic due to broken down car on M60 clockwise between J22 A62 Manchester Road (Failsworth) and J23 A6410 / A635 Manchester Road (Ashton Under Lyne).
Advertisement
Reports of one lane closed and heavy traffic due to broken down lorry on M6 Southbound after J27 A5209 (Standish).
Service suspended on Manchester Metrolink at Brooklands due to a serious police incident.
National Rail says services will not start running between Morecambe and Lancaster until approximately 8am.
Tickets for Northern Rail services dated December 4, 5 and 6 can be used on any day until Monday December 14.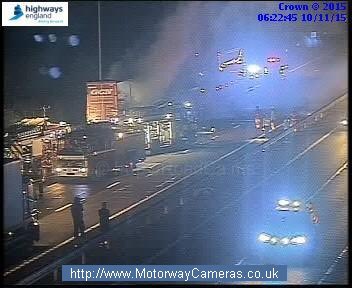 The M6 is closed in both directions in Lancashire after a lorry fire between Junctions 27-28.
Advertisement
The M60 is closed anticlockwise following an accident involving two lorries and a car between J14 M61 / A580 (East Lancs Road) and J13 A572 / A575 / B5211 (Worsley).
The accident happened at around 05:15 and it's affecting traffic towards the Trafford Centre from Prestwich and Farnworth.
There's also congestion on M60 to J17 A56 (Prestwich / Whitefield) and on M61 to J4 A6 (Farnworth).
Stationary traffic due to rolling road block and police incident on M6 Northbound between J31 A59 Preston New Road (Samlesbury) and J31A B6242 (Longridge).
Reports of A6017 both ways blocked due to railway bridge struck by vehicle between M60 J25 / A560 (Bredbury) and Bredbury Park Way. Reports a lorry is stuck under the railway bridge near the brewery.
A driver is in hospital after his lorry smashed through a motorway central reservation and collided with a car, a van and two other lorries on the opposite carriageway of the M62.
The crash earlier this morning resulted in queues stretching for 21 miles from junction 18, Simister Island, to past junction 24, at Ainley Top.
The Highways Agency website has now said the motorway will not fully re-open until around 3pm.
Load more updates