Lancashire boxer Tyson Fury's world heavyweight title fight with Wladimir Klitschko will take place on November 28 in Germany.
Originally scheduled for October 24th, the fight was postponed after Klitschko suffered an injury.
After a medical examination, the champion has been given a green light today for the fight to proceed at the end of November.
It will take place at ESPRIT arena in Düsseldorf. Tickets keep their validity.
"My injury will heal quickly enough for me to enter the ring on November 28. I will promptly continue my training camp preparations and, of course, I am very happy to still be fighting this year, especially for my fans who have already bought their tickets."
– Wladimir Klitschko.
Boxer Tyson Fury has been telling ITV News about his ambitions to become an MP in Lancashire.
The heavyweight's shot at a world title was postponed last week when his opponent Wladimir Klitschko pulled out through injury.
Fury, who wants to fight for the seat of Morecambe and Lunesdale, says he wants to tackle problems such as drug and alcohol abuse, homelessness and unemployment.
Advertisement
Boxer Tyson Fury has been meeting potential voters in Morecambe after revealing he wants to become the area's next MP.
The fighter's political ambitions emerged after his title clash with Wladimir Klitschko was called off.
Fury, who is from Manchester but lives in Morecambe, has said he would clean up the streets and have the town booming.
Tyson Fury has accused Wladimir Klitschko of faking injury after the Ukrainian postponed their world heavyweight title bout claiming a calf problem.
Fury had been due to face Klitschko in Dusseldorf on October 24 but the bout will have to be re-scheduled following the announcement by Klitschko on Friday.
But Fury claimed he knew the 39-year-old was going to pull out, and questioned the legitimacy of the reason he gave.
"Whatever Klitschko's reasons are, I can tell you all now there's no injury," Fury said on Sky Sports News. "He either needs more time to prepare, more time to get his mind set straight, or more time to talk over what he's going to do.
"There's definitely no injury. Definitely, definitely not."
The postponement is the latest misfortune to befall Fury after two bouts against David Haye were postponed in 2013, and a domestic meeting with Dereck Chisora was also delayed last year.
Klitschko's announcement comes just two days after Fury dressed as Batman and wrestled a man dressed as The Joker during a press conference to promote the fight in London.
"Am I that intimidating? Am I that scary?" Fury added. "Batman worked a treat, and cost me a big fight again. Let's hope he wants to do the fight again. He can't go anywhere else. The only option is to retire like the other man, with no name (Haye). Am I going to be the man who retires people rather than fights (them). We will find out."
Fury said he feels for his supporters as they have to unpick their travel plans with yet another fight postponed.
"All my supporters and fans - they always lose out," he said.
"It's all right for us - we're in training camps, we get our expenses back, but what about all the people who have travelled and paid money for the tickets.
"Things are hard. People are doing this because they're showing support, because some of my fans can't afford to go really, but they pushed the boat out because it's a massive occasion, a once-in-a-lifetime thing.
"I'm wounded for all these people and this happens too much in boxing, and it's not the fighters that pay for it, it's the fans. We get our bits and pieces back - they don't."
Klitschko said he would aim to recover "as fast as possible" so that the contest can be re-arranged, with a new date expected as early as next week.
Klitschko said: "Especially after the exciting press conference last Wednesday, I was looking forward to this fight very much. I know that a lot of fans have already organised their trips to support me in Dusseldorf.
"I am so sorry that I am not able to fight on October 24. I also apologise to my opponent, who has spent many weeks preparing for this fight. I will do my very best to recover as fast as possible."
Klitschko sustained the injury during a training session on Wednesday and a subsequent MRI scan revealed a partial tear of the left calf.
World Heavyweight champion Wladimir Klitschko has arrived at the venue for his press conference with Manchester's Tyson Fury.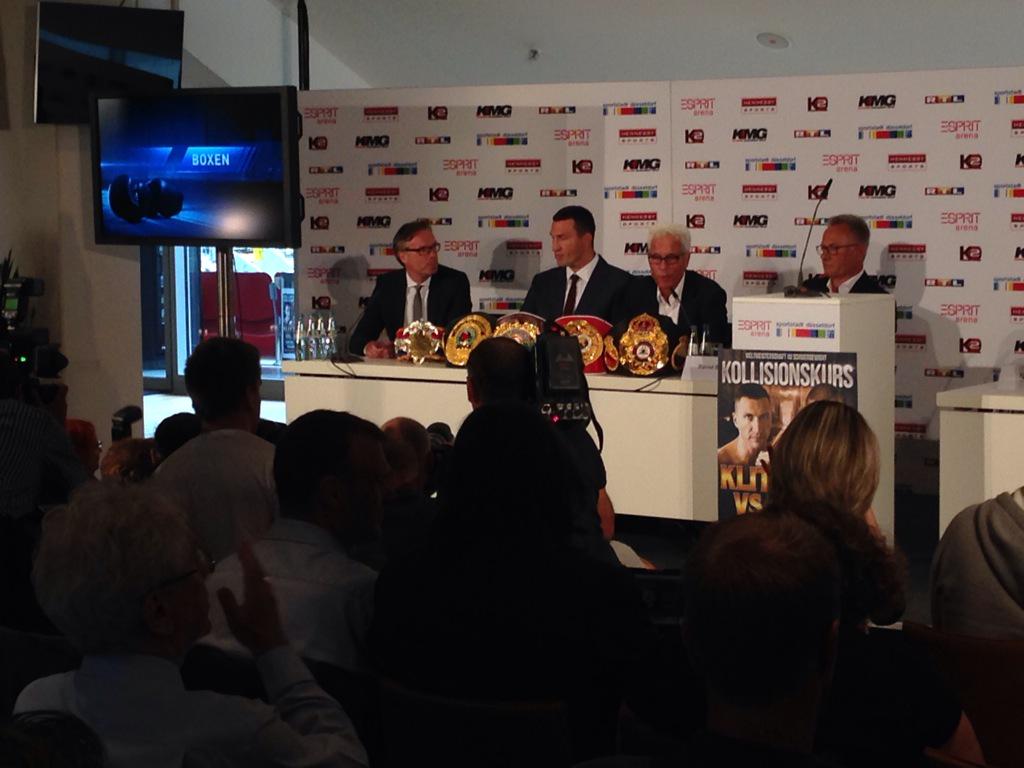 Manchester boxer Tyson Fury refused to speak to the press, and gagged himself at a media event for this next fight.
The fighter is due to take on Dereck Chisora, in a rescheduled bout, but was fined for swearing at a press event before the original fight.
In protest, Fury gagged himself with tape, and would only mime answers to questions.
Advertisement
Boxer Tyson Fury has gagged himself at a press conference, in protest over a fine.
The Salford fighter was handed the penalty by the British Boxing Board of Control after swearing at a previous press conference for a fight against Dereck Chisora. That bout was called off after Chisora borke his hand in training.
Tyson Fury has withdrawn from his heavyweight fight against Alexander Ustinov after his uncle was taken into hospital.
In a statement released this morning Frank Warren promotions said:
Fury had already coped with a last minute change when original opponent Dereck Chisora pulled out with a fractured hand earlier in the week and promoter Frank Warren secured world ranked Belarusian Ustinov to step in.

Tyson's uncle and trainer Peter took the decision to pull him out of the fight rather than risk his health by sending him into the ring with his mind not focused.
– Frank Warren Promotions
The Manchester heavyweight has had to rearrange his plans after Derrick Chisora pulled out of the original bout at the Phones 4U arena in Manchester with a broken hand.
Tyson Fury insists he is "not interested" in the misconduct charge he is facing from the British Boxing Board of Control and he does not regret the behaviour that prompted it.
The 25-year-old has been summoned to appear before the BBBofC on August 13 as a result of his antics a week ago at a press conference to promote his forthcoming rematch against fellow British heavyweight Dereck Chisora.
Fury launched a string of expletives at both his opponent and one of the journalists in attendance at the media event in London.
On Thursday the BBBofC released a statement saying that after considering what happened, it had decided to call the Manchester fighter to a meeting "under Regulation 25 (misconduct)", adding that "failure to attend this hearing will result in Mr. Fury's boxer's licence being suspended."
"I'm not interested.

"They can charge me with whatever they want, it doesn't mean anything to me.

"What do we suppose they are going to be doing - fining me or suspending me? I'm not interested.

"I pay the board their wages. Keep being mean to me, and I will look elsewhere to pay someone else some wages."
– Tyson Fury
Fury conducted interviews at a media session in Bolton in the final build-up to the contest, which takes place on Saturday at Manchester's Phones 4u Arena.
"I say what I say and I do what I do. I don't regret it - I mean everything I say and that is it," he said.
"I'm not the kind of man to say something and not back it up. I said what I said, I do what I do and I'm proud of it.
"No-one is going to stop me from doing anything I want to do. That is the way I roll.
"I don't do anything criminal, so I'm not going to get taken away in a set of handcuffs.
"This is boxing - showbusiness, entertainment. I do what I do and say what I say to build big fights and if I was 'Mr Quiet', nobody would be interested."
Fury (22-0, 16 KOs) and 30-year-old Chisora (20-4, 13 KOs) also at last week's press conference shook hands on a bet, which the former has confirmed was for #100,000, on the outcome of their clash.
But if Fury wins the fight, it seems he will not be chasing Chisora for the money.
"It happened, and it was £100,000, but I don't think he is going to pay up," Fury said.
"I wouldn't want him to anyway. Getting a beating off me is one thing - taking his money as well is another. So I'm not really interested in the bet to be honest."
The showdown is a final eliminator for the WBO world title, which is currently held by Wladimir Klitschko, also the WBA and IBF champion - although Fury is convinced the 38-year-old Ukrainian does not want to fight him before retiring.
Chisora's European belt and the vacant British title will also be up for grabs on Saturday. The pair met first time around in 2011, with Fury triumphing on points.
Load more updates