Controversial former world heavyweight champion, Tyson Fury, has announced he will not be reapplying for a British boxing licence.
Read the full story ›
Tyson Fury says he's returning to boxing on May 13th and is considering opponents with promoter Frank Warren. It will be 18 months after his big win over Wladimir Klitschko
Advertisement
Tyson Fury's boxing licence has been suspended by the British Boxing Board of Control, just hours after he vacated his world titles.
Fury says he's given up his WBO and WBA heavyweight titles to fully focus on his medical treatment and recovery.
His Uncle Peter Fury, who's also his trainer, gave his reaction to Mike Hall:
Tyson Fury's boxing licence has been suspended pending further investigation into "anti-doping and medical issues", the British Boxing Board of Control has confirmed.
World heavyweight champion Tyson Fury has announced his retirement from the sport
In a tweet, the Manchester fighter said boxing was the "saddest thing I ever took part in."
He added: "I'm the greatest, and I'm also retired."
Tyson Fury has pulled out of his rematch against Vladimir Klitschko for the second time.
The world heavyweight champion has been declared 'medically unfit' to take part in the bout, which was scheduled to take place at the Manchester Arena at the end of October.
Fury beat the Ukrainian for the first time in November last year on points.
The first rematch had been scheduled for July 9th, but Fury was forced to cancel after an ankle injury.
It's not yet known when the fight will be rescheduled for.
Advertisement
A press conference about a new fight at the Manchester Arena between Tyson Fury and Wladimir Klitschko, hasn't gone quite according to plan.
Oops, Tyson Fury not at his press conference with Klitschko because his car has broken down! https://t.co/Yh3YPjcESW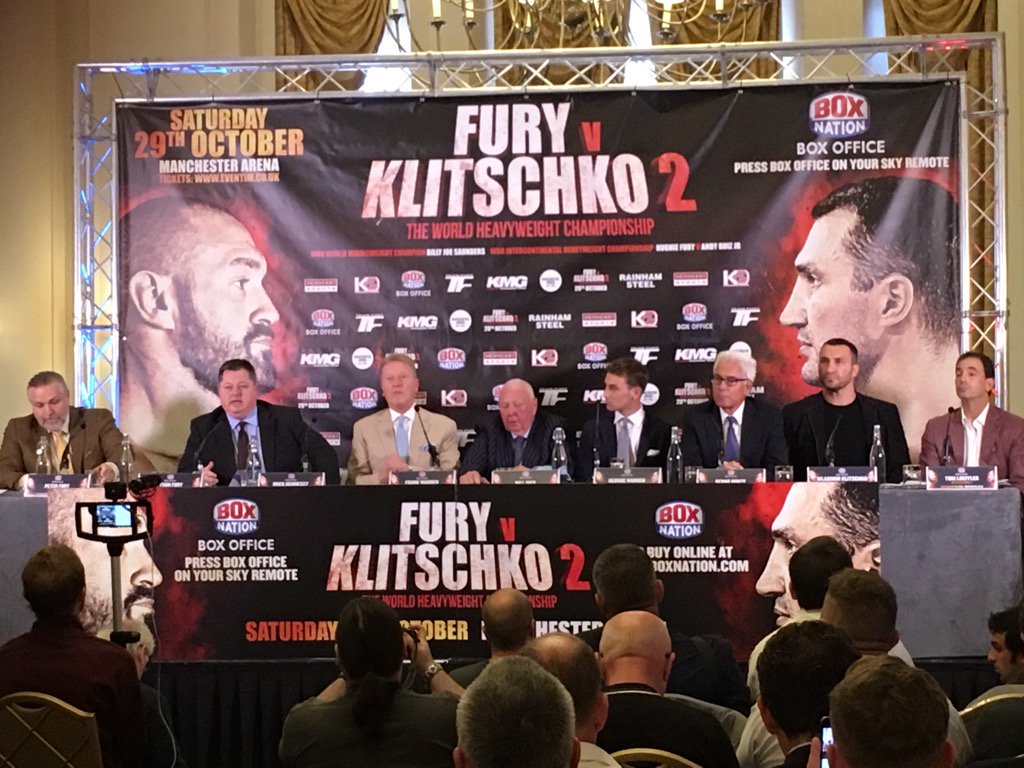 Tyson Fury's camp are denying doping allegations after a newspaper claimed the boxing champ from Manchester was being investigated.
The Sunday Mirror claims UK Anti-Doping is involved after traces of a banned substance was allegedly found in a sample given by the world heavyweight champion last year.
We are baffled by today's story in the Sunday Mirror. Tyson Fury absolutely denies any allegation of doping. He looks forward to recovering from his injury and defending his titles against Wladimir Klitschko in October.
– Hennessy Sports
Wythenshawe's Tyson Fury will go head to head with Wladimir Klitschko at the Manchester area ahead later of their rematch in July.
Fury gave Klitschko his first defeat in over 11 years last November when he won the WBA, IBF and WBO heavyweight titles by unanimous decision in Germany.
It's expected to be a lively affair with Fury never one to shy away from from expressing his feelings.
Every time I watch the klitschko fight results it always brings a tear to my eyes. So emotional. It was worth more than any money or gold
Heavyweight champion Tyson Fury has been stripped of one of his belts, less than two weeks after winning it.
Read the full story ›
Load more updates