Manchester boxer Tyson Fury is ready to face the undisputed heavyweight champion of the world - Wladimir Klitschko - in front of fifty five thousand fans in Germany.
As Chris Hall reports, this dust up in Dusseldorf is something Fury has been dreaming of ever since he began boxing.
Manchester boxer Tyson Fury will meet face to face with Wladimir Klitschko for the final time ahead of their heavyweight world title fight.
Read the full story ›
Advertisement
Tyson Fury came face to face with Wladimir Klitschko ahead of Saturday's highly-anticipated world heavyweight title clash in Germany.
Read the full story ›
Manchester boxer Tyson Fury will face off with Wladimir Klitschko at the final press conference ahead of their title bout.
The 27 year old is confident he can become the heavyweight champion of the world in Dusseldorf this weekend. The fight was rescheduled to compensate for a calf injury Klitschko sustained in training.
Last month Fury told Granada:
"It was quite hard to know I was training for such a bit fight and it was off again." He went on, "If I'm afraid of someone then I'm in the wrong sport. That's why I'm not afraid of people and that's why I've won 24 in a row. The proof is in the pudding - unbeaten!"
How do you get ready for the fight of your life? How about smashing a watermelon on your head?
Fury will challenge for Wladimir Klitschko's heavyweight championships on November 28th.
But first, he had this score to settle....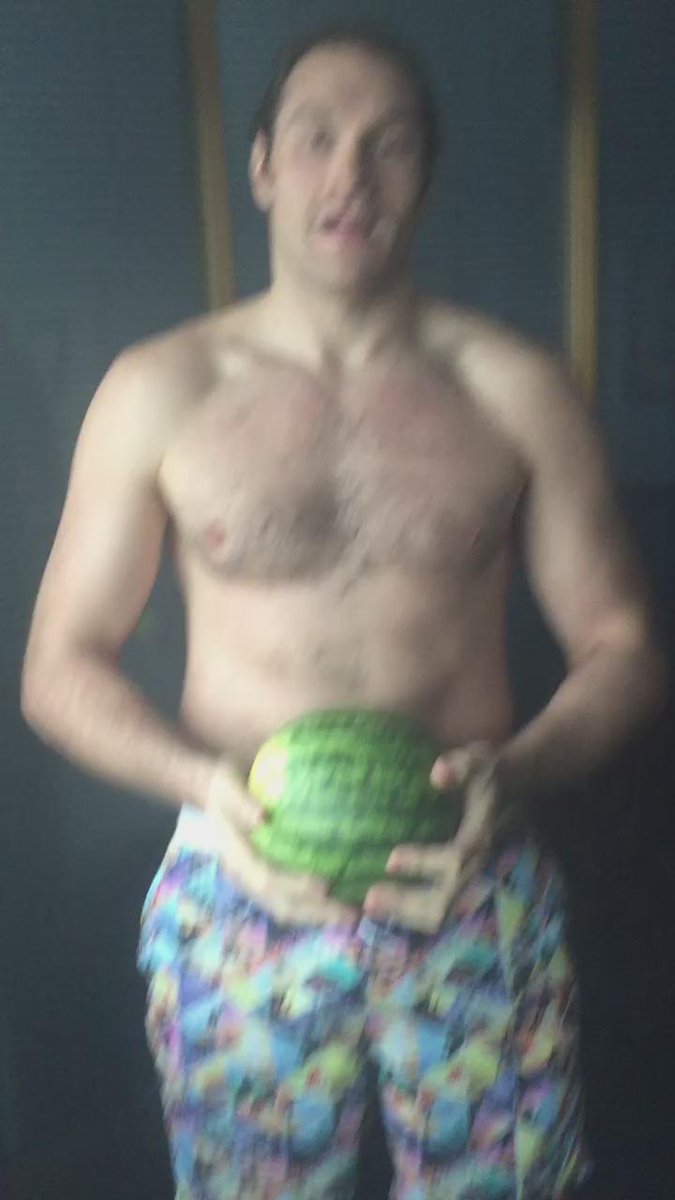 Advertisement
Controversial fighter Tyson Fury has taken time out from his busy schedule to give a motivational talk to children at a Bolton School.
The Manchester heavyweight will fight for a world title in just over a month when he takes on Wladimir Klitschko in Dusseldorf.
Fury spoke to the pupils of the Bolton Wanderers Free School and, as always, he made a lasting impression.
Lancashire boxer Tyson Fury's world heavyweight title fight with Wladimir Klitschko will take place on November 28 in Germany.
Originally scheduled for October 24th, the fight was postponed after Klitschko suffered an injury.
After a medical examination, the champion has been given a green light today for the fight to proceed at the end of November.
It will take place at ESPRIT arena in Düsseldorf. Tickets keep their validity.
"My injury will heal quickly enough for me to enter the ring on November 28. I will promptly continue my training camp preparations and, of course, I am very happy to still be fighting this year, especially for my fans who have already bought their tickets."
– Wladimir Klitschko.
Boxer Tyson Fury has been telling ITV News about his ambitions to become an MP in Lancashire.
The heavyweight's shot at a world title was postponed last week when his opponent Wladimir Klitschko pulled out through injury.
Fury, who wants to fight for the seat of Morecambe and Lunesdale, says he wants to tackle problems such as drug and alcohol abuse, homelessness and unemployment.
Boxer Tyson Fury has been meeting potential voters in Morecambe after revealing he wants to become the area's next MP.
The fighter's political ambitions emerged after his title clash with Wladimir Klitschko was called off.
Fury, who is from Manchester but lives in Morecambe, has said he would clean up the streets and have the town booming.
Load more updates