Widnes have signed Warrington centre Chris Bridge on a two-year deal that will take effect after the current campaign.
Read the full story ›
Widnes captain Kevin Brown has signed a new contract that will keep him with the Vikings until the end of 2018.
The 30-year-old stand-off, who made his Super League debut for Wigan in 2003, joined Widnes from Huddersfield on a four-year deal ahead of the 2013 season.
Brown, who has rediscovered the form that earned him three England caps in 2010, paid tribute to Widnes coach Denis Betts after signing his two-year contract extension.
He said:
It's an incredible feeling to have signed a new deal. I am really excited about having the chance to be part of something that's been building ever since I joined the club in 2013."

"I'm playing with some of the best mates that I've ever had in rugby and I couldn't be enjoying my rugby any more than I am at the moment."

"I cannot thank Denis enough for the way he has helped me. I think he has developed into one of the best British coaches in the game."
– Kevin Brown, Widnes Vikings captain
Brown took over the captaincy at the start of the season following the retirement of Jon Clarke and took his try tally to 13 in 11 matches with a hat-trick in the 38-16 win over Salford last Saturday.
His coach Denis Betts admitted he was delighted to be keeping hold of his captain:
Re-signing Kevin is a massive coup for the club. It's an amazing thing to have a player of his quality, who is spoken so highly of in the game, as the captain of this club and the main playmaker."

"He's part of our journey and he can see what we're trying to do and build in the future."

"He's a massive part of our future recruitment policy. Good players will always want to come and play with good players so it helps the group having Kevin as a figurehead of the team."
– Denis Betts, Widnes Coach
Advertisement
Well tonight Super League is back.
It kicks off with a local derby as the Widnes Vikings take on the Wigan Warriors. Both teams are coached by former Wigan teammates. Two hardmen of the sport. We don't have any of those, so we sent Chris Hall to meet them.
Widnes coach Denis Betts has signed 12-month contract extension taking him through to the end of 2017.
Read the full story ›
Widnes have given prop forward Alex Gerrard a new three-year contract.
Gerrard, 22, has been with the Vikings since the age of 16 and progressed through their youth system to establish himself in Super League.
Widnes coach Denis Betts said:
Alex has developed into one of the top young Super League props in the competition.

He's a prop who regularly is in the top five of every piece of data analysis that's measured.

We believe Alex has the potential to go really far in the game and we are pleased to have secured his services for at least another three years.
– Widnes coach Denis Betts
Widnes Vikings have released photos on their website of individuals they claim "have shamed their club". It comes after a pitch invasion after their challenge cup semi final loss to Castleford on Sunday. The club wants help from the public to identify anyone involved. See the full list of pictures here.
Advertisement
Widnes Vikings has published CCTV images of individuals alleged to have been involved in a disturbances after their challenge cup semi final defeat by Castleford.
The club has described the incident, last Sunday, as "shameful"
The images of the individuals have been published on the club's website, www.widnesvikings.co.uk
"I felt it was prudent to give our valued stakeholders an update to where we are with the investigation into the disgraceful scenes perpetrated by a minority of people who attached themselves to our club on that day.

"We are working closely with RFL who are in turn liaising with police and the crowd safety team at Leigh Sports Village who were there on the day of the event.

"In the first instance we have gathered intelligence to identify the individuals who entered the field of play.

"As I stated earlier in the week the response from our true supporters has been overwhelming and we have been inundated with hundreds of emails all providing invaluable information for the investigation team.
– James Rule, CEO Widnes Vikings
Mark Hull and Gareth Cooper both captured video of the fans behaviour on the pitch. The club want people to come forward with the names of those involved - tellus@widnesvikings.co.uk
"It's evident from the overnight response that our genuine supporters are as disappointed and frustrated by the scenes as everybody is within the Club.

"We've had an overwhelming response and the information we have received will be invaluable in conducting a thorough investigation.

"I wish to thank the supporters for supplying this information and would encourage anybody with any details to continue to supply that to the Club which will then be submitted and utilised within the investigation process.

"Together we can begin to take the first steps of rebuilding our reputation."
– James Rule, CEO Widnes Vikings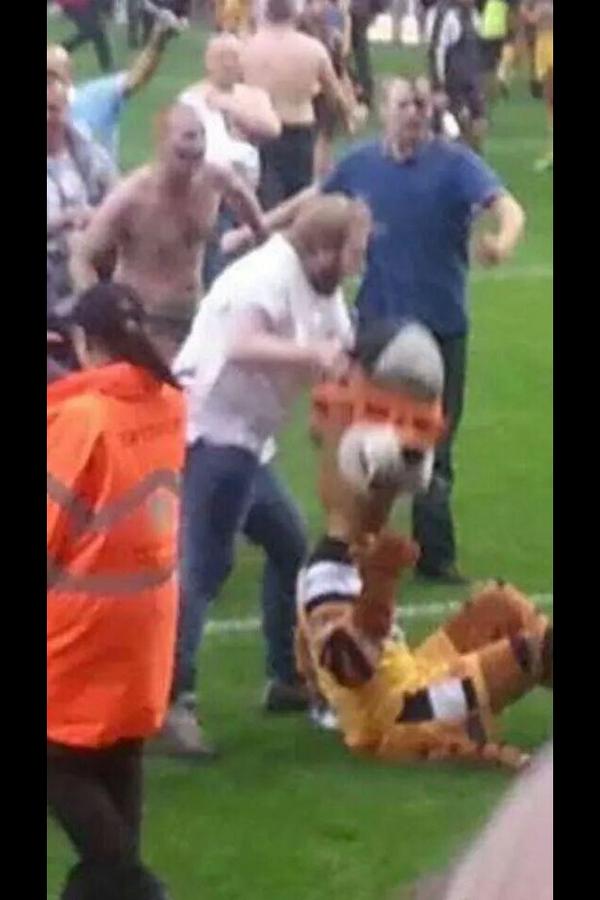 After all the hard work that's gone into this season, both on and off the field by various stakeholders of the Club, it's sickening to see such shameful scenes perpetrated by a minority of 'supporters'.

We will now work closely with RFL and police and carry out a full investigation into this afternoon's events. If any supporter is able to provide information and names that will assist our investigation then please send that in confidence to tellus@widnesvikings.co.uk.

It's imperative that we all work together to try and salvage what is left if our reputation. The Club's recruitment drive for next season has been put on hold until such time that we can establish the full cost to the Club for today's actions.

We will work fully with the RFL and the BBC to identify each and every individual that brought shame to the good name of our Club at full-time.
– James Rule, Vikings CEO
Load more updates