Widnes have given prop forward Alex Gerrard a new three-year contract.
Gerrard, 22, has been with the Vikings since the age of 16 and progressed through their youth system to establish himself in Super League.
Widnes coach Denis Betts said:
Alex has developed into one of the top young Super League props in the competition.

He's a prop who regularly is in the top five of every piece of data analysis that's measured.

We believe Alex has the potential to go really far in the game and we are pleased to have secured his services for at least another three years.
– Widnes coach Denis Betts
Police are investigating whether drugs played a part in the death of a man who's thought to have been attending the Creamfields Festival.
Ambulance crews were called earlier today to a hotel near Widnes after a guest complained of respiratory problems.
The 22-year-old, who has not been named, was taken to Whiston Hospital where his condition deteriorated and he died a short time later.
It's believed he'd been at Creamfields and Cheshire Police say they're looking into the circumstances.
A spokeswoman said: "The cause of the man's death at this time is presently being treated as unexplained, including whether the man's death is in any way drug related."
The force said a post mortem examination will take place to determine the cause of death.
The deceased's next of kin have been informed.
Advertisement
Widnes Vikings have released photos on their website of individuals they claim "have shamed their club". It comes after a pitch invasion after their challenge cup semi final loss to Castleford on Sunday. The club wants help from the public to identify anyone involved. See the full list of pictures here.
Widnes Vikings has published CCTV images of individuals alleged to have been involved in a disturbances after their challenge cup semi final defeat by Castleford.
The club has described the incident, last Sunday, as "shameful"
The images of the individuals have been published on the club's website, www.widnesvikings.co.uk
"I felt it was prudent to give our valued stakeholders an update to where we are with the investigation into the disgraceful scenes perpetrated by a minority of people who attached themselves to our club on that day.

"We are working closely with RFL who are in turn liaising with police and the crowd safety team at Leigh Sports Village who were there on the day of the event.

"In the first instance we have gathered intelligence to identify the individuals who entered the field of play.

"As I stated earlier in the week the response from our true supporters has been overwhelming and we have been inundated with hundreds of emails all providing invaluable information for the investigation team.
– James Rule, CEO Widnes Vikings
Mark Hull and Gareth Cooper both captured video of the fans behaviour on the pitch. The club want people to come forward with the names of those involved - tellus@widnesvikings.co.uk
"It's evident from the overnight response that our genuine supporters are as disappointed and frustrated by the scenes as everybody is within the Club.

"We've had an overwhelming response and the information we have received will be invaluable in conducting a thorough investigation.

"I wish to thank the supporters for supplying this information and would encourage anybody with any details to continue to supply that to the Club which will then be submitted and utilised within the investigation process.

"Together we can begin to take the first steps of rebuilding our reputation."
– James Rule, CEO Widnes Vikings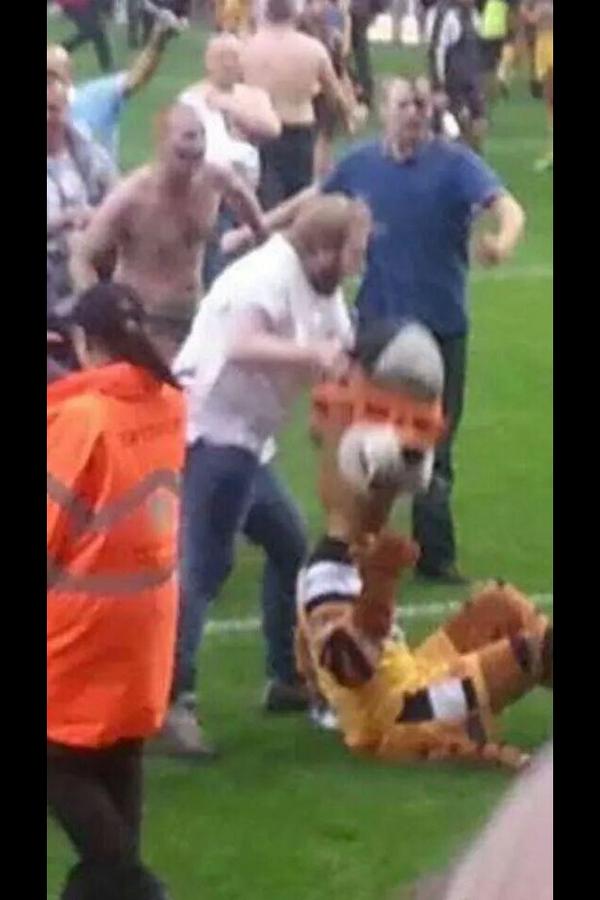 Advertisement
After all the hard work that's gone into this season, both on and off the field by various stakeholders of the Club, it's sickening to see such shameful scenes perpetrated by a minority of 'supporters'.

We will now work closely with RFL and police and carry out a full investigation into this afternoon's events. If any supporter is able to provide information and names that will assist our investigation then please send that in confidence to tellus@widnesvikings.co.uk.

It's imperative that we all work together to try and salvage what is left if our reputation. The Club's recruitment drive for next season has been put on hold until such time that we can establish the full cost to the Club for today's actions.

We will work fully with the RFL and the BBC to identify each and every individual that brought shame to the good name of our Club at full-time.
– James Rule, Vikings CEO
An eight year old boy got more than he was expecting when he wrote to his MP complaining about the amount of litter and chewing gum on the streets in Widnes.
Joseph Eley's letter was passed to the council and they invited him to spend some time seeing how they try to keep the streets clean.
A swan shot with a crossbow and an air rifle will be released back into the wild today - according to the RSPCA.
She was found with crossbow bolts in her head and neck at St Helens Canal in Widnes.
She can now swim again - and feed herself and has been recovering with other swans at an RSPCA hospital in Nantwich.
Cheshire Police are appealing for people in Widnes to "search their conscience" if they have any information about who carried out the attack.
Police are appealing for information after a swan was shot with a crossbow and pelted with an air gun.
The distressed bird was found ion June 18th with two crossbow bolts in its neck on the canal between Fiddlers Ferry and Widnes.
Load more updates