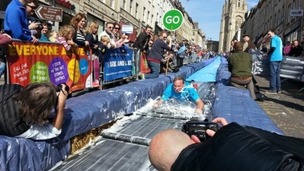 Volunteers are needed to help construct a 110m water slide running through Wigan town centre this weekend.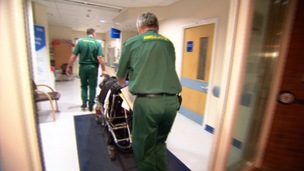 Doctors working at hospitals in Greater Manchester, where services are under threat, claim a health service shake-up will put lives at risk.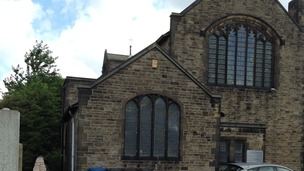 Police are searching for thieves after £2,000 worth of coping stones were stolen from a church in Wigan.
Live updates
Police are investigating the death of a man in Wigan.
At about 1.50am on Tuesday 26 August 2014, police were called to a house on Moresby Close in Leigh, Wigan, following reports of an assault.
Officers attended and established that during the disturbance, a 62-year-old man from a neighbouring property on Moresby Close had been injured.
The man was taken to hospital for treatment to his injuries, but died yesterday.
A post-mortem examination will take place today to determine the exact cause of the man's death.
A man has been arrested on suspicion of section assault and bailed pending further inquiries.
Police are now appealing to anyone who may have information to come forward.
Shake up in special education provision
There is a mixed reaction to plans for one of the biggest shake ups to special needs education for 30 years which has already been on trial in Wigan.
In future a child with special needs won't get a statement - instead there will be an individual plan which includes education, health and care.
The idea is to give parents more control - which is being welcomed.
But there are also fears it could put main stream schools off taking children with special needs because of the costs involved.
Dan Hewitt reports.
Advertisement
Shake up in special education provision
The government has planned a series of reforms for the special educational needs or (SEN) sector in England.
Its been described by some commentators as the biggest shake up to happen for 30 years. Changes include giving parents more control over how money is spent on SEN budgets and ensuring there are good links between the children's education, health and social care. Wigan was chosen as a pilot area for the changes. Some critics have suggested parents haven't been kept informed. But Joanne Platt, from Wigan council says listening to parents has been a vital part of the whole project.
A man has been charged with murder after a woman was found dead in the garden of a house in Wigan.
Thomas Flanagan, 57, of Wigan Road, Leigh, will appear before Wigan Magistrates' Court later today.
Police were alerted just after midnight yesterday with a call from a member of the public who reported concerns for the welfare of a woman who lives at the house.
The victim, believed to be in her late 50s to early 60s, has not been named. She was found dead in the back garden.
A Home Office post-mortem examination will take place later to establish the cause of death.
Firefighters have been tackling a large fire involving wood on Cemetery Road in Wigan since the early hours of this morning.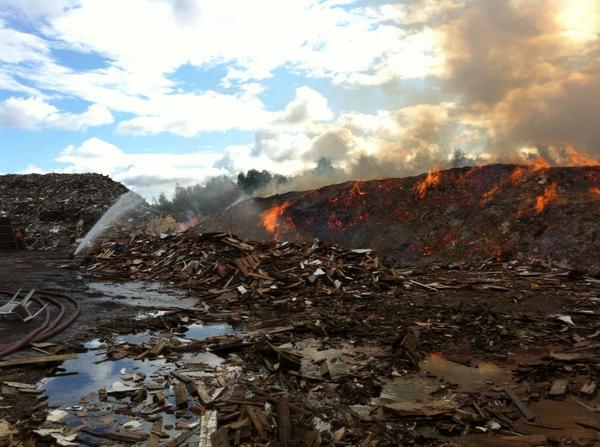 Crew at #Ince now discussing tactics and trying to find alternative water source to ease traffic on Warrington Road http://t.co/vjxY28qzns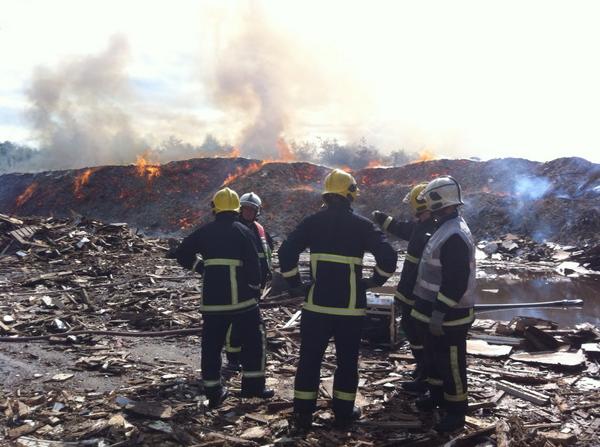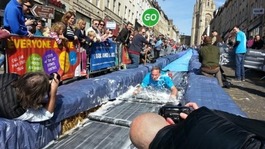 Volunteers are needed to help construct a 110m water slide running through Wigan town centre this weekend.
Read the full story
Advertisement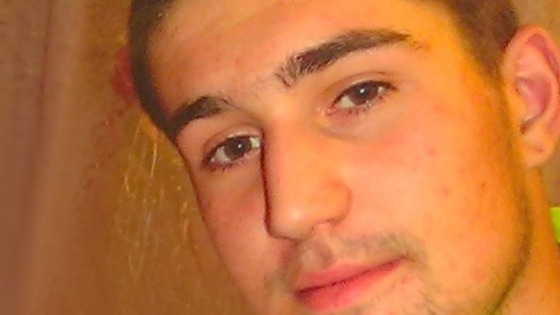 A report has criticised Hindley young offenders institute for struggling to keep some of the vulnerable boys safe.
An unannounced inspection at the site near Wigan took place during the inquest of Jake Hardy. The 17 year old killed himself whilst at Hindley. The report found there was an assault or fight everday. Although they were recognised for a number of improvements including the quality of education. Inspectors were pleased to find that:
the quality of education, learning and skills provided was the best inspectors have seen in any YOI holding this age group;
Ofsted judged provision to be as good, it not better, than that found in the community;
no young person had left without accommodation to go to and most had a job or training place to start soon after release;
there was good access to programmes that would help boys to change their offending behaviour;
relationships between boys and staff had improved since the last inspection and boys said the support they received from personal officers was much more effective than had been the case;
support for boys at risk of suicide and self-harm had improved.
However, inspectors were concerned to find that:
despite its efforts, Hindley struggled to keep the vulnerable boys it held safe;
intimidating shouting out of windows at night remained a problem;
on average there was one fight or assault every day;
the environment and regime in the segregation unit remained poor; and
consideration was being given to withdrawing funding from the Willow Unit, a psychologically-informed resource for boys with the most complex problems.
"Hindley manages a very complex and challenging population and the Governor and his staff deserve real credit for the impressive progress they have made."As the Chief Inspector recognises, the young people there are being given access to good quality education, training and resettlement work which are all key to their rehabilitation."Safety is the Governor's top priority and it will continue to be given the necessary focus as they build on the progress made and take forward the recommendations."
– Michael Spurr, Chief Executive Officer of the National Offender Management Service
Wigan Warriors Head Coach Shaun Wane has warned his players against complacency in the Super League run-in.
The Warriors face Hull KR who sit ninth in the league tonight.
The Wigan boss says his team cannot afford a repeat of their surprise defeats to Bradford and Wakefield this season.
Wigan currently sit second in Super League, and they've been training with Mixed Martial arts fighter Martin Stapleton as they look to catch leaders St Helens.
Woman dies after collision with two taxis in Wigan
A woman who died following a collision in Wigan has been formally identified.
Megan Louise Hoskins, 20, was found trapped underneath a black Skoda Octavia on Ormskirk Road at about 12.45am on Sunday 20 July 2014.
Police were called to the scene after reports of a collision between a pedestrian and two taxis.
Megan was rescued by fire fighters and taken to hospital but died a few hours later.
A 20-year-old man who was arrested on suspicion of manslaughter has been bailed pending further enquiries.
Anyone with any information about the incident is asked to call Greater Manchester Police on 0161 856 1827 or Crimestoppers on 0800 555 111.
Load more updates
Back to top