A nurse has been struck off after his severely-disabled patient used a series of blinks to spell out the words: "I am being abused".
At the time of the alleged abuse the man was a patient at a unit in Withington.
The nurse, Ernesto Corpus, was working at the University Hospital of South Manchester Trust.
He was accused of sexually abusing the quadriplegic patient, but was acquitted in court in 2013.
He has now been banned from nursing by a disciplinary panel.
Police say no injuries were reported and two parties dealt with the matter privately
Read the full story ›
Advertisement
A former soldier from Withington says he is 'disgusted' after his home was broken into, and six of his military medals were stolen.
Read the full story ›
Two masked thieves brandishing axes robbed the Aldi supermarket in on Wilmslow Road in Didsbury at around 1.30pm today, Monday July 13.
Two masked men clad in balaclavas burst into the store armed with axes. They threatened a member of staff before stealing cash and leaving in a black car in the direction of Withington.
Both men were wearing black clothes, face coverings and were had their hoods up.
Police are now appealing to anyone who has information to come forward.
Understandably, the staff were horrified to be confronted by masked thieves brandishing axes.

We need to find the culprits as soon as possible and stop them from using weapons and violence to target any others.

I would appeal to anyone who witnessed any men with similar descriptions in the area at the time of the robbery, or anyone who saw the men fleeing, to get in touch.

And if you do have information about who you suspect may be involved, then please call us.
– Detective Sergeant Suleman Sange of South Manchester division
Anyone with information is asked to call police on 0161 856 9945, 101, or the independent charity Crimestoppers, anonymously, on 0800 555 111.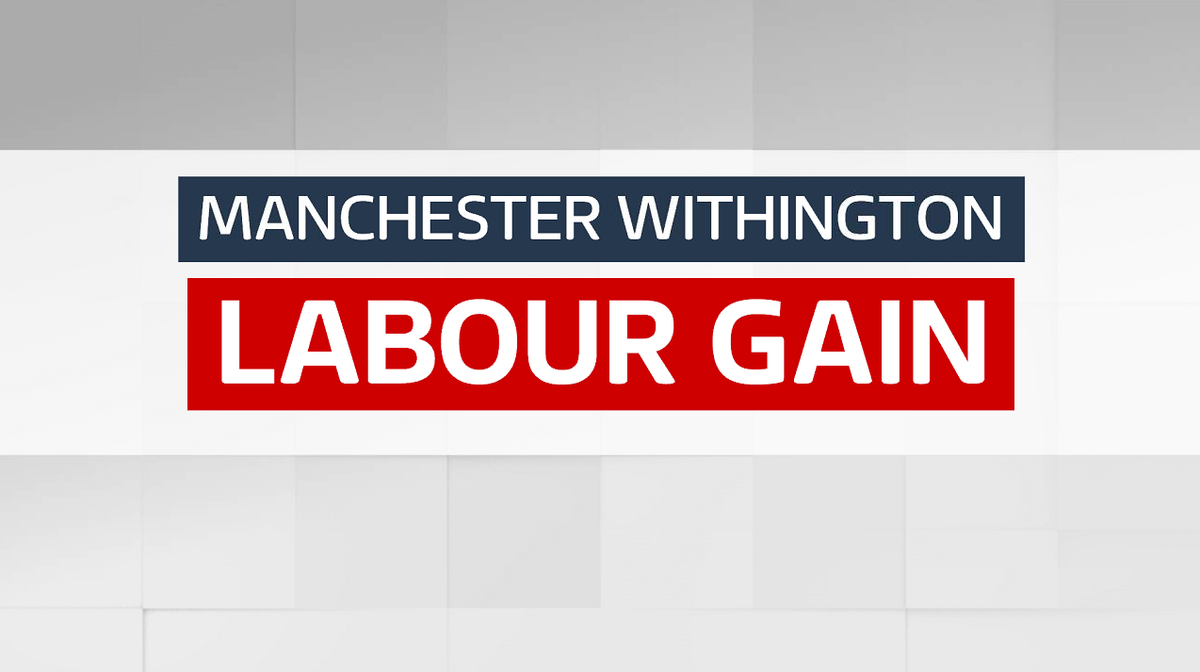 Jeff Smith (Lab) 26,843 (53.72%, +13.27%)
John Leech (LD) 11,970 (23.96%, -20.70%)
Robert Manning (C) 4,872 (9.75%, -1.36%)
Lucy Bannister (Green) 4,048 (8.10%, +6.33%)
Mark Davies (UKIP) 2,172 (4.35%, +2.80%)
Marcus Farmer (Ind) 61 (0.12%, -0.00%)
Lab maj 14,873 (29.77%)
16.99% swing LD to Lab
Electorate 80,590; Turnout 49,966 (62.00%, +1.45%)
A day after Ed Miliband launched Labour's election manifesto in Manchester, David Cameron and Natalie Bennett did the same for the Conservatives and the Greens.
And today a poll of polls - that's an average from all the major polling organisations - put the Conservatives and Labour neck and neck on 34% but saw the Liberal Democrat vote well down on 9%.
Well, Nick Clegg's party are confident they'll do much better in the seat of Manchester Withington, which they've held for the last 10 years.
Our reporter Adam McClean went to see if they can buck the national trend:
Advertisement
A new venue has been found for vulnerable and elderly adults – just days after a huge fire that destroyed their day centre.
The fire, at Minehead Resource Centre in Old Moat,Withington, started around 9pm on Wednesday, strong winds hampered rescue efforts and quickly engulfed the building.
But, now, the 65 people – some of whom have physical and learning disabilities - have a new venue on the site of a former school, which is big enough to keep the group together and cater for specialist needs.
Click video for our report on the fire.
There were dramatic scenes as a fire devastated a community centre in Manchester and left the local council trying to make alternative arrangements for dozens of vulnerable people.
Thirty firefighters were called to the Minehead Resource Centre at Withington but the building has been largely destroyed.
Tim Scott has been to the scene:
FIre crews are dampening down at the scene of a huge fire in Manchester last night that destroyed a community centre. The windy weather fanned the flames which engulfed the building in Withington. Damien O'Rouke spoke to us from the scene:
Load more updates