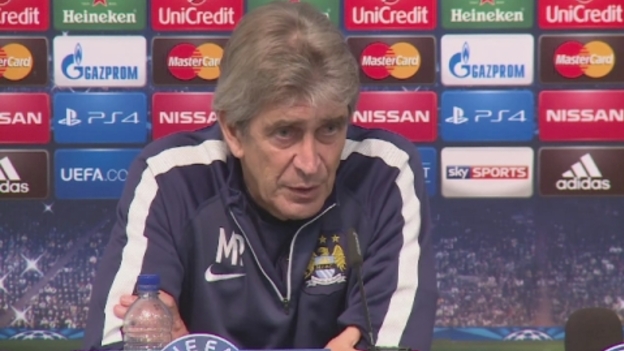 Manchester City's manager Manuel Pellegrini says the matter should be dealt with correctly and he doesn't believe it will directly affect the player's performance.
On Monday evening Toure favourited a tweet from one City fan - @111Lesley111 - who offered her support to the former Barcelona player
This is not the first time Toure has been the target of racist abuse.
Last season he was subjected to racist chanting during City's Champions League game at CSKA Moscow.
"I'm not just disappointed, I'm furious," Toure said after City's 2-1 win in Russia.
"It was unbelievable and very sad."
CSKA denied Toure had been abused, but UEFA disagreed and ordered the Russian club to close part of their ground for their next Champions League match.
Advertisement
The police have been called to investigate claims Yaya Toure was racially abused within hours of reactivating his Twitter account. The Manchester City midfielder, rejoined following City's derby day victory over United.
He wrote: "Great to be back on twitter after a good win yesterday. Now my focus is on the next game... Happy Monday everyone!!" Within hours of posting the message, the 31-year-old received abusive and racist messages from other Twitter accounts.
It prompted fury on the social networking website which was spotted by Toure, who favourited three tweets which supported him and called for action.
Posters complained to both GMP and the Metropolitan Police on Twitter. A spokesman for GMP said it was aware of the message and would be looking into the matter further.
Toure quit Twitter during earlier this year, saying he wanted to concentrate on the World Cup.
The Ivorian Football Association have released a statement on the passing of Ibrahim Toure, brother of footballers Kolo and Yaya Toure.
FIFA president Sepp Blatter shared his sympathy on Twitter following the death of Yaya and Kolo Toure's brother, Ibrahim:
Manchester City FC have released a statement following the death of Yaya Toure's brother Ibrahim:
Advertisement
Manchester City FC and Liverpool FC have tweeted their sympathies to their players Yaya and Kolo Toure over the death of their brother Ibrahim.
Manchester City captain Vincent Kompany has tweeted his condolence to the family of Yaya and Koule Toure, after their brother, Ibrahim, died.
The Ivory Coast Football Association released a statement saying the 28-year-old had died in Manchester. It's being reported Ibrahim Toure had been battling cancer, and was being treated in the North West.
Ibrahim Toure, the younger brother of footballers Kolo and Yaya Toure, passed away following a battle with cancer, according to the Manchester Evening News.
The paper reports that Toure, 28, was being treated at the Christie in Manchester that describes itself as "one of Europe's leading cancer centres".
The Ivory Coast's Football Association has confirmed that Toure, who played for Lebanese side Al-Safa, had passed away on Thursday.
Load more updates