In Cheshire there are reports that the M56 Eastbound lane is blocked on the exit slip road due to an accident at Junction 9 on the M6 (Lymm Interchange). That is said to be affecting traffic heading from the M56 onto the M6 towards the Thelwall Viaduct
A competition has been launched to find designs for the redevelopment of Preston's famous bus station. Lancashire County Council wants to create a new youth zone and public space on the site.
The plans will lead to an investment of around £13m while always seeking to preserve the building's Grade II listed architecture.
It's important that we protect the integrity of this listed building, while creating an exciting new facility for generations of our young people."
– Jennifer Mein, Leader, Lancashire County Council
Advertisement
Drivers heading for Manchester Airport are being urged to leave extra time for journeys when the M56 is closed for the whole weekend at the end of February. The Highways Agency says a new bridge is being installed between junction 6 at Hale and junction 5 at Manchester Airport. It means the total closure of the motorway in both directions between these junctions between 10pm on Friday 27 February and 5am on Monday 2 March.
"It is vital for everyone to understand you should only be using this part of the M56 over this particular weekend if you are travelling to the airport – and you should leave extra time to get to the airport to make your flight.
– Mark Mosley, Highways Agency
Mersey Ferries have suspended all services because of fog causing poor visibility.
There is currently disruption to Virgin Trains between Carlisle and Lancaster due to a train that has broken down between Penrith and Oxenholme.
The broken down train may cause delays of up to an hour, and some alterations to travel plans.
The disruption, which is expected to last until at least 1.30pm, is also affecting First Transpennine Express.
Fights from Manchester Airport have been suspended due to the snow.
The airport is advising people to check with airlines before travelling to the airport.
Advertisement
This is currently J21/22 M62 EB. Long delays, highways working to clear the stuck vehicles to allow ploughs through. http://t.co/OwVF3xJjIb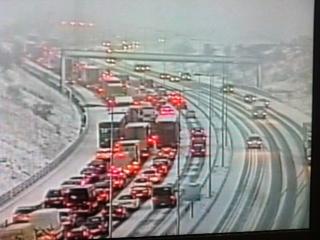 One lane closed due to overturned vehicle on M57 Southbound between J6 A506 (Kirkby) and J5 A580 (East Lancs Road). Lane one (of three) is closed towards Switch Island from the East Lancs.
Disruption on Northern Rail between Buxton and Hazel Grove due to adverse weather conditions. Trains are running at reduced speeds due to the bad weather. Services may be subject to delays of up to 20 minutes.
It's advertised as giving you wings, but this lorry has caused delays for motorists on the M6 after shedding it's load of the energy drink Red Bull.
The North West Motorway Police on twitter advised motorists to avoid the area, and that the HGV was being recovered.
Update - RTC M6 J19/18, HGV being recovered, eta to reopen fully about 1-2 hrs.
Load more updates