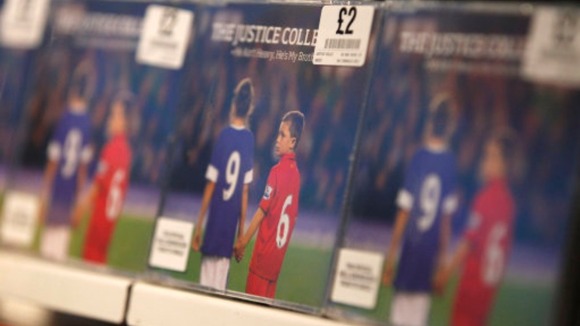 The Hillsborough charity single is closely behind X Factor winner James Arthur in the race for the Christmas number one - but by only a narrow margin.
Figures released today by the Official Charts Company showed Arthur's track Impossible was more than 3,000 copies ahead of the Justice Collective.
However, Arthur has an advantage as his 76,000 sales are across two days, while the rival song - a cover of The Hollies' He Ain't Heavy, He's My Brother - only went on sale yesterday.
Official Charts Company managing director Martin Talbot said the early lead was "exceptionally tight".
Gennaro Castaldo of retailer HMV said: "For the moment the advantage is with James to remain at the top for a second week, but if the campaign behind Justice Collective keeps growing, as we think it will, He Ain't Heavy, He's My Brother still has a good chance of making it. "
Bookmaker William Hill has cut Arthur's odds from 11/2 to 2/1, but the Justice Collective continue to be favourites at 4/11.
The Justice Collective track has an all-star cast with figures such as Sir Paul McCartney, Robbie Williams, Melanie C and Shane MacGowan.