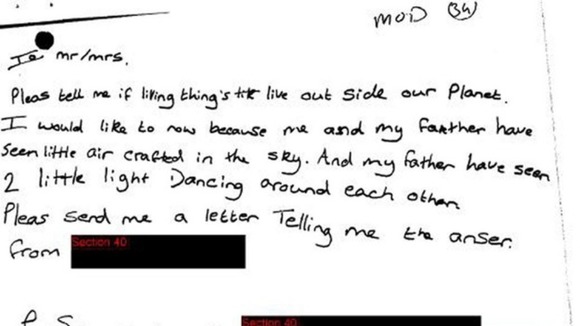 Newly released files on reports of UFO sightings include a plea from a schoolchild from Greater Manchester for answers on whether "living things" exist outside Earth.
The letter, sent to the Ministry of Defence in January 2009, said the child and his or her father had seen "little air crafts" in the sky.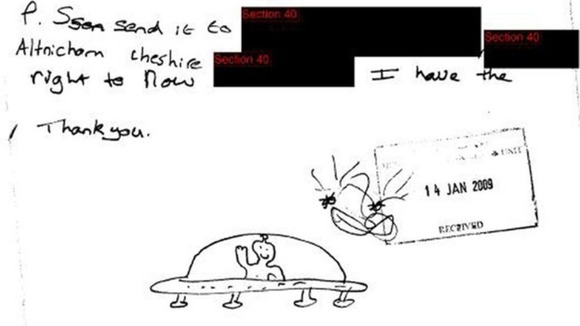 The MoD, which closed down its UFO desk later that year, replied to the writer, as well as sending "RAF goodies".
The letter reads: "To Mr/Mrs. Please tell me if living things live out side our planet.
"I would like to now because me and my father have seen little air crafted in the sky. And my father have seen 2 little light dancing around each other.
"Pleas send me a letter Telling me the answer."
The letter, received from a child in Altrincham, Greater Manchester, includes a picture of a flying saucer with an alien waving.
MoD staff replied in February that year, saying: "Thank you for your letter asking if there is life outside our planet.
"It's an interesting question and we remain totally open-minded about it, but we don't know of any evidence to prove life exists in outer space.
"We do look at reports of 'unidentified flying objects' but only to see if the country's airspace might have been affected but we haven't had any evidence of this so far.''