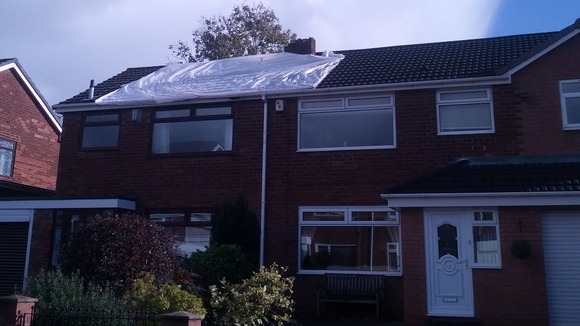 An elderly couple had a lucky escape when a lightning strike blew a hole in the roof of their home in Bolton.
Firefighters were called to Langholme Drive in Breightmet after a 999 call was made to Greater just before 4.30pm yesterday.
It's believed that a lightning bolt hit the roof and travelled down the aerial and chimney causing the couple's gas fire and TV to smoulder.
Watch Manager Paul Norris from Bolton North Fire Station said: "Two houses were affected by the lightning - one was unoccupied but the one that came off worse was occupied by an elderly couple.
"The bolt left quite a large hole in the roof and has damaged the chimney, and inside plaster and a light switch were blown off the wall in the couple's bedroom.
"Tiles on the roof and chimney had come away with the impact from the bolt that also damaged electrical circuits."We used ladders to get onto the roof and took away loose bricks and made the chimney stack safe."