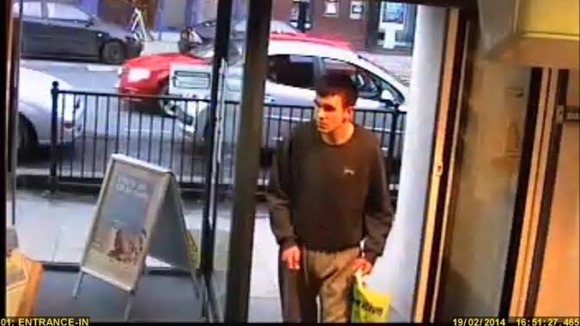 A thief robbed a bank in Bury after pressing a handwritten note claiming he had a gun against the cashier's window.
The man brazenly walked in the Co-Operative Bank at The Rock, Bury, at about 4.50pm on the 19 February 2014.
He approached the cashier's desk where he pulled out an A5 sized piece of paper on which was written the words 'GIVE ME YOUR MONEY. I HAVE A GUN.'
Fearing she would be attacked and harmed, the cashier gave the thief some money and he then walked off.
Inquiries have established he got into a nearby taxi and was dropped off in the Tweedale Street area of Rochdale.
Police have now released a CCTV still of the man who is described as being white, in his early 20s, of a pale and spotty complexion, a thin build, 6ft tall, with dark eyes and wearing a dark top.
Detective Sergeant Ian Partington said: "Although no weapon was physically seen, if you try and put yourselves in the shoes of the cashier, you can begin to imagine how frightened she must have been to see this note pressed against her window.
"Clearly the offender had planned what he was going to do and had written out a note with the sole intention of using the threat of a weapon to scare the woman into giving him money.
"That makes him both a desperate and potentially dangerous man, and we need to find him as soon as possible.
"We know this man got into a taxi and was driven to the Tweedale Street area in Rochdale, so I would appeal to people to look closely at this image. It may be this man lives either in the Bury or Rochdale areas and if you recognise this man, then please come forward."