The Foreign Office has launched the #PassportAware campaign after more than 21,000 British passports were stolen or lost abroad in 2015.
Read the full story ›
Police in Greater Manchester say they arrested 275 motorists during this year's summer drink and drug drive operation. There was an 8 per cent increase on last year's figures for the number of drivers who got behind the wheel while under the influence of drink or drugs.
The campaign, called "None for the Road", also saw police using new kits and legislation making it easier for them to detect drug drivers.
The consequences of drink and drug driving have been well advertised but there are still far too many people ignoring advice and putting lives at risk.
– Inspector Susan Redfern, Greater Manchester Police
Advertisement
A domestic abuse survivor has been awarded thousands of pounds in damages by Greater Manchester Police.
The woman agreed to the force using her experiences anonymously in a training session.
But they revealed her identity and other personal details.
The force has apologised and she's been awarded £75,000 in damages.
Lawyer Nick McAleenan, said his client suffered psychiatric harm due to the details being made public.
An armed forces charity has been left homeless after a community pavilion was torched in Carrington.
Read the full story ›
An off-duty nurse has been hailed a heroine after she stepped in to save the the life of a little boy on a beach in Greece after he was hit by a runaway speedboat.
Julie Burkitt, 51 and of Hazel Grove, was relaxing on Tsvilli beach on the island of Zante, when a boat ploughed into the Greek youngster as he played in the sea.
She helped the boy's mum and sister pull him from the water, before she performed CPR on him. Later she helped direct local paramedics when they arrived on the scene, before the little boy was rushed to hospital.
He was transferred to Athens, where he was treated for severe head and arm injuries and a fractured skull, spending four days in a coma.
He has made a remarkable recovery and is now about to return home to Zante to continue his recuperation.
I saw the speedboat coming towards the swimming area and I could see there was going to be an accident.

I was just standing there in my bikini screaming 'get out of the sea'.

All I could see was a massive pool of blood and the little boy face down in the water - it was horrible.

It wasn't just that he'd been injured, he'd been face down in the water for some time. I just kept whispering to him to wake up. I've got eight kids myself so it was difficult to see a little child like that.

At work I've got my colleagues around me and all the equipment, but it was just me, on a beach.

If I hadn't been there he would have died. He had no signs of life when I got there.

I am amazed he's come through it, after 27 years in A&E I couldn't believe he survived it.

The next day, we were still a bit shell shocked, but it was my son's wedding the day after, so that rallied us round.

I do feel proud of what I did but most of all I am just very happy I was able to help save this beautiful boy's life.
– Julie Burkitt
A woman is fighting for her life after being found on a motorway slip road.
Emergency services were called to the Northbound slip road of the M53 at Moreton Spur after reports that a woman had jumped from a bridge.
The road was closed between Junctions one and two while police dealt with the incident.
A 29 year old woman was taken to hospital where police say she is critically ill.
Advertisement
Residents of a block of flats in Manchester are being warned to watch out for a scorpion which has escaped.
Experts say the Emperor scorpion can grow up to eight inches long probably entered the Century Buildings off St Mary's Parsonage inside someone's holiday luggage.
It was seen by a mum 'scuttling' across her kitchen on Monday night. Emma Chadwick's son Cyrus, 19, discovered the creature and Emma contacted the building concierge who tried to trap it but it raced beneath a kitchen cabinet.
The RSPCA were called but have been unable to find it.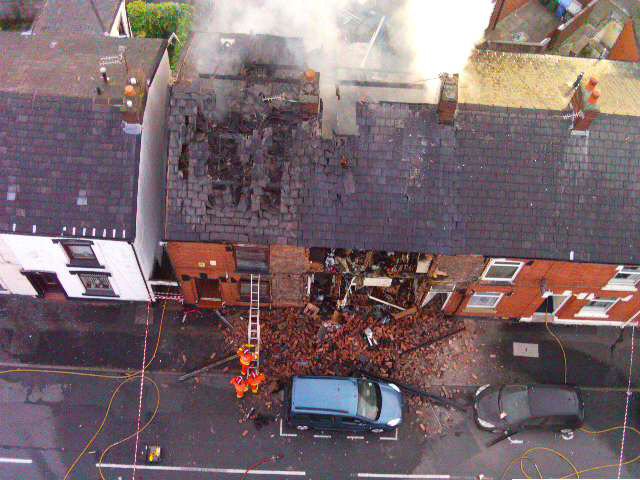 Up to 10 people are being treated after they were injured in an explosion at a house in Ashton Under Lyne this morning.
Emergency services were called to Curzon Street just after 5 am after reports of an explosion in a terraced house.
They found a number of people lying injured on the floor. Firefighters and paramedics gave first aid before the casualties were taken to hospital.
As crews tackled the blaze gas and electricity supplies to neighbouring properties were turned off and surrounding roads closed.
Up to 30 firefighters have been at the scene as investigations get underway to establish the cause of the explosion.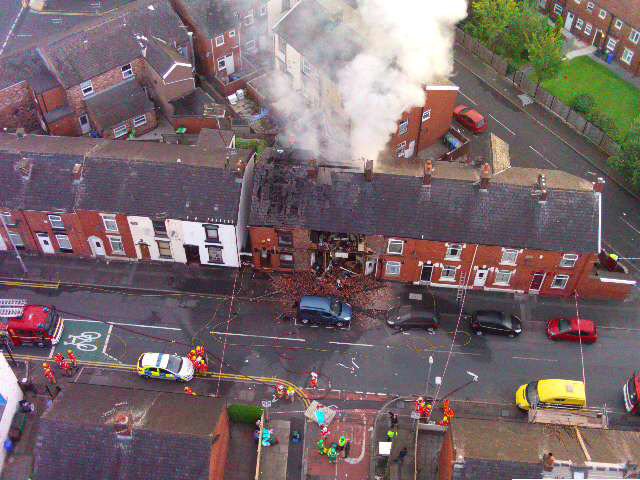 When crews arrived there were a number of people injured on the floor and it was obvious there had been an explosion in the house. We helped them but they were later treated by paramedics from North West Ambulance Service while we tackled the fire using covering jets. We haven't been able to go inside the house as both the front back walls have completely collapsed.
– Station Manager Alan Ashworth, GMFRS
This shows the extent of the damage caused by a gas explosion to a house in Ashton. We've rescued several people. https://t.co/ACRSA19Sgu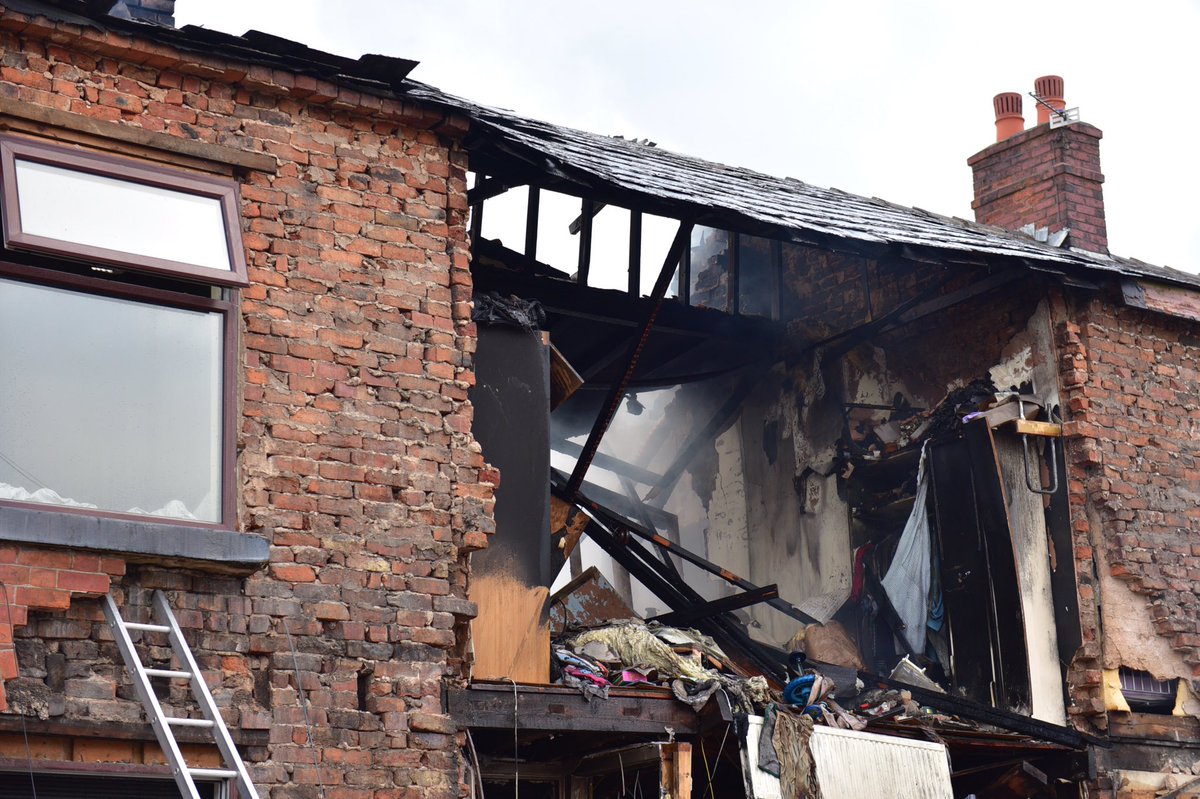 Major damage to the house where the explosion was 10 people now thought to have been hurt, some seriously https://t.co/NFvrXvTaDk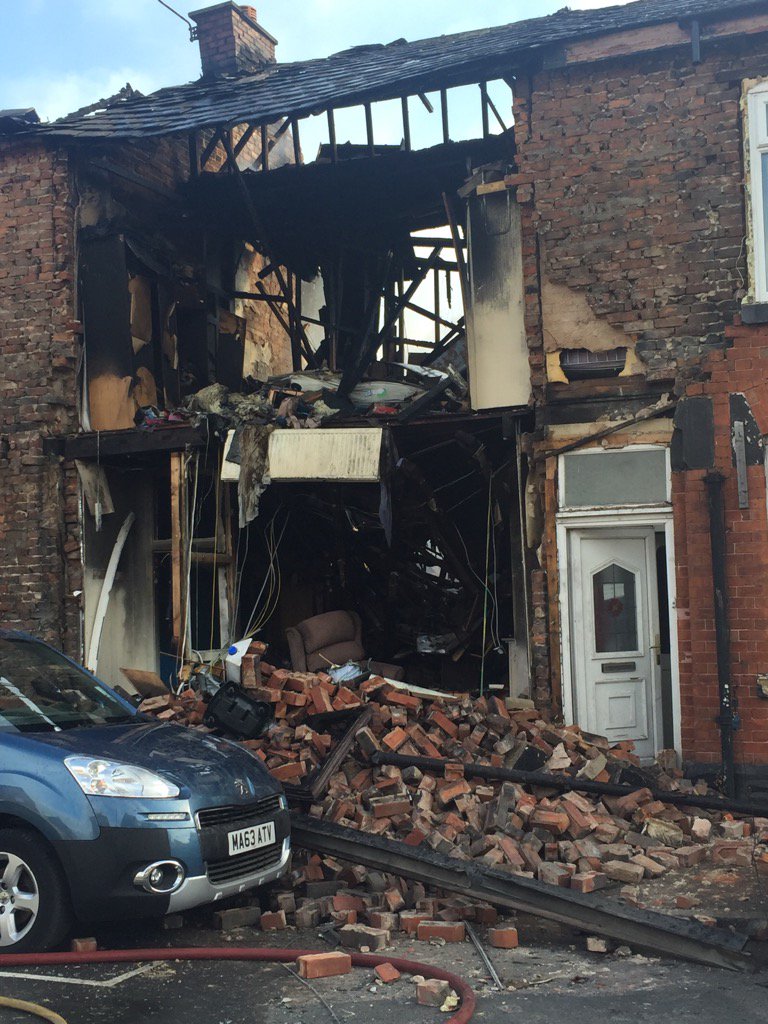 Check-in systems, airport screens and the airline's website were affected by the problem.
Read the full story ›
It has been exactly five years since rioting broke out across the North West.
Millions of pounds' worth of damage was caused in Manchester, Salford and Merseyside.
Homes and businesses were looted and set on fire, along with dozens of cars.
We'll be looking back at those events tonight on Granada Reports at 6pm.
Load more updates