The response to trying to find an Ebola vaccine is one of the fastest to any epidemic ever seen, the professor who is leading the British trial said.
Professor Adrian Hill told ITV News it was "totally unprecedented" and added: "I've never seen anything happen so quickly before in terms of getting a vaccine trial started.
"We've done in days what might take months, or certainly weeks, so it's been fantastic to see that in a month we've gone from deciding to do this to actually vaccinating people."
The professor warned "lots could go wrong" but said so far he believed the vaccine was safe.
The current trials are expected to commence in December after being tested on 140 people both in Britain and in Africa.
If the results show it has been successful, stockpiles of the drug will then be distributed to those most in need.
UK trials of a vaccine for the Ebola virus began today - but some experts complain that the response has been a long time coming.
Read the full story ›
Advertisement
A former NHS nurse has become the first Briton to test a potentially life-saving new vaccine to tackle the deadly Ebola virus in West Africa.
Ruth Atkins was injected with the experimental drug, called Chimp Adenovirus type 3 (ChAd3), which has so far only been trialled in primates, this morning.
Ms Atkins, an NHS communications manager from Marcham in Oxfordshire, said: "I feel absolutely fine, it felt no different to being vaccinated before going on holiday."
She said she volunteered after hearing about the trials on the radio.
"The situation in West Africa is so tragic. I thought being part of this vaccination process was something small I could do to hopefully make a huge impact."
Ms Atkins is one of 60 volunteers taking part in a UK trial at Oxford University over the coming weeks.
Professor Adrian Hill, who is leading the trial at the university's Jenner Institute, hailed it as a "very important step" in bringing the disease, which has so far killed more than 2,250 people, under control.
He said: "This vaccine has never been given to a person before so it's a very important step in fighting the outbreak of Ebola.
"If everything works well over the coming months we will hopefully be using this for health care workers by the end of the year."
A vaccination programme has been "temporarily suspended" in Syria after several children were reported to have died.
Read the full story ›
The most devastating ever outbreak of Ebola could cause economic ruin in West Africa if it is not contained by the end of next year, the World Bank said.
Slow containment of the disease in Guinea, Liberia and Sierra Leone could lead to it spreading further.
In the worst-case scenario Guinea's economic growth could shrink by 2.3%, while Sierra Leone's growth would cut by 8.9%.
But Liberia would be hardest hit with a reduction of 11.7% growth, a statement from the global development leader said.
Newcastle winger Jonas Gutierrez has revealed he is having treatment after being diagnosed with testicular cancer in his native Argentina.
The popular midfielder said he has undergone chemotherapy after having surgery following the discovery of a tumour which was first noticed last year.
The 33-year-old appeared on Argentinian TV show Indirecto looking strikingly different without his trademark long hair and beard.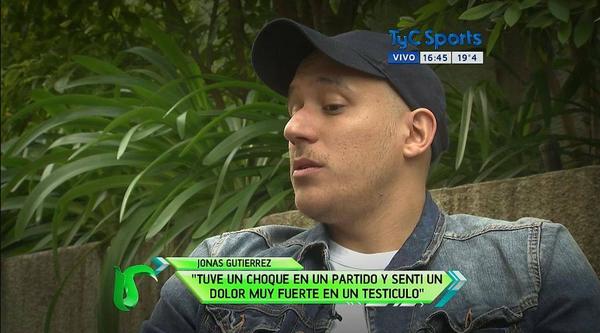 "When I was told I had cancer, I went home in tears," he told the show.
He added: "This is the most difficult match I've every played. You start thinking about important things when you have problems like this one."
After revealing his battle with cancer last night, the winger used Twitter to thank fans for their messages of support.
Gracias por todos los mensajes de apoyo. Mirando siempre para adelante. Thanks for all the messages. Always looking fordward.
Advertisement
The doctor who helped discovered the deadly Ebola disease has said it is unlikely the epidemic will be over within the next six months.
Professor Peter Piot, Director of the London School of Hygiene and Tropical Medicine, told ITV News the virus has now killed more people than all the previous recorded outbreaks.
He said: "Every day a hundred people are dying. The most affected countries need more doctors and nurses. There is currently about one physician for every 1,000 patients."
Phase one of a drugs trial to test a new Ebola vaccine begins in Britain today.
Professor Piot said: "I hope that the vaccine will work but it will be a few months before we have the results.
"Will the vaccine come in time to stop the current epidemic? We don't know.
"It is unlikely that this epidemic will be over within the next six months but we need to do everything we can."
A healthy Briton will today become the first person to receive a potential new vaccine for the deadly Ebola virus.
The volunteer will be one of 60 people given the drug by experts at Oxford University.
If successful, it will be used to treat patients in West Africa where the worst ever outbreak has now killed more than 2,500 people.
The vaccine, developed by the US National Institutes of Health and British drug company GlaxoSmithKline (GSK), targets the "Zaire species" of Ebola, which is one of the strains circulating in West Africa.
It is the first time the vaccine, which has previously been successfully tested on primates, has been trialled on humans.
The volunteers will not be infected with the disease but given a single dose of the benign Ebola virus protein to generate an immune response.
The trials are conducted on healthy people to see whether they suffer any side effects.
A new report has made the case for raising awareness about the way lifestyle choices can affect your risk of dementia later in life.
It points out "there is no evidence strong enough at this time to claim that lifestyle changes will prevent dementia on an individual basis". However, evidence suggests the following could result in a lower risk:
Stopping smoking
Improved detection and treatment of diabetes and hypertension
Increased physical activity and reduction in levels of obesity
Education in early life
Dr Eric Karran, director of research at charity Alzheimer's Research UK, has welcomed today's report, saying:
Although there is currently no certain way to prevent dementia, this report underlines strong evidence suggesting we can lower our risk by adopting a healthy lifestyle.

A large body of research has linked high blood pressure, smoking and diabetes to an increased risk of dementia, and this analysis serves as another reminder that good heart health is an important route to good brain health.

Studies have also suggested that education in early life may help build a level of 'cognitive reserve', helping the brain to withstand the damage from diseases like Alzheimer's for longer in later life.
– Dr Eric Karran, Alzheimer's Research UK
Load more updates