A report from the Royal College of Nursing said a significant contributing factor to the shortage of nurses in England are the cuts the Coalition Government made to student nursing commissions in 2010, falling by 13.5% by 2012 - a reduction of 3,375 places.
The report said that as it takes three years for student nurses to qualify, these cuts are impacting on the supply of nurses right now.
A reliance on using agency nurses means that the NHS would have spent an estimated £980 million on them by the end of the 2014/15 financial year, the college said. It said that as with GPs, the nursing workforce is ageing, with around 45% being over 45.
The chief executive of the Royal College of Nursing (RCN) said that the organisation had warned that cutting nursing workforce numbers was the "wrong course to take".
We warned that cutting the workforce numbers to fund the NHS reorganisation and to find the efficiency savings was the wrong course to take.

The cuts were so severe that we are only just catching up with where we were five years ago. Many areas, like district nursing and mental health, are even worse off.

While the health service has spent the last five years running on the spot, demand has continued to increase. Whoever forms the next Government must learn from this report and take immediate action to grow the nursing workforce, and ensure it can keep up with demand with a sustainable and long-term plan.
– Dr Peter Carter, chief executive & general secretary of the RCN
Advertisement
Royal College of Nursing (RCN) report has also pointed out that the community nursing workforce has been cut by more than 3,300, despite NHS plans to move care from hospitals to the community. It said the headcount figure for nurses fell from 317,370 in May 2010 to 315,525 in December 2014, meaning there are 1,845 fewer qualified nurses in the workforce.
From May 2010 to December 2014 there has been a 28% reduction in the number of specialist district nurses, a loss of 2,168 posts across England.
A report has warned that whichever party is elected next month, it must take immediate action to increase the number of nurses.
The Royal College of Nursing (RCN) said that while the Coalition Government claims to have increased the number of posts during the past five years, there are actually fewer now than in 2010 if midwives, health visitors and school nurses are not included.
The college said a lack of political will to train nurses means that while 50,000 people applied to become nurses last year, there were only 21,000 places - meaning that there is no shortage of people wanting to do the job.
Newly published research has revealed dogs have been found to have 98% reliability rate in sniffing out prostate cancer in men.
Read the full story ›
Labour is to launch its Health Manifesto which it says will "put personalised care at its heart".
Read the full story ›
Advertisement
Public Health England have issued advice for those who may be suffering from the effects of increased air pollution in parts of the UK today.
Dr Sotiris Vardoulakis, head of the air pollution and climate change group at PHE's Centre for radiation, chemical and environmental hazards said:
Adults and children with lung problems, and adults with heart problems, should reduce strenuous physical exertion, particularly outdoors if they experience symptoms
People with asthma may find they need to use their reliever inhaler more often
Older people should reduce physical exertion
Anyone experiencing discomfort such as sore eyes, cough or sore throat should consider reducing activity, particularly outdoors
Further advice from the health agency on how to deal with areas of varying levels of air pollution has been posted on their Twitter page: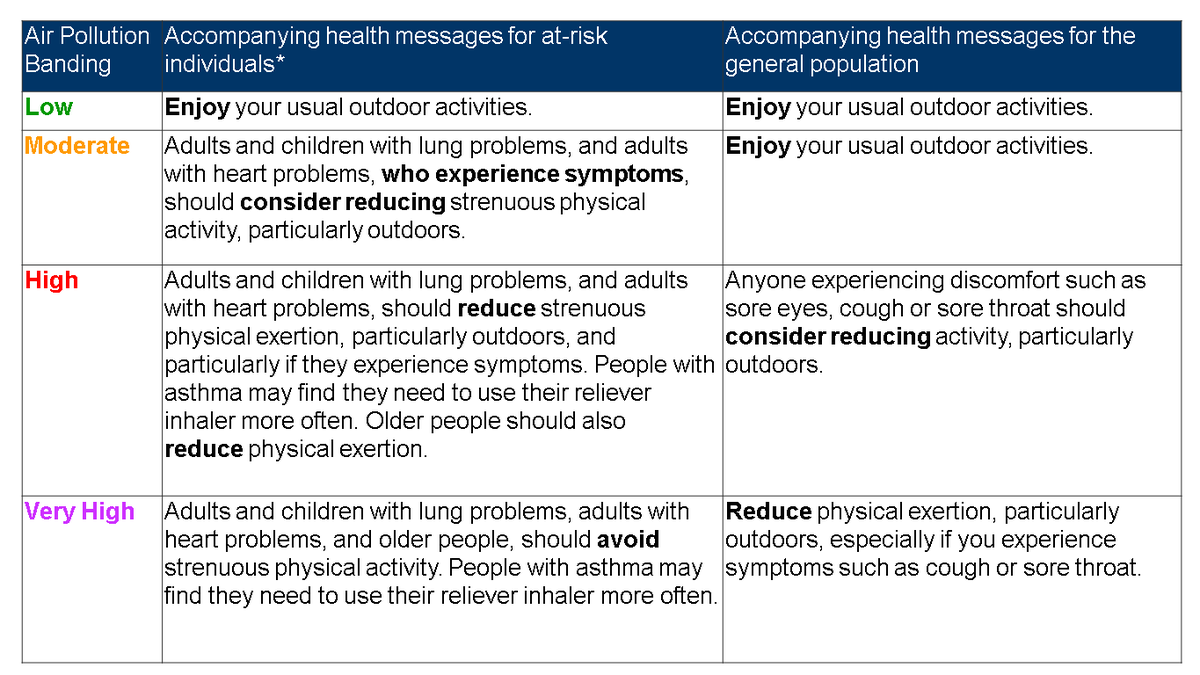 Doctors are warning those with heart or lung problems or asthma to stay indoors and avoid heavy activity outside due to the air pollution today.
Dr Yvonne Doyle from Public Health England told ITV News: "If you're fit and healthy you probably will notice nothing. But if you have heart and lung conditions then you need to ease of quite a bit on heavy activity."
A combination of pollutants trapped near the ground, a small amount of Saharan dust and winds bringing across pollution from Europe has damaged air quality across the country.
The Department for Environment, Food and Rural Affairs (Defra) has warned of spikes in air pollution across central, eastern and northern England, as a result of pollutants and Saharan red dust blown in from the continent.
While most people will not be affected by short term peaks in air pollution, some individuals, particularly those with existing heart or lung conditions, may experience increased symptoms.
– Dr Sotiris Vardoulakis, Public Health England
Air pollution levels are set to become 'high' and 'very high' in parts of central, eastern and northern England today, experts have warned.
A combination of pollutants trapped near the ground, a small amount of Saharan dust and winds bringing across pollution from Europe has damaged air quality across the country.
By tomorrow, however, sharper winds from the Atlantic are expected to clear some of the toxic elements, bringing air pollution levels down to moderate or low.
The latest information on pollution levels can be found on the Defra website.
Load more updates