Passengers on board Virgin flight VS43 have using Twitter to praise the crew after the plane had to make an emergency landing at Gatwick because of failed landing gear.
Video footage has captured the moment Virgin Atlantic flight VS43 made a safe "non-standard" landing at Gatwick Airport after suffering landing gear issues.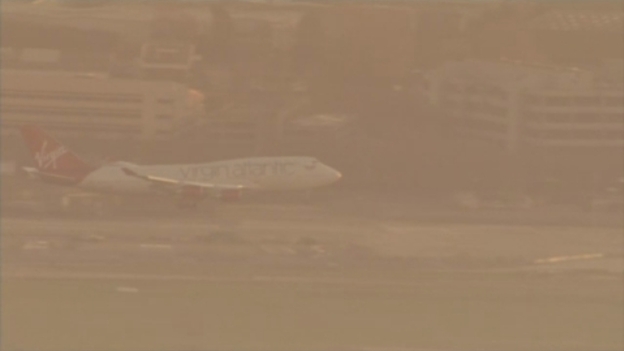 Advertisement
A witness at Gatwick Airport has reported that VS43 has safely landed.
The Virgin Atlantic plane has been photographed as it passed over Gatwick Airport. The plane appears to have a problem with its landing gear.
A Virgin Atlantic passenger plane "is preparing to implement a non-standard landing procedure at Gatwick airport" because of "a technical issue with one of the landing gears", the airline said.
A Virgin Atlantic passenger plane with a reported landing gear problem is trying to land back at Gatwick. The plane took off this morning on its way to Las Vegas but has been circling over the sea before returning to the airport.
Advertisement
This bundle of mischief is lucky to be alive after a cruel owner dumped them in a laundry basket in a cold country lane just days before Christmas.
Named Bauble, Santa, Elf, Tinsel, Garland, Holly and Rudolph they are are now full of New Year cheer.
The festive pups were left by the side of an icy country lane after they were heartlessly abandoned.
The Royal Mint has produced its first £100 coin which will have an image of the Houses of Parliament's clocktower on it. The coin, which can be used as legal tender, is made of two ounces of fine silver. Only 50,000 will be produced. The coins can be bought from the Royal Mint's website for £100.
The chief executive of Network Rail, Mark Carne, has asked for a report to be made on the engineering delays that led to massive disruption for passengers trying to use King's Cross and Paddington stations over Christmas. He also wants to see a wider review on how major works programmes on the railways are carried out.
Load more updates
Back to top