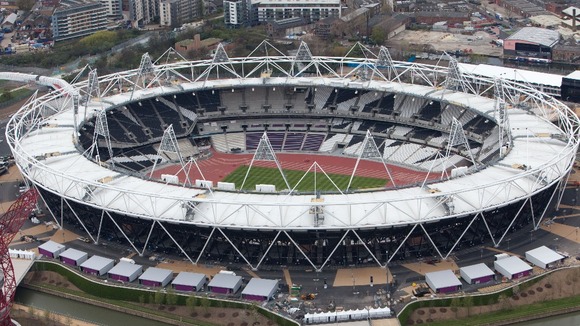 Around 40,000 spectators withstood wintery conditions on Saturday to see London's Olympic stadium formally opened.
Young spectator Niamh Clarke-Willis, aged 9 and from Newham, won the right to join LOCOG chairman Sebastian Coe pressing the button to release hundreds of balloons into the sky and declared the stadium open for business.
As Helen Callaghan reports, Lord Coe admits there's plenty of work still to be done:
Earlier, ranks of spectators had lined up en masse before the gates to the stadium were opened to allow them in for the evening's entertainment.
A programme of invitational races and stunts had been organised to mark 2012 hours until the opening of the 2012 Olympic games.
In the men's 100M race, eligible to UK athletics competitors, James Ellington, who became famous for putting himself up on the Ebay auction site to attract sponsors, won the event in a time of 10.30 seconds.
Ellington said the noise of the crowd had lifted him:
The atmosphere was amazing. It was incredible - coming out it didn't hit me until I actually walked out of the mix zone onto the start line, and that's when it got to me.
– James Ellington, sprinter

Ellington also praised the track which he said was hard but seemed to have a slight spring.

Sebastian Coe said the track had been designed to be the fastest.
I think we have got a crowd-pleaser in the stadium. I think we have also got technically one of the fastest tracks that have ever been laid. The guys who have helped at Mondo have been fantastic and not only on the warm-up areas but on the competitive track we have got a surface the athletes like.
– Lord Coe, LOCOG chairman

Five times Olympic gold medal-winner Steve Redgrave said: "A great night, a great crowd here and I can't wait for the real thing to happen in a few weeks time."

The stadium earns its licence to hold public events by staging Saturday's test event, and that is also a requirement from the International Olympic Committee (IOC) before hosting a Games.