She did it! Marathon success for Claire Lomas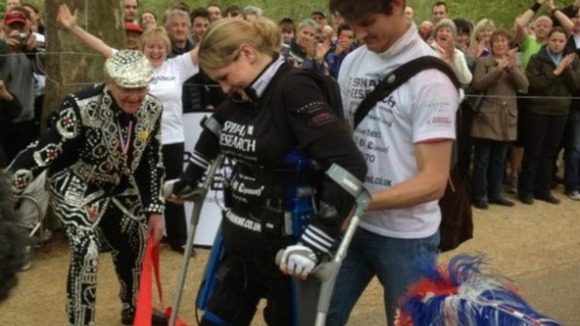 A paralysed woman has become the first person to complete a marathon in a bionic suit.
Claire Lomas, who is paralysed from the chest down, finished the London marathon today, crossing the finishing line 16 days after the race began.
The 32-year-old said she was "over the moon" as she completed the 26.2 mile route.
"There were times when I questioned whether I would make it when I was training. Once I started, I just took each day as it came and every step got me a step closer."
– Claire Lomas on her marathon challenge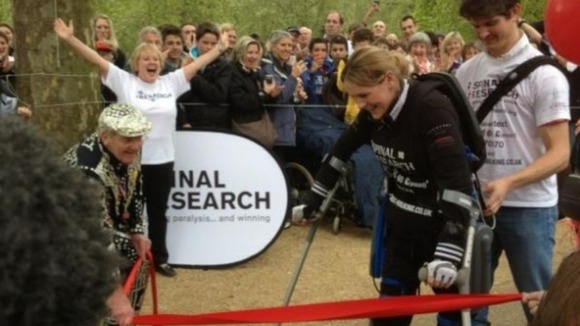 Hundreds lined the streets as she made her final steps to complete the race. Three mounted members of the Household Cavalry gave her a guard of honour as she crossed the finishing line on The Mall.
Not only was she joined by family, friends and members of the public, but also by celebrities who joined her for part of her journey, including Gabby Logan and Ben Fogle.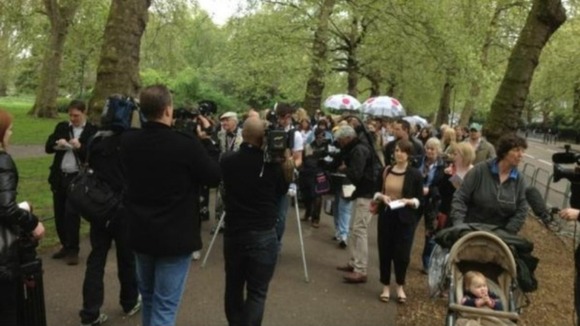 Earlier today Claire passed the spot where fellow marathon runner Claire Squires, from Leicestershire, died during the race.
Claire will not appear in the official results and did not receive a medal when she finished. This is due to rules that state that competitors have to complete the course on the same day in order to qualify for a medal.
However, a number of marathon runners decided to donate their own medals to Claire.
She has epitomised what I thought the London Marathon was all about. That medal, when you have completed it and gone through all the pain of it, symbolises that achievement of what you have gone out of your way to do for charity. For her not to have got one ridicules what the marathon was all about."
– Jacqui Rose, from Southampton gave Claire her medal.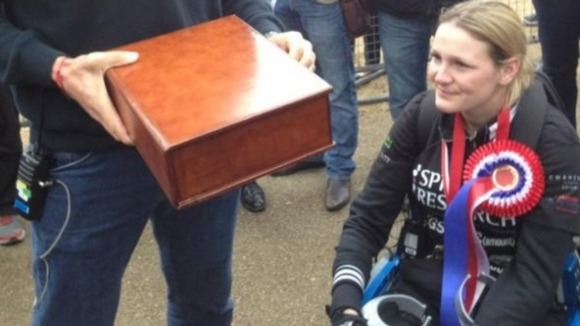 Claire has raised more than £86,000 for Spinal Research, a charity that funds medical research around the world to develop reliable treatments for paralysis caused by a broken back or neck.
When I was in hospital I saw a lot of people with similar injuries to me and a lot worse. I have had tremendous support since my accident which I am so grateful for, some don't have that. Some people lose the use of their arms as well. A cure needs to be found."
– Claire Lomas speaking about her injury

Claire walked about two miles a day, cheered on by husband Dan, her parents, and 13-month-old daughter Maisie. She now plans to write a book and "spend some good time with Maisie", adding: "Then I'll think of something else daft to do."