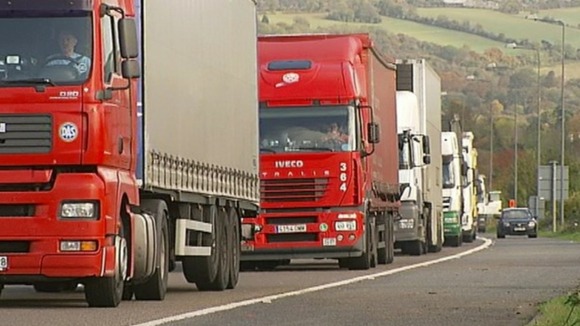 Drivers on Britain's busiest motorway endured long delays today after a section of the road was shut following a two-lorry fatal accident.
The M25 between junctions 27 and 28 in Essex was closed after a lorry carrying vodka collided with another lorry and caught fire.
The driver of the vodka lorry, who was in his 50s, was killed in the accident which happened half a mile west of junction 28 at Noak Hill at 1am.
The driver of the second vehicle suffered minor injuries.
Later, the anti-clockwise carriageway between the two junctions reopened, but the clockwise carriageway was expected to be closed for most of the morning.
To add to the disruption, the links to the M25 from junction 6 on the M11 were closed in both directions, with diversions in place.
#M25. The closure is anticipated to be in place until at least early afternoon. The carriageway needs to be repaired and resurfaced.
The clockwise closure of the M25 in Essex is going to be a nightmare for drivers this morning and will no doubt add significant extra time to your journey.

In my experience, it usually takes at least eight hours for a motorway to re-open after a fatal accident like this. In this case, one of the two lorries involved was carrying whisky and caught fire as the vehicles collided.

This means that the carriageway will need to be resurfaced once the accident investigation works have been completed.

The Highways Agency have suggested that the carriageway will remain closed until early afternoon so long delays on the M25 and surrounding routes can be expected. It's therefore advisable to try and find an alternative route if you can.
– HELEN AUSTIN, TRAVEL PRESENTER, INRIX